The World's Most Advanced Network Operating System
Arista EOS® is the core of Arista cloud networking solutions for next-generation data centers and cloud networks. Cloud architectures built with Arista EOS scale to tens of thousands of compute and storage nodes with management and provisioning capabilities that work at scale. Through its programmability, EOS enables a set of software applications that deliver workflow automation, high availability, unprecedented network visibility and analytics and rapid integration with a wide range of third-party applications for virtualization, management, automation and orchestration services.
Arista Extensible Operating System (EOS) is a fully programmable and highly modular, Linux-based network operation system, using familiar industry standard CLI and runs a single binary software image across the Arista switching family. Architected for resiliency and programmability, EOS has a unique multi-process state sharing architecture that separates state information and packet forwarding from protocol processing and application logic.
Featured Video: EOS Evolution to CloudVision®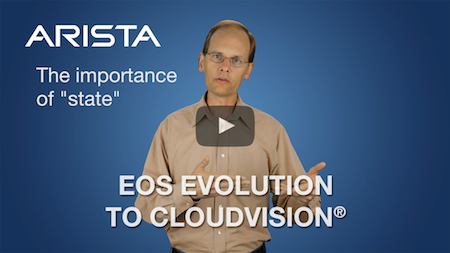 Scale to your needs, from 100 to 100,000+ compute and storage nodes
Rich management and provisioning capabilities that work at scale
Open, standards-based approach with MLAG at Layer 2, ECMP at Layer 3 with effective use of all available bandwidth in non-blocking modes while providing failover and resiliency
Network virtualization using tunneling technologies such as VXLAN and NVGRE for seamless workload mobility
Innovative Spline™ architecture for high density hosts in a single-tier or two-tier network
Open integration with all application and infrastructure elements via eAPI and Advanced Event Manager (AEM)
Programmable at all layers: Linux kernel, hardware forwarding tables, switch configuration and CLI, switch control plane as well as management layer. This programmability of EOS enables rapid integration with a wide range of third-party applications for virtualization, management, automation, orchestration and network services
EOS Application Extensibility for the ability to run cloud infrastructure automation applications (such as Chef, Puppet or Ansible) and network analytics applications (such as Splunk)
Easily adaptable to in-house network management systems
Key enabler of Arista EOS software applications for automation and visibility, such as Zero Touch Provisioning, VM Tracer, and Latency Analyzer (LANZ).
Reduce maintenance windows with Arista Smart System Upgrade (SSU) reduces maintenance windows through intelligent insertion and removal of network elements
Live patching and upgrade of individual processes within EOS during normal switch operation
Self-healing resiliency for minimum downtime with fault containment to a single module and process restart without the need to rebuild state information
Custom monitoring, failover and load balancing with third-party integration for custom monitoring, failover and load balancing
Unprecedented visibility into application performance and network-wide monitoring capabilities for both industry standards and customer specific dev/ops solutions
Simplified Tap Aggregation with the Arista Data Analyzer (DANZ) feature set
Rapid identification and troubleshooting of application and network performance problems through tracers such as VM Tracer, Latency Analyzer (LANZ), MapReduce Tracer, sFlow and Path Tracer
Simplified provisioning for new and replacement switches with Zero Touch Provisioning (ZTP) and Zero Touch Replacement (ZTR)
Advanced Event Management for automated responses to network and application events
Automate complex IT workflows and simplify network operations to individual requirements through rich programmatic capabilities
Automation Integration with partners enhance native capabilities with tools such as Puppet, Chef and Ansible and extends automation up the stack to include other network systems and applications including firewalls, load balancers and compute infrastructures with partners such as F5 and VMware.
Arista EOS as a Subscription (EaaS) service offers customers a way to better balance their CapEx and Opex budgets.