Arista has pioneered the networking industry with its software defined cloud networking approach built on top of Arista EOS with programmable interfaces, publish-subscribe state separation, resilient fault containment and self-healing attributes. CloudVision extends the same architectural approach across the network for state, topology, monitoring and visibility. This enables enterprises to move to cloud-class automation without needing any significant internal development. CloudVision® is a network-wide approach for workload orchestration and workflow automation as a turnkey solution for Cloud Networking.
Featured Video: CloudVision Overview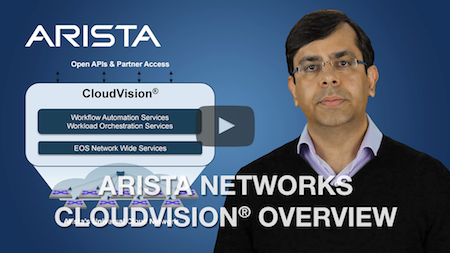 CloudVision's abstraction of the physical network to this broader, network-wide perspective allows for a more efficient approach for several operational use-cases, including the following highlights:
Centralized representation of distributed network state, allowing for a single point of integration and network-wide visibility and analytics
Controller agnostic support for physical and virtual workload orchestration through open APIs such as OVSDB, JSON and Openstack plugins.
Turn-key automation for zero touch provisioning, configuration management and network-wide upgrades and rollback.
Compliance Dashboard for Security, Audit and patch management
Real-time Streaming for Telemetry and Network Analytics, a modern approach to replace legacy polling per device.
Provides visibility and troubleshooting for underlay and overlay networks
Controller Integration with Key Partners
Arista's customers are trying to orchestrate workflows across their physical and virtual infrastructure. Arista EOS CloudVision is the platform for deeper integration with a broad array of Arista's ecosystem partner solutions, including VMWare NSXTM, Microsoft Windows ServerTM, Dell, Palo Alto Networks, F5, HP, Rackspace, and Supermicro.