Arista Networks, Inc. Reports Third Quarter 2014 Financial Results
Continued Industry Movement to the Cloud Drives Growth
SANTA CLARA, Calif. -- November 6, 2014 -- Arista Networks, Inc. (NYSE: ANET), an industry leader in software-driven cloud networking solutions for large data center and computing environments, today announced financial results for its third quarter ended September 30, 2014.
Third Quarter Financial Highlights
Revenue of $155.5 million, an increase of 53.0% compared to the third quarter of 2013, and an increase of 12.7% from the second quarter of 2014.
GAAP gross margin of 64.9%, compared to GAAP gross margin of 64.0% in the third quarter of 2013 and 67.7% in the second quarter of 2014.
GAAP net income of $21.9 million, or $0.30 per diluted share, compared to GAAP net income of $11.9 million, or $0.20 per diluted share, in the third quarter of 20131.
Non-GAAP net income of $28.1 million, or $0.40 per diluted share, compared to non-GAAP net income of $14.4 million, or $0.23 per diluted share, in the third quarter of 2013.
1GAAP diluted per share amounts exclude net income attributable to preferred shareholders and shares subject to repurchase.
"We had good performance in Q3 2014 as we shipped our three millionth port this quarter and achieved a record $155.5 million in revenue, growing 53% year over year," stated Jayshree Ullal, Arista President and CEO. "The flagship Arista 7500E Spine and X-Series Spline products continue to drive our customer demand."
 Commenting on the company's financial results, Kelyn Brannon, CFO of Arista Networks, said, "We delivered strong revenue growth across our 4 principal verticals, while maintaining a solid operating margin and generating cash flow from operations of $34.8 million in the quarter."
Company Highlights
Continued to further industry-wide open standards via:

Joint marketing and development with VMware for total network-wide orchestration.
A10 Security Alliance, an ecosystem to help mitigate threats and automate security operations.
Orion Alliance with Nebula and SYNNEX for the rapid deployment of turnkey private cloud solutions.
Riverbed-Ready Alliance partner for cloud application-aware performance, visibility and management.

Announced 7 new leaf switch platforms ranging from the cost-effective 7010 to the 128 10 GbE port 7050X, all based on Arista EOS single-image available now.
Arista EOS 4.14 software release for enhanced network virtualization VXLAN, and increased scalability and resiliency using ECMP/L3 functionality.
Single-image EOS software facilitated fix to Shellshock Linux BASH vulnerability across all platforms within 5 days.
Lock-Up Release
Arista also announces today that Morgan Stanley & Co. LLC and Citigroup Global Markets, Inc., the lead joint book-running managers and representatives of the underwriters in Arista's initial public offering in June 2014, at the request of Arista, have agreed to release the lock-up restrictions for Arista employees for up to 50% of the shares of Arista common stock held by them effective November 11, 2014. This will increase the public float for investors and allow its employees additional time in 2014 for liquidity prior to commencement of its quarter end blackout period. This partial release does not apply to executive officers, directors, employees who have entered into Rule 10b5-1 trading plans or non-employee stockholders. The lock-up restrictions are scheduled to expire with respect to the remaining shares as originally planned on December 2, 2014.
For additional details, please see Arista's Current Report on Form 8-K dated November 6, 2014.
Financial Outlook
For the fourth quarter of 2014, we expect:
Revenue between $160 and $168 million.
Non-GAAP gross margin in the range of 63% to 65% and non-GAAP operating margin in the range of 22% to 25%.
Guidance for non-GAAP financial measures excludes stock-based compensation and other non-recurring expenses. A reconciliation of non-GAAP guidance measures to corresponding GAAP measures is not available on a forward-looking basis.
Prepared Materials and Conference Call Information
Arista executives will discuss third quarter 2014 financial results on a conference call at 1:30 p.m. Pacific time today. The conference call can be heard via webcast on our investor relations website: investors.arista.com, or by dialing 1-877-201-0168 in the United States or 1-647-788-4902 from international locations. The Conference ID is 23610535.
Shortly after the conclusion of the conference call, a replay of the audio webcast will be available on Arista's Investor Relations website.
Forward-Looking Statements
This press release contains "forward-looking statements" regarding our performance, including statements in the section entitled "Financial Outlook," such as estimates regarding revenue, non-GAAP gross margin and non-GAAP operating margin for the fourth quarter of FY 2014. Forward-looking statements are subject to a number of uncertainties and risks that could cause actual results to differ materially from those anticipated in the forward-looking statements including: Arista Networks' limited operating history; risks associated with Arista Networks' rapid growth; Arista Networks' customer concentration; requests for more favorable terms and conditions from our large end customers; declines in the sales prices of our products and services; changes in customer order patterns or customer mix; increased competition in our products and service markets, including the data center market; dependence on the introduction and market acceptance of new product offerings and standards; rapid technological and market change; the dispute with OptumSoft, Inc.; the evolution of the cloud networking market and the adoption by end customers of Arista Networks' cloud networking solutions; and general market, political, economic and business conditions. Additional risks and uncertainties that could affect Arista Networks can be found in Arista's Quarterly Report on Form 10-Q filed with the SEC on August 7, 2014, and other filings that the company makes to the SEC from time to time. You can locate these reports through our website at http://investors.arista.com and on the SEC's website at www.sec.gov. All forward-looking statements in this press release are based on information available to the company as of the date hereof and Arista Networks disclaims any obligation to publicly update or revise any forward-looking statement to reflect events that occur or circumstances that exist after the date on which they were made.
Non-GAAP Financial Measures
The financial information contained in this press release should be read in conjunction with the consolidated financial statements and notes thereto included in Arista's Form 10-Q (and the financial statements included in our prospectus filed with the Securities and Exchange Commission pursuant to Rule 424(b)(4) on June 6, 2014). Arista's results of operations for the three and nine months ended September 30, 2014 are not necessarily indicative of Arista's operating results for any future periods.
The company reports non-GAAP results for gross margins, net income and net income per share in addition to, and not as a substitute for, financial measures calculated in accordance with GAAP. The company uses these non-GAAP financial measures internally in analyzing its financial results and believes that the use of these non-GAAP financial measures is useful to investors as an additional tool to evaluate ongoing operating results and trends.
Non-GAAP financial measures are not meant to be considered in isolation or as a substitute for comparable GAAP financial measures, and should be read only in conjunction with the company's consolidated financial statements prepared in accordance with GAAP. A reconciliation of the company's non-GAAP financial measures to their most directly comparable GAAP measures has been provided in the financial statement tables included in this press release, and investors are encouraged to review the reconciliation.
Arista Networks defines non-GAAP gross margins as total gross profit, excluding stock-based compensation expenses, divided by total revenue. Arista Networks defines non-GAAP net income as net income, excluding stock based compensation expense, unrealized gain on note receivable, and the related income tax effect of these exclusions. Arista Networks defines non-GAAP net income per share as non-GAAP net income divided by the diluted weighted average shares outstanding on a pro forma basis. In order to evaluate per share information on a comparative basis, the company believes it is meaningful to provide a non-GAAP financial measure that gives pro forma effect to the conversion of the preferred shares and notes payable into common shares and the issuance of common shares in connection with the company's initial public offering as if each happened at the beginning of each period presented.
About Arista Networks
Arista Networks was founded to deliver software-driven cloud networking solutions for large data center and computing environments. Arista's award-winning 10/40/100 GbE switches redefine scalability, robustness, and price-performance, with over 2,700 customers and more than three million cloud networking ports deployed worldwide. At the core of Arista's platform is EOS, an advanced network operating system. Arista Networks products are available worldwide through distribution partners, systems integrators and resellers.
ARISTA, EOS and Spline are among the registered and unregistered trademarks of Arista Networks, Inc. in jurisdictions around the world. Other company names or product names may be trademarks of their respective owners.
Additional information and resources can be found at https://www.arista.com 
Media Contact
Amanda Jaramillo
Corporate Communications
Tel: (408) 547-5798
amanda@arista.com
Investor Contact
Chuck Elliott
Product and Investor Advocacy
Tel: (408) 547-5549
chuck@arista.com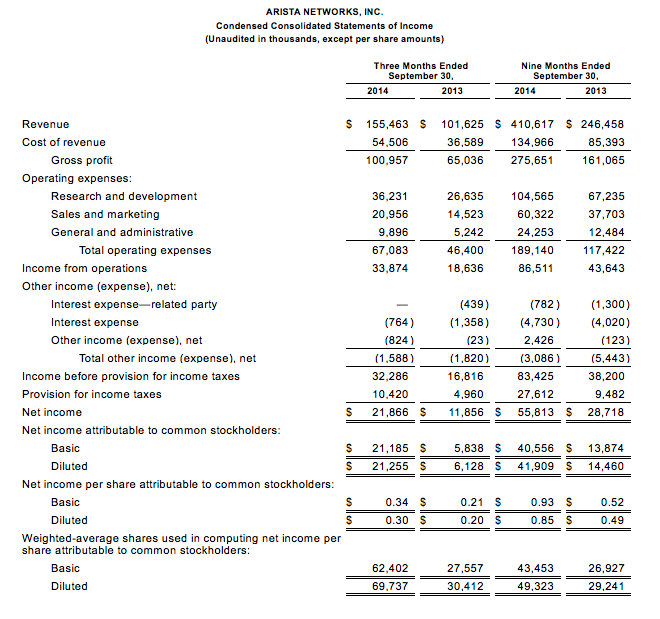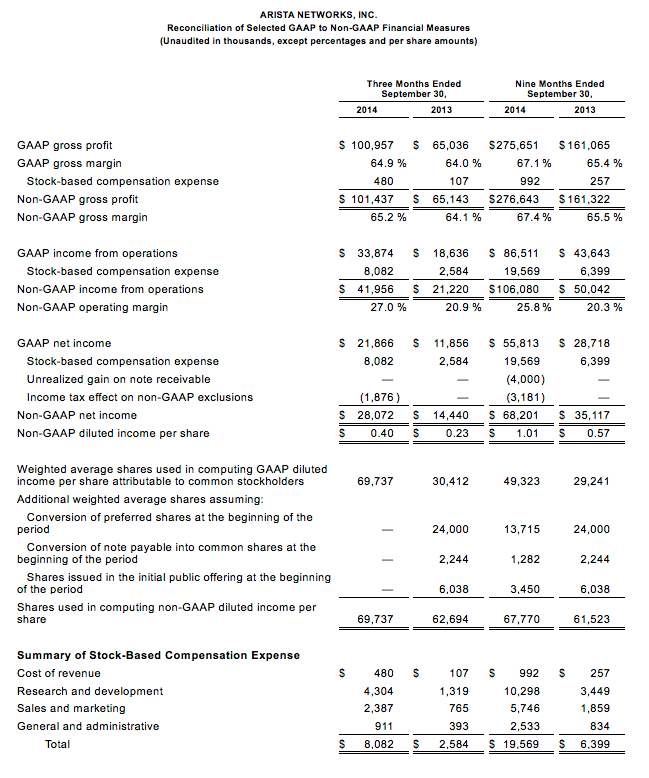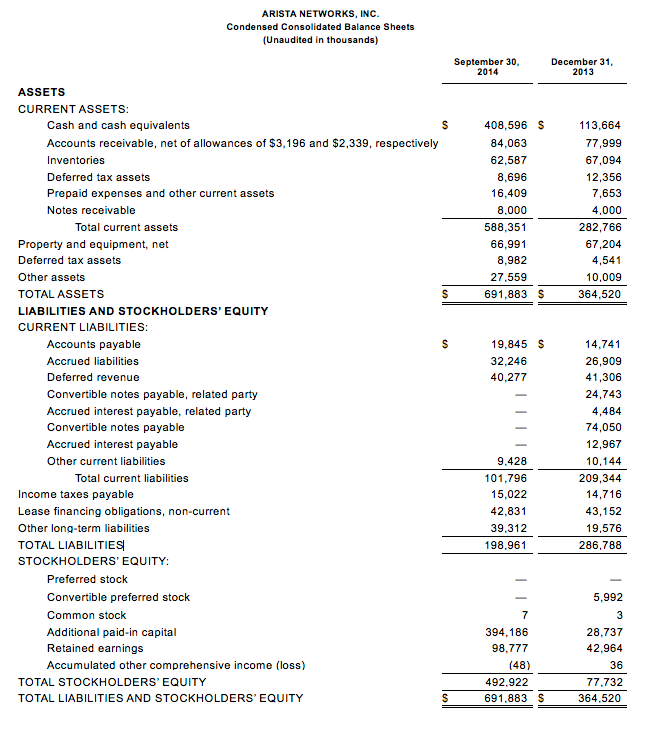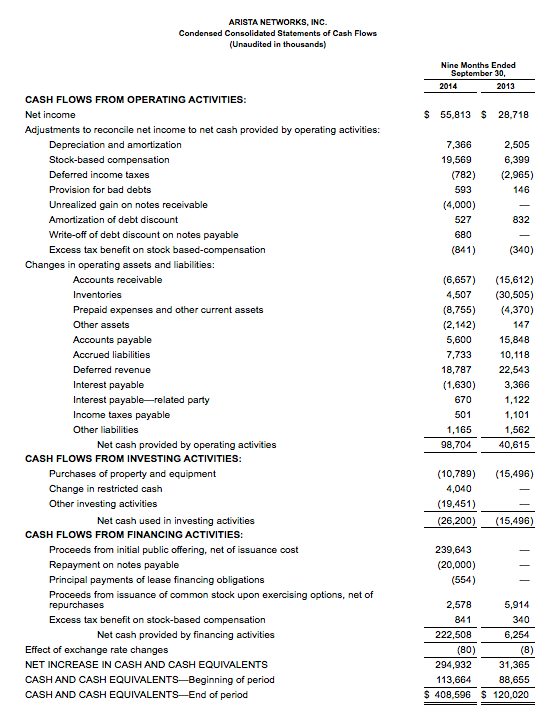 The links above are for the viewer's convenience, and Arista has not reviewed and is not responsible for their content.