Quick Look Datasheet
Arista 7050SX Series Network Switch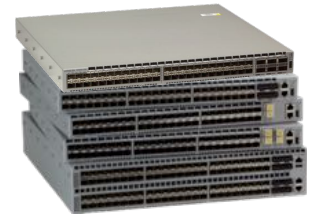 Arista 7050SX Series Network Switch
High Performance
2.56 Tbps system capacity
1.44 billion packets per sec on
Wire speed unicast & mast
Class leading latency
High density 10G/40G
Dynamic buffer allocation
Under 2W per 10G port
Feature Rich
High Availability
DC optimized airflow
Rich L2 and L3 features
64-Way MLAG
64-Way ECMP
VXLAN gateway and routing
Zero Touch Provisioning
Smart System Upgrade
High Scalability
System scalability
Up to 48 x 10 and 12 x 40G in 1RU
Up to 96 x 10G + 8 x 40G in 2RU
Scalable leaf spine designs
MAC up to 288K
Host Routes up to 208K
Routes: 16K IPv4 / 8K IPv6
UFT – IPv4/v6 144K/77K
Multicast Routes up to 104K
Advanced Monitoring
CloudVision
LANZ microburst detection
DANZ advance monitoring
AEM proactive management
IEEE 1588 precision timing
sFlow for network visibility
SSD for local monitoring
VM Tracer integration
RAIL for Big Data and Hadoop
Arista 7050SX Series Network Switch
The Arista 7050 Series are the benchmark for performance, scale and power efficiency in fixed 10G data center switches. Increased adoption of 10G servers is accelerating the need for flexible, dense 10GbE/40GbE solutions. The Arista 7050X Series extends the industry leading 7050 Series with increased performance, scalability, density and features designed for software defined networking.
The
Arista 7050SX Series
are a range of compact 1RU and 2RU 10GbE and 40GbE wire speed, low latency and scalable multilayer switches powered by Arista EOS, the worlds most advanced network operating system.
7050SX Density and Flexibility
The use of 10GbE server connectivity has seen considerable growth over the past several years and will overtake 1GbE as the default server connection type in 2015. While both CPU and network interfaces have held back servers from reaching full wire speeds increases in kernel bypass technology and multi-core servers allow more 10GbE server throughput. This evolution is leading to a need for 48 or more ports per server rack.
The 7050SX series are designed to tackle this challenge, combining high port density and wire speed performance in compact form factors. The 7050SX support a range of uplink capabilities offering a choice of QSFP+ or MXP both of which support flexible 10G and 40G operation.

Arista 7050X Series QSFP+ and MXP Ports
Arista Multispeed (MXP) Ports with onboard optics are an innovative technology which expand interface density and flexibility by leveraging optics built internally into the switch. Each MXP port provides a total of 120Gbps connectivity and offers several advantages over traditional interfaces:
Optics are integrated into the switch, removing the need to purchase additional components.
MXP Ports occupy the same space as a single QSFP+ interface, and offer 3 times the bandwidth.
MXP significantly increases interface density without expanding the switch into additional rack units.
Each MXP port can be individually used as three 40GbE, twelve 10GbE or a combination of the two speeds.
Arista QSFP+ ports provide for 40G with a flexible range of both duplex and parallel optics for multimode up to 400m and single mode up to 40km in both duplex and parallel fiber choices. Parallel optics allow for 4x10G mode, increasing the flexibility of 40G ports, and duplex optics allow for migration from 10G to 40G using existing fiber cabling.
Arista EOS
Arista EOS is a modular switch operating system with a unique state sharing architecture that cleanly separates switch state from protocol processing and application logic. Built on top of a standard Linux kernel, all EOS processes run in their own protected memory space and exchange state through an in-memory database. This multi-process state sharing architecture provides the foundation for in-service-software updates and self-healing resiliency.
Feature
Description

CloudVision

Network-wide workflow automation and workload orchestration as a turnkey solution for Cloud Networking

Wirespeed VXLAN Routing

*
Seamless integration between VXLAN and L2/L3 environments, physical and virtualized networks

IEEE 1588 PTP

*
Build and scale accurate timing solutions with sub-microsecond accuracy

Smart System Upgrade

Optimized SW upgrades to reduce the impact of software upgrades and avoid network convergence

64-way ECMP and LAG

Improve network scalability and balance traffic across large-scale leaf-spine designs or server load balancers

Latency Analyzer

*
A solution to improve monitoring and visibility at both 10G and 40G for congestion from persistent or microbursts

Cloud Control & SDN

Support for Openflow and OpenStack automation and self-service provisioning with cloud scale economics

Scalable Tables — ALPM and UFT

Flexible allocation of L2 and L3 forwarding table resources for greater design choice
7050SX Series Systems
Arista 7050SX Series support hot-swappable power supplies and N+1 fan redundancy, EOS high availability, a choice of L2 and L3 multi-pathing designs and powerful EOS innovations for visibility, application level performance monitoring and virtualization. The 7050SX2 series delivers line rate VXLAN routing with single pass and offers 16MB buffer.

 

7050SX-64

7050SX-72

7050SX-72Q

7050SX2-72Q

7050SX-96

7050SX-128

7050SX2-128

Interface Type
SFP+ QSFP+ Uplink
SFP+ MXP Uplink
SFP+ QSFP+ Uplink
SFP+ QSFP+ Uplink
SFP+ MXP Uplink
SFP+ QSFP+ (Uplink)
SFP+ QSFP+ (Uplink)
10G Ports
up to 64
up to 72
up to 72
up to 72
up to 96
96
96
40G Ports
4
up to 6
up to 6
up to 6
up to 12
8
8
Rack Units
1
1
1
1
1
2
2
Buffer
1
16
12MB
16MB
Latency
550ns
Airflow
F-R / R-F
Copyright © 2017 Arista Networks, Inc. All rights reserved. CloudVision, and EOS are registered trademarks and Arista Networks is a trademark of Arista Networks, Inc. All other company names are trademarks of their respective holders. Information in this document is subject to change without notice. Certain features may not yet be available. Arista Networks, Inc. assumes no responsibility for any errors that may appear in this document.     11-0005-01