Industry Leading Performance, Power-Efficiency, and High Availability
Highly dynamic cloud and enterprise data center networks continue to expand bringing with them ever increasing bandwidth demands, accelerating the need for dense 25 and 100 Gigabit Ethernet switching in both leaf and spine tiers of networks. The Arista 7050X3 are members of Arista 7050X series and key components of the Arista portfolio of data center switches. The Arista 7050X Series are purpose built data center switches in compact and energy efficient form factors with wire speed layer 2 and layer 3 features combined with low latency and advanced EOS features for software defined cloud networking.
Combined with Arista EOS, the 7050X3 can be deployed in a wide range of open networking solutions including large scale layer 2 and layer 3 cloud designs, overlay networks, virtualized or traditional enterprise data center networks.
The 7050X3 supports a flexible combination of speeds including 10G, 25G, 40G and 100G in compact form factors that allows customers to design networks to accommodate the myriad different applications and east-west traffic patterns found in modern data centers whilst providing investment protection.
 7050X3 Series
Description
Arista 7050X3 Series fixed configuration leaf and spine switches
Switching Throughput
6.4 Terabits/sec
Maximum Forwarding Rate
2 Bpps
40/100G Interfaces
Up to 32
10/25G Interfaces
Up to 128
Rack Space
1RU
100G Typical Power
7W per port
Hot Swap Power and Fans
Yes
Reversible Airflow
Yes
The 7050X3 support a rich set of EOS features that are already supported on other Arista X-Series systems. Operational and feature consistency lowers the qualification time and enhancements include Single Pass VXLAN Routing for network segmentation, Dynamic Load Balancing (DLB) for optimized path selection and the addition of Network Address Translation (NAT).
High Performance 10/25/40/100GbE leaf-spine
High density wirespeed 10G, 25G and 100G
Up to 6.4Tbps of system capacity
High density 25G IEEE compliant
Latency from 800nsec port to port
Dual mode 10/25G support for seamless migration to the next generation of Ethernet
Optimized for DC Designs
Unified forwarding tables for configurable table scalability
Fully shared 32MB packet buffer optimized for lossless networks
Consistent cabling for 10G to 25G and 40G to 100G migrations
Up to 128 Way Multi-Pathing over L2 and L3
Power efficient for lower total cost of ownership
Redundant and hot swap power and cooling
Advanced Traffic Control, Provisioning and Monitoring *
CloudVision for Workflow Automation and Orchestration
LANZ for Microburst Detection
VXLAN and EOS Network Tracers
Open Extensibility and Programmability
Software Driven Cloud Networking
Dynamic Load Balancing
Network Address Translation
High Availability
Redundant and hot swap power and cooling
Reversible airflow options for hot and cold aisle
Smart System Upgrade with Hitless Software Upgrade *
Self-healing stateful fault repair (SFR)
Resilient ECMP and LAG Hashing
MLAG ISSU
Hitless Speed Changes
The 7050X3 Series enables highly scalable two-tier network designs with ECMP, MLAG and VXLAN technologies.
MLAG Spine - All Active Multipath for Layer 2
Standards based protocol (LACP)
Simplified or eliminates Spanning Tree topology
Simple to understand and easy to engineer traffic
128 Way - All Active Multipath for Layer 3
128 Way Equal and Unequal Cost Multi-Pathing (UCMP) for flexible traffic balancing
Standards based protocol (OSPF, BGP)
Eliminates L2 for exceptional scalability and fault tolerance
Exceptional scale with consistently low latency and high performance in 2 tiers
VXLAN Layer 2 over Layer 3 - Best of Both Worlds
All active multipath using ECMP (up to 128-way)
Single L3 network for all applications
L2 extensions for stateful VM - VM over Layer 3
Extends L2 with exceptional scalability (16M Virtual NWs)
Cloudburst over public infrastructure
10/25/100G Leaf and Spine solutions for cloud scale open networking
The Arista 7050X3 series are non-blocking 10/25G and 100G data center switches in compact and energy efficient form factors with wirespeed layer 2 and layer 3 features. They combine scalable L2 and L3 resources with a flexible switch architecture that supports multiple overlay technologies and advanced encapsulations.
The 7050X3 offer 10G and 25G using the familiar RJ45 and SFP connections and 100G with widely deployed QSFP interfaces for flexible port speed choices providing unparalleled flexibility and the ability to seamlessly transition data centers to the next generation of Ethernet performance. The 7050X3 Series provide industry leading power efficiency with data center optimized airflow. Combined with Arista EOS the 7050X3 Series delivers advanced features ideally suited for large Enterprises, big data and machine learning environments, traditional and virtualized data centers and Service Provider edge networking roles.
At the core of the 7050X3 series is a 6.4Tbps packet processor that provides high performance and large scale scale IP routing tables, and a full shared 32MB intelligent buffer.
The following table compares the different 7050X3 Series models. For a complete catalog of Arista 7000 Series switch specifications click here.
Arista 7050X3 Series Model Comparison
 
7050CX3-32S

7050CX3M-32S

7050SX3-96YC8

7050SX3-48YC12

7050SX3-48YC8

7050SX3-48C8

7050TX3-48C8

Switch Height
1RU
1RU 
2RU
1RU
1RU
1RU 
1RU 
Ports
32 x 100G QSFP
2 x 10G SFP
32 x 100G QSFP
2 x 10G SFP
96 x 25G SFP
8 x 100G QSFP
48 x 25G SFP
12 x 100G QSFP
48 x 25G SFP
8 x 100G QSFP
48 x 10G SFP
8 x 100G QSFP
48 x 10G RJ45
8 x 100G QSFP 
Maximum 100GbE Ports
32
32
8
12
8
8
8 
Maximum 50GbE Ports
64
64 
16
24
16 
16 
16 
Maximum 40GbE Ports
32
32 
8
12
8 
8 
8 
Maximum 25GbE Ports
128
128 
128
96
64
16
16
Maximum 10GbE Ports
129
129 
129
96
64
64 
64
Maximum 1GbE Ports
2
2 
129
48
48
48
48
L2/L3 Throughput
6.4 Tbps
6.4 Tbps 
6.4 Tbps 
4.8 Tbps
4.0 Tbps 
2.56 Tbps  
2.56 Tbps 
L2/L3 PPS
2 Bpps
2 Bpps 
2 Bpps 
2 Bpps
1 Bpps 
1 Bpps  
1 Bpps 
Latency
800ns
800ns 
800ns
800ns
800ns 
800ns  
3usec 
Typical Power Draw
192W
398W 
218W
179W
124W 
124W 
212W 
AC and DC
Yes
Yes 
Yes
Yes
Yes 
Yes 
Yes 
Total System Buffer
32MB
32MB 
32MB
32MB
32MB 
32MB 
32MB 
CloudVision
Yes
Yes
Yes
Yes
Yes
Yes 
Yes 
Smart System Upgrade *
Yes
Yes 
Yes
Yes
Yes 
Yes 
Yes 
ZTP
Yes 
Yes 
Yes
Yes 
Yes 
Yes 
Yes 
VM Tracer
Yes 
Yes 
Yes
Yes 
Yes 
Yes 
Yes 
AEM
Yes 
Yes 
Yes
Yes 
Yes 
Yes 
Yes 
VXLAN Routing 
Yes 
Yes 
Yes
Yes 
Yes 
Yes 
Yes 
LANZ
Yes 
Yes 
Yes
Yes 
Yes 
Yes 
Yes 
DLB *
Yes 
Yes 
Yes
Yes 
Yes 
Yes 
Yes 
NAT 
Yes 
Yes 
Yes
Yes 
Yes 
Yes 
Yes 
Hitless Speed Changes
Yes 
Yes 
Yes
Yes 
Yes 
Yes 
Yes 
Airflow
F/R or R/F
F/R or R/F 
F/R or R/F 
F/R only 
F/R or R/F
F/R or R/F 
F/R or R/F 
* Not yet supported in EOS
|  Resources | 7050X3 Series |
| --- | --- |
| MAC Table Size | 288K |
| Maximum v4/v6 Host Routes | 168K / 104K |
| Maximum IPv4 Route Prefixes | 360K |
| Maximum IPv6 Route Prefixes | 192K |
| Maximum Multicast Groups | 104K |
| Maximum LAG Groups | 128 (In breakout mode) |
| Maximum LAG Members | 64 Ports |
| Maximum ECMP Fanout | 128-way  |
| Ingress / Egress ACLs | 2K / 2K |
* All resource values are maximum hardware capacity 
10/25/40/100G MACsec
Implementing cost effective and high performance bulk data encryption at scale is a major challenge for today's cloud datacenters. The Arista 7050X3M MACsec systems are flexible, high performance, power efficient 1RU switches with built-in wire speed encryption, designed to meet the needs of the largest scale datacenters.
The 7050X3 MACsec systems utilize proven, standards based encryption technology (IEEE 802.1AE MACsec) to provide secure communication for links between tiers in leaf and spine datacenter designs, datacenter interconnects (DCI), overlay networks and virtualized or traditional enterprise networks connecting to existing and next generation systems with a choice of interface speeds.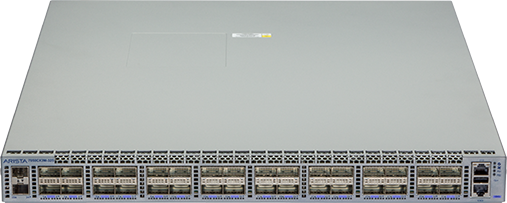 Key Benefits:
Provides high performance L2 and L3 features with wire speed MACsec encryption in a compact, 1RU form factor.
Eliminates the need for external encryption devices.
Flexible configuration of MACsec on any interfaces
Range of interface speeds from 10G to 100G allowing up to 128 ports in a single system.
Secure communication for a wide range of applications from large scale leaf and spine networks to datacenter interconnect.
Key Features:
Up to 6.4Tbps of wire speed L2 and L3 IP forwarding
IEEE 802.1AE MACsec encryption on all QSFP ports
128-way ECMP and 64-way MLAG to provide scalable designs and balance traffic evenly across large scale 2 tier leaf-spine designs
Pluggable 100G and 40G QSFP optics for pay as you grow expansion
High Availability with hot swap power supplies and fans
Choice of AC or DC and forward or reverse airflow