Arista 7130 Applications - FPGA-based network applications
Arista offers several powerful network applications to simplify and transform network infrastructure. These applications are designed for use cases including ultra-low latency exchange trading, network visibility and providing vendor or broker based shared services. These network applications are supported on the Arista's 7130L and LB devices.
The 7130 applications provided by Arista enable a complete lifecycle of packet replication, multiplexing, filtering, time stamping, aggregation, and capture. In addition to these application functions Arista also provides FPGA IP cores to enable low latency communications and multiplexing functionality in your own custom applications.

Arista 7130 Applications
Application Comparison for Arista 7130 Series
Application 

Overview

Key Features

Use it for...

MetaWatch

Advanced network monitoring

Tapping
Large scale, lossless tap aggregation
Multi-port data capture
Sub-nanosecond precise time stamping
Deep buffering (32 GB)

In-depth network monitoring and visibility
Improved network reliability & troubleshooting problems
Market data & packet capture
Accurate latency measurement & monitoring
Regulatory compliance (MiFID II - RTS 25) 

MetaMux

Low-latency multiplexing

Data aggregation in 39 nanoseconds
Deterministic jitter
Packet statistics
BGP & PIM support

Ultra-low latency network connectivity for trading
Market data fan-out and data aggregation for order entry at nanosecond levels

MultiAccess

Connection sharing with enhanced security

Low-latency multiplexing and security
ACL-based configurable filtering
Easy to deploy data privacy for connection sharing
Simplified footprint for both mux and filtering applications
10/1G Speed Conversion

Secure network connection sharing
Providing sponsored access to multiple clients
Multi tenant exchange access
Low latency interconnect sharing
Supporting Colo deployments with multiple concurrent exchange connection

MetaProtectTM Firewall

Low-latency packet filtering in

135 ns

48 x 10GbE port network appliance for packet filtering in parallel between port-pairs
Cut-through filtering via 32 ACLs with up to 510 rules per ACL
Architected for ultra-low-latency with packets passing an ACL being forwarded in

135 ns

or less
Comprehensive logging

ExchangeApp

Inline timestamping enables exchange fairness

Timestamp at the edge of trading venue networks
Sub-200ns passthrough latency to apply the timestamp
Reliable accuracy and timestamp precision
Accurately synchronise timestamps between multiple ExchangeApp devices

Increase exchange fairness
Reduce trading venue latency sensitivity
Maintain trade order based on edge timestamps
Reduce complexity and risk of traditional low latency exchange infrastructures

SwitchApp

Low latency Layer 2 switching

Full-featured 1/10/40G Layer 2 switching, implemented in FPGA
Ultra-low latency packet forwarding in 92-130 ns
EOS as well as Layer 1 integration
Non-blocking bandwidth profiles to provide up to 480 Gbps

Exchange-facing connectivity
L2 Multicast pub/sub
Enabling Custom Applications
While FPGA applications can be challenging to develop, the Arista 7130 makes them easy to deploy. Arista provides a built-in application framework allowing developers to wrap applications into simple packages for deployment, streamlining operational processes. Arista development toolkits enable complete and unfettered access to the facilities provided by the in-system FPGAs. The MOSAPI provides monitoring, CLI, API, FPGA image management, and other facilities to allow application developers to concentrate on the core application functionality. These are the same APIs and developer kits used by the Arista engineering team to develop and deploy our applications.


Enyx is a leading developer of ultra-low latency, FPGA-based solutions for a wide range of financial technology applications, including market data distribution, order execution, and network connectivity management.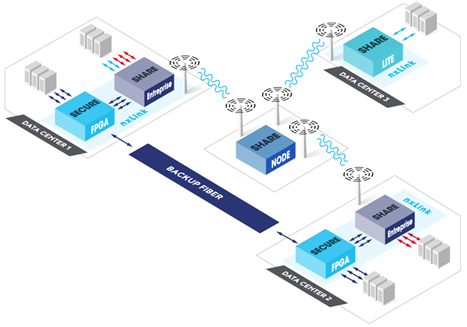 Enyx Applications for Arista 7130 Series
Application
Compatible with
Overview
Key Features
nxLink - Share Enterprise
Arista 7130E
& 7130L Series
Bandwidth management for RF links

Share bandwidth and police user traffic in a fair/deterministic way (Up to 30 user ports)
Aggregate multiple radio links into one or manage multiple destinations
Ultra Low Latency:

10GbE radio interface (microwave)

530 ns User-to-User latency for 1 Byte payload

1GbE radio interface (millimeter wave)

641 ns User-to-User latency for 1 Byte payload

Optimize bandwidth with up to 1.2Gb/s on compatible 1GbE Layer 1 radios
Monitor network status with live link latency monitoring and historical data access

nxLink - Share Lite
Arista 7130L Series
Bandwidth management for RF links

Same features/performance as nxLink Share Enterprise
Offers entry level option for smaller networks; limited to 12 physical user ports, no virtual user support and one single radio port

nxLink - Share Node
Arista 7130L Series
Low Latency Network Router

Component of the nxLink Share infrastructure
1GbE and 10GbE radio interface compliant

nxLink - Secure
Arista 7130L Series
Packet arbitration for link redundancy

Zero packet loss:

Secures an unreliable RF link using a stable backup fiber network
Duplicates ingress packets and performs deduplication on the receiving device
Maintains TCP connections over RF links and prevents client disconnects

Latency:

200 ns user-to-user latency for 64 byte payload

​Integration with nxLink Share:
Monitor packet time spent in input buffers

.

Enyx Case Study
Arista 7130 Applications - IP Cores
Arista develops FPGA applications based on a mature base of network logic IP. To make it easier to develop compelling FPGA-based network applications, Arista licenses that IP as IP cores for use on the Arista 7130 platform. These are supported, proven building blocks that reduces time to implement your applications.
Core 

Overview

Use it for...

10G MAC-PHY IP Core

An IP core for interfacing 10 gigabit Ethernet with low latency.

Implements a low latency Ethernet MAC and Physical layer (10GBASE-R)
Connects directly to FPGA top level serial transceiver pins and provides separate AXI4 interfaces for RX and TX user data
Supports Xilinx Virtex® 7, Xilinx Kintex® UltraScale™, and Virtex® UltraScale+™ FPGA's.

Accelerating your own applications access to the 10G network

Mux IP Core

Implements the same functionality as the Arista MetaMux application.

Allows for customizable radix and number of multiplexing cores
e.g. one 4:1, plus a 13:1, plus a 14:1, etc

Sharing the FPGA between the mux functionality and your own application
Building a multiplexing app with different configurations than the standard MetaMux application.

MMP IP Core

Provides a bus that leverages parallel I/O between FPGA's on the 7130 triple FPGA platforms

8 ns intra FPGA latency
Provides a low latency clock domain crossing FIFO
Supports four MMP links connecting each Leaf FPGA to the Central FPGA and two MMP links connecting the two Leaf FPGAs together

The lowest latency , parallel communications bus for your multi FPGA applications
The fastest way to involve two FPGAs in a trading decision such as "splitting risk logic from trading logic".
Partner Ecosystem
Several tried & tested integrations exist via our technology partners. We enable our partners to deliver value and differentiation in a highly competitive marketplace. Joint innovation with our partners has proven to generate powerful complementary solutions that run on the 7130 platform and offer clients additional capabilities: optimized analytics, data capture solutions, and more.
Quick Looks
Product Overview
White Papers
Product Briefs
Solution Briefs
Case Study
Video