Multi-functional, Open, Programmable and Low Latency
The Arista 7130 Series features powerful hardware, FPGA-based network applications and developer toolkits. It contains: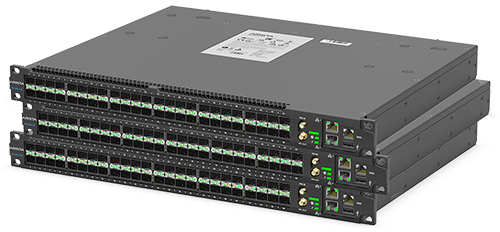 Operating Systems
The Arista 7130 Series natively runs on the MOS operating system. An option to support the Arista EOS (Extensible Operating System) as well as Arista CloudVision will be added.
MOS Operating System
MOS is based on Linux and provides a CLI and web interface as well as support for other management protocols. It provides a standard platform with the commands, tools and packages such as syslog, net-snmp, daemons, RPMs, Bash, Python, authentication and security.
EOS - Extensible Operating System & CloudVision
EOS is a fully programmable, highly modular, Linux-based OS, using an industry standard CLI and running a single binary software image across the Arista switching family. Architected for resiliency and programmability, EOS has a unique multi-process state sharing architecture that separates state information and packet forwarding from protocol processing and application logic.
Arista CloudVision provides a network-wide approach for workload orchestration, workflow automation and real-time telemetry enabling companies to manage the network with much fewer human resources. Rapid integration with a wide range of third-party applications for virtualization, management, automation and orchestration services are equally available.