The Arista 7150 Series is the leading ultra low latency 1RU platform providing a unique combination of performance, advanced features and a balanced set of resources for low latency financial markets, HPC clusters and virtualized data centers.
The Arista 7150S Advantages:
SDN Switch architected for leading-edge applications including Big Data, Cloud Networks, Financial Trading, HPC and Web 2.0 environments
Industry leading accurate and predictable performance in a range of densities (deterministic high performance, lowest latency and jitter for all traffic)
Unprecedented balanced resources and deployment flexibility for "Any Application" suitability
Network–wide virtualization platform for next generation cloud bursting support with wire speed VXLAN hardware-based Tunnel Endpoint termination
Supports sub-microsecond Network Address Translation (NAT)
Deterministic latency and high-performance 10G/ 40G switch and IEEE 1588 Platform
Integrated switch for precision data analysis and capture (DANZ) - redefining instrumentation, automation and analysis of high-end infrastructure
The 7150 Series includes the 7150S and the 7150SC models. The 7150SC models are equipped with a higher performance control plane and meet newer ROHS requirements. The 7150 Series provide 24, 52 or 64 10Gb ports. Each model supports wire-speed performance at both layer 2 and layer 3. Both the 7150-24 and 7150-52 support SFP+ on all ports. The 7150-64 has 48 SFP+ and 4 QSFP+ ports. The SFP+ ports support 1G and 10G operation and also 100Mb support with 100/1000-TX transceivers. The QSFP+ ports support 40GbE and 4x10GbE modes.
Arista 7150 Series Model Comparison
 
7150 Switches
7150S-24
7150S-52
7150S-64
7150SC-24
7150SC-64
Description
7150 Switch 24-Port SFP+
7150 Switch 52-Port SFP+
7150 Switch 48-Port SFP+
4 QSFP+
7150 Switch 24-Port SFP+
7150 Switch 48-Port SFP+
4 QSFP+
Total Ports
24
52
64
24
64
SFP+ Ports
24
52
48
24
48
L2/3 Throughput
480 Gbps
1.04 Tbps
1.28 Tbps
480 Gbps
1.28 Tbps
L2/3 PPS
360 Mpps
780 Mpps
960 Mpps
360 Mpps
960 Mpps
Latency
350ns
380ns
380ns
350ns
380ns
Typical Power Draw
191 W
191 W
224 W
191 W
224 W
Robust any-purpose data center switch with comprehensive feature sets:
High Performance, Low Latency, 10 and 40G Switching with Large Resources
Layer 2/3/4 switching up to 1.28Tbps and 960Mpps
Consistent latency as low as 350ns for all packet sizes
Large L2 and L3 tables for virtualized and cloud network environments
Advanced Traffic Control
Hardware Network Address Translation (NAT)
VLAN to VXLAN gateway for stateful VM Mobility across L3 boundaries
Full suite of Precision Time Protocol (PTP) features for ultra-accurate timing networks
Advanced Monitoring and Instrumentation
LANZ+ for unprecedented micro-burst analysis and capacity management
Multi-port Mirroring to enable in-line tap and data capture aggregation
Datacenter Optimized
1 rack unit (RU) for up to 64 ports of 10GbE
Front to rear and reversible airflow for flexible installation
High Availability and Simple Provisioning
AgilePorts with support for 100Mb to 40GbE in one interface
Arista EOS™
Extensible operating system customizable to customer needs
Fine-grain modular protected memory architecture
Access to Linux tools
In-service-software-upgrades (ISSU)
Self-healing stateful fault repair (SFR)
Arista offers a new approach to TAP Aggregation that delivers security, availability and data analysis for high density, non-blocking 10/25/40/50/100GbE networks at any scale– all powered by Arista EOS® software to deliver an order of magnitude improvement in the economics of building cloud-scale visibility.
Next generation TAP Aggregation using Arista CloudVision® with Arista Data ANalyZer (DANZ) makes it possible to cost-effectively and losslessly monitor all datacenter network traffic, while capturing and analyzing only the traffic that is needed. DANZ is a precision visibility architecture that can scale to thousands of access points and hundreds of Terabits bandwidth.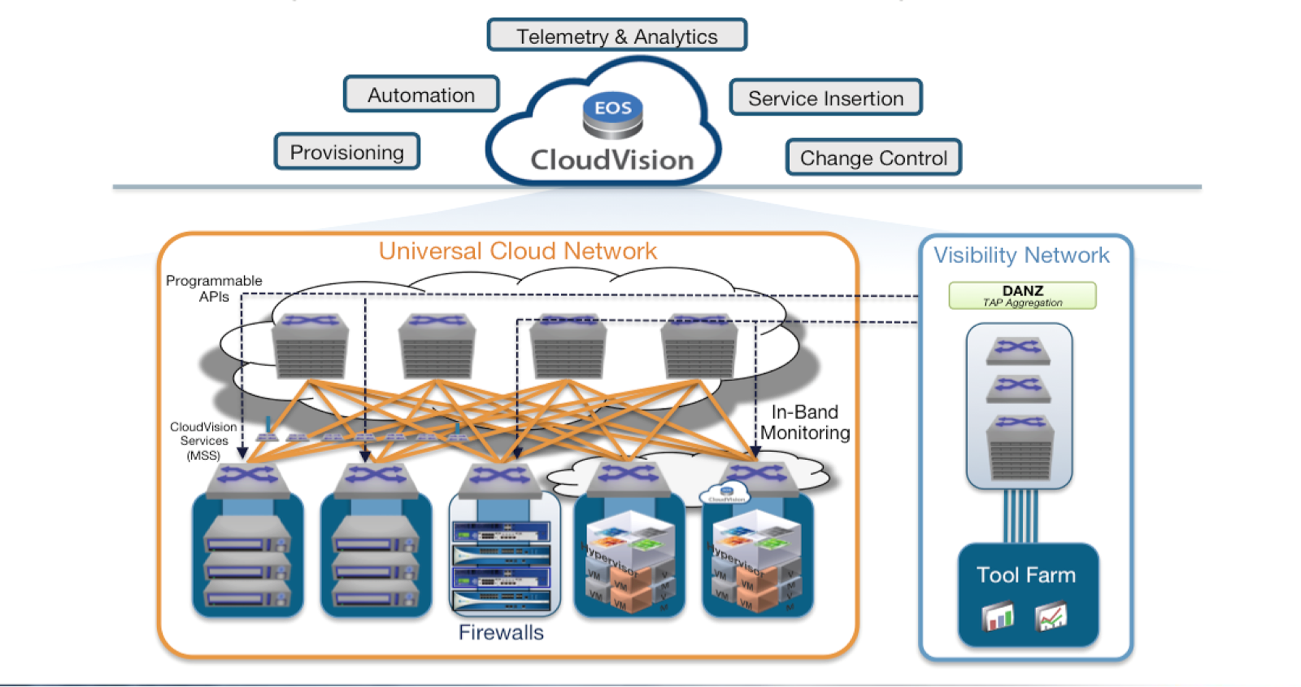 DANZ lowers CAPEX and OPEX versus traditional packet brokers or in-band monitoring approaches with its cloud-scale architecture, best-in-class business value and deep lossless visibility features. DANZ provides both an in-band and out-of-band telemetry and packet capture architecture, not available in lower scale, proprietary add-on visibility fabrics. With DANZ, customers can transform opaque datacenter traffic into comprehensive visibility for security threat detection and mitigation, application and network performance management, service availability monitoring, traffic recording and troubleshooting.
Arista TAP Aggregation capabilities deliver the ability to integrate visibility into current and future enterprise cloud, service provider and other large scale cloud environments with the same highly scalable platforms optimized as Arista's Universal Leaf and Spine, including:
High density, non-blocking, wire-speed 10/25/40/50/100GbE packet capture with advanced traffic management capabilities for lossless monitoring of network traffic
Support for up to 432 ports of 100G and 1152 ports of 10/25G in a single non-blocking platform that simplifies deployment by providing higher density and capacity with fewer devices
Programmability and automation for operations in a cloud environment that is all provided on Arista's proven open switching platforms, including: 7150-Series, 7280R-Series and 7500R-Series, without proprietary fabrics or inflexible designs
Advanced network packet broker functionality delivered at wire-rate without the need for additional service-nodes or "smart" blades that create performance bottlenecks
CloudVision as single point of control for provisioning, orchestration and real-time telemetry for both the TAP Aggregation network, as well as the general purpose datacenter network infrastructure
The DANZ solution delivers scalable end-to-end network and application visibility with exceptional flexibility and precision, while enabling existing third-party security and monitoring tools to integrate directly with captured data.
Literature
What People Are Saying
Learning Center
Media
Technology Solutions