Quick Look Datasheet
Arista 7500E Series Network Switch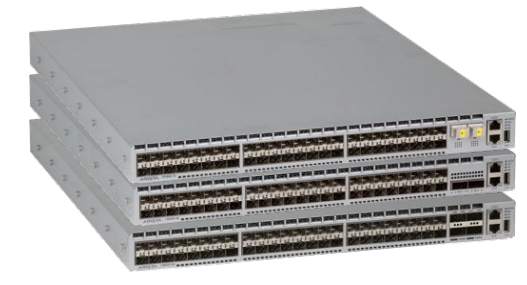 Arista 7280E Series Network Switch
High Performance
Industry first 100G 1RU Switch
Up to 1.44Tbps Capacity
Up to 900 million packets per second
Wire speed unicast & multicast
Under 4us latency (64 byte)
High density 10G/40G/100G
Ultra deep 9GB packet buffer
Under 4W per 40G port
Feature Rich
High Availability
Rich L2 and L3 features
128-Way MLAG
128-Way ECMP
Hitless MLAG ISSU
Zero touch provisioning
IEEE 1588 precision timing
Flexible airflow options
High Scalability
128K-256K MAC Addresses
128K IPv4/IPv6 Host Routes
64K IPv4 Routes
Up to 12k IPv6 Routes
Built-in Solid State Storage
120GB Solid State Drive included
Store logs and data captures
Leverage linux tools with no limitations
Virtualization & Provisioning
VXLAN for next generation DC
VM Tracer integration
LANZ microburst detection
DANZ advanced monitoring
AEM proactive management
sFlow for network visibility
Arista 7280E Series Introduction
The Arista 7280E Series is a key component of the Arista 7000 Series portfolio of data center switches. The Arista 7280E series is a set of purpose built 10/40/100GbE fixed configuration systems designed for the highest performance environments, where wire speed L2 and L3 forwarding are combined with advanced features for network virtualization, open monitoring and network analysis, resiliency and architectural flexibility. The 7280E capabilities address the requirements for modern networking and rich multimedia where content delivery require a lossless forwarding solution.
7280E Advantages
Industry first, standards-based 100G top of rack switch ideal for future proofing designs and high bandwidth needs such as in High Performance Storage or Content Delivery Networks (CDNs)
Ultra deep buffers in a 1RU form factor makes for an ideal top of rack switch where lossless performance and in-cast problems are expected such as in data analytics, IP storage and big data environments
Integrated SSD Storage allows for unique extensibility abilities and traffic monitoring for truly capable SDN
Wire speed VXLAN tagging support, extending the next generation of scalable data centers
Hardware assisted Precision Time Protocol enables accurate timing solutions across Ethernet based networks without costly investments in deploying separate timing networks
Unique monitoring and provisioning features – LANZ, DANZ, AEM, IEEE 1588 PTP, ZTP, VM Tracer, VXLAN, and eAPI
Comprehensive L2 and L3 feature set for open multi-vendor networks with no proprietary lock-in
Balanced L2 and L3 table resources allow deployment flexibility in both large L2 and L3 environments with any-workload suitability
Network–wide virtualization platform for next generation cloud bursting with wire-speed VXLAN hardware-based Tunnel Endpoint (VTEP) termination.
|   | 7280SE-64 | 7280SE-68 | 7280SE-72 |
| --- | --- | --- | --- |
| Total 10G Ports | 64 | 56 | 72 |
| SFP+ Ports | 48 | 48 | 48 |
| Uplink Ports | 4 QSFP+ | 2 QSFP100 | 2 MXP |
| L2/3 Throughput | 1.28 Tbps | 1.36 Tbps | 1.44 Tbps |
| Latency | 3.8us | 3.8us | 3.8us |
| Typical Power Draw | 261W | Approx. 260W (tbd) | 262W |
| Airflow | F/R or R/F | F/R or R/F | F/R or R/F |
Arista EOS
Arista EOS is a modular switch operating system with a unique state sharing architecture that cleanly separates switch state from protocol processing and application logic. Built on top of a standard Linux kernel, all EOS processes run in their own protected memory space and exchange state through an in-memory database. This multi-process state sharing architecture provides the foundation for in-service-software updates and self-healing resiliency.
7280E Series Systems
The Arista 7280SE Series extends the Arista 1RU product portfolio, providing a combination of deep buffers, extensive features such as VXLAN and LANZ, and the industry's first 100G Top of Rack switch built for storage networks, content delivery networks, and lossless spline/leaf datacenter designs.
| Feature | Description |
| --- | --- |
| DANZ Tap Aggregation | Delivering industry's first 1RU Tap Aggregator with 100G tap ports |
| Wirespeed VXLAN Gateway | Seamless integration between VXLAN and L2/L3 environments, physical and virtualized networks |
| Ultra Deep Buffers | Dynamic Buffer Allocation with 9GB of buffer per switch and up to 125MB of buffer per port |
| 128-way ECMP & MLAG | Improve network scalability and balance traffic across large-scale leaf-spine designs or server load balancers |
| Latency Analyzer (LANZ) | Microsecond granularity on port utilization using buffering watermarks to provide immediate feedback and precision monitoring |
| Network Wide Virtualization | Multi-vendor API Support with eAPI, VXLAN and NSX, and other encapsulation techniques |
7280E Deployment Scenarios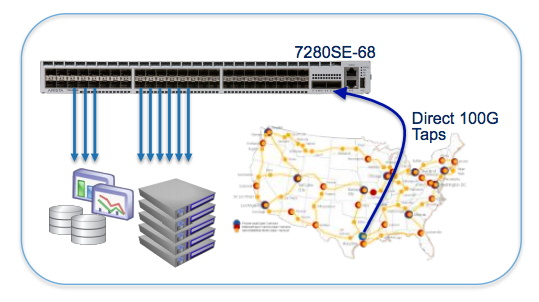 Virtualized and Cloud Data Centers

— Largest scale, flexible interface choices, balanced resources, deep buffers and non-blocking performance coupled with a rich L2/L3 feature set and innovative provisioning and monitoring features

IP Storage

— Dense 10G and 40G with deep buffers and predictable low latency in a non-blocking system

DANZ at 100G

— Direct 100G Taps into remote PoPs or data center interconnects provides high bandwidth without security and analysis compromise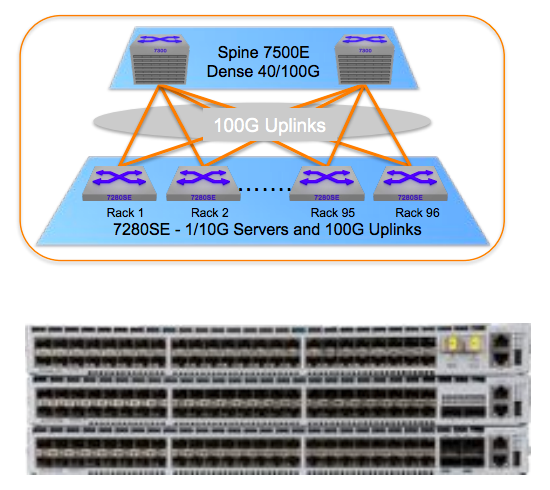 High Performance Compute (HPC) and Research

— Low and predictable latency, non-blocking with high density 40G and 100G, precision timing, precision monitoring, and support for flexible 10G, 40G and 100G

Big Data and Hadoop

— High performance, high density, flexible 1G/10G/40G/100G, advanced monitoring and traffic control features for deterministic performance

Content Delivery Networks

— Ultra deep buffers create a lossless network for streaming media and content delivery networks that ensures reliable performance under peak load



A choice of three systems for flexible options of 10/40/100G

7280SE-72 — 48 SFP+ & 2 MXP ports for 10/40/100G up to 72x 10GbE
7280SE-68 — 48 SFP+ & 2 QSFP100 for 10/40/100G up to 56 x 10GbE
7280SE-64 — 48 SFP+ & 4 QSFP+ ports for 10/40G up to 64 x 10GbE
Copyright © 2017 Arista Networks, Inc. All rights reserved. CloudVision, and EOS are registered trademarks and Arista Networks is a trademark of Arista Networks, Inc. All other company names are trademarks of their respective holders. Information in this document is subject to change without notice. Certain features may not yet be available. Arista Networks, Inc. assumes no responsibility for any errors that may appear in this document.     11-0011-01