Arista 7320X Series Technical Specifications
The Arista 7320X Series modular switches provide industry leading 40/100G density and performance. Available as a choice of 8 slot and 4 slot systems they combine wirespeed forwarding with comprehensive L2 and L3 features.
The 7320X Series supports high density layer 2/3/4 wirespeed performance linecards that offer a flexible combination of interface speeds including 10G, 25G, 40G and 100G to design large leaf and spine networks for scale-out of east-west traffic patterns with low latency and power efficiency and enable seamless migration from 10/40G to 25/100G soluitions.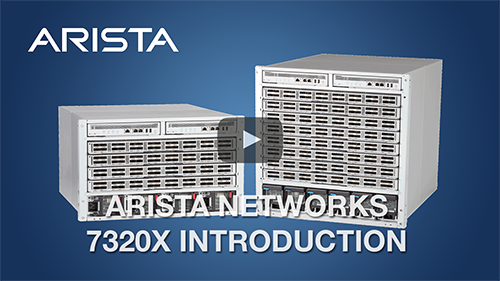 System Performance:
The Arista 7320X systems can be fully populated with up to eight or four linecards respectively
|   | 7328X | 7324X |
| --- | --- | --- |
| Description | An 8 slot system with scalable density and performance for server or network rows replacing Nexus 7K or 9K | Compact high density and resilient 100G system with flexible interface speeds for both spine and collapsed spline |
| Switching Capacity | 50Tbps | 25Tbps |
| Linecards | 8 | 4 |
| Maximum 100G Ports | 256 | 128 |
| Maximum 40G Ports | 256 | 128 |
| Maximum 10G Ports | 1024 | 512 |
| Maximum 25G Ports | 1024 | 512 |
| Maximum 50G Ports | 512 | 256 |
| L2/L3 PPS | 38 Bpps | 19 Bpps |
| Total Buffer | 256MB | 128MB |
| Rack Units | 13 | 8 |
Linecard Specification
|   | 7320X-32C |
| --- | --- |
| Ports | 32 QSFP100 |
| 100GbE Interfaces | 32 (QSFP100) |
| 40GbE Interfaces | 32 (QSFP+) |
| 10GbE Interfaces | 128 with breakout cable and optics |
| 25GbE Interfaces | 128 with breakout cable and optics |
| 50GbE Interfaces | 64 with breakout cable and optics |
| Packet Buffer | 32MB |
| Nominal Power | 219W |
| Maximum IPv4 Host Routes | 104K |
| Maximum IPv6 Host Routes | 52K |
| Maximum IPv4 Unicast Route Prefixes | 128K |
| Maximum IPv6 Unicast Route Prefixes | 84K |
| Maximum Multicast Groups | 136K with 8K unique groups |
| Ingress / Egress ACLs | 8K / 1K |
| Maximum LAG Members | Up to 64 member ports |
| Maximum LAG Groups | Up to 1024 |
| Maximum ECMP Fanout | 128-way |
7320X Series