Arista's Resiliency solutions are designed for the 'always-on' infrastructure that remains responsive to changing business needs. These solutions eliminate planned maintenance windows for software upgrades and minimize downtime due to faults while accelerating time-to-deployment for services in the cloud.
Arista's Resiliency Solutions begin with the EOS software architecture and builds on the cloud networking principles of flexibility, simplicity and repeatability to deliver solutions at the leaf, spine and network level.
EOS software architecture
Resiliency is built into the foundation of the EOS software architecture with its unique multi-process state sharing architecture that separates state information from processes. The resilient architecture of EOS enables the following key benefits:
In-service software patching - Ability to upgrade individual processes without system interruption
Software Fault Containment (SFC) - Faults are localized to a single process
In-service software upgrades for individual software processes within EOS without impact to switch operation, including packet forwarding
Stateful Fault Repair (SFR) - Automatic recovery of software processes
Featured Video: Arista Resiliency Solutions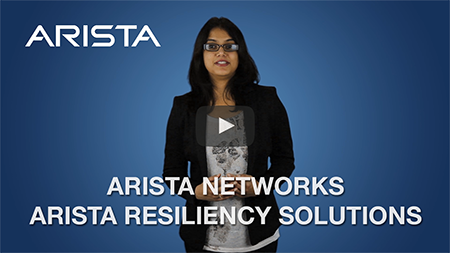 High Availability
Arista's High Availability solutions such as MLAG SSO, MLAG ISSU and Supervisor SSO leverage Sysdb to sync state across two devices. This design philosophy eliminates per process state sync which have mired HA solutions offered by traditional operating systems. Combined with protocol support for Non-Stop forwarding (NSF), EOS devices operating as an HA pair provide redundancy in the event of software faults and make device maintenance easier with minimized loss to application traffic.
Smart System Upgrade
Smart System Upgrade (SSU) is a solution suite designed to address one of the most complicated and challenging tasks facing data center administrators - network infrastructure maintenance. Changes to the underlying network infrastructure can affect large numbers of devices and cause significant outages. Designed to be a complete solution for data center infrastructure maintenance, Arista's SSU provides the following key benefits:
Intelligent insertion and removal of network elements, customized to the Spine or the Leaf layer
Ability to upgrade network infrastructure without incurring network down time
Programmatic interface to tailor upgrades to operating environment
Leaf SSU
Leaf SSU enables hitless software upgrade that allows a network operator to upgrade the software while keeping the switch data plane operational during the upgrade. Hitless upgrade is completely seamless to connected hosts ensuring uptime to services and applications to singly attached hosts during a software upgrade.
Spine SSU
Spine SSU introduces maintenance mode to intelligently insert and remove a spine device from the network by combining protocol based graceful shutdown and traffic redirection hence minimizing loss to application traffic. Maintenance mode enables network operation teams to stay on top of software upgrades, hardware replacements or isolated troubleshooting without taking downtime for applications.
CloudVision®
Network wide SSU and rollback in CloudVision takes SSU one step further to automate software upgrade from a per device level to a network wide level. In addition to being a useful approach for both software image and patch upgrades, CloudVision includes a snapshot view for network status pre and post change control which provides for quick confirmation of any areas for further investigation. Of significant importance when an operator needs to back-out of changes done during a maintenance window, the pre-integrated rollback functionality in CloudVision provides a safety mechanism and reduces the time to restore service.
Resiliency - Literature