Arista's Wi-Fi 6E access points are the building block of a self-driving Wi-Fi network powering AI/ML based continued adaptations, saving time and resources resulting in significant cost savings and increased user and operator satisfaction. 
Designed for immediate and future worldwide operation with investment protection, the Arista's Wi-Fi 6E access points allow dual 5 GHz operation through software configuration where:
6 GHz radio operates in the upper 5 GHz band
5 GHz radio operates in the lower 5 GHz band. 
When regulations allow or when the 6 GHz clients population justifies, 6 GHz operation can simply be turned on, on all or on selected access points. 
With 4x4, 4 stream MIMO on all three access radios, Arista's Wi-Fi 6E AP's maximum combined peak data rate exceeds 10 Gbps and it is designed with dual 10 Gbps Ethernet uplink ports both with 802.3bt PoE to provide for power and data path redundancy. While operating with full functionality with 802.3bt PoE budget, it can also operate on 802.3at POE budget with a minimal reduction in functionality.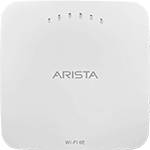 Model Number
C-360
Description
Indoor tri-band AP for highest deterministic performance (voice, video, data), ultra-high density.
Persistent RF analysis by dedicated multifunction radio.
Radio Components   
802.11b/g/n/ax radio (2.4 GHz)
802.11a/n/ac/ax radio (5 GHz)
802.11ax radio (6 GHz)
802.11a/b/g/n/ac/ax multifunction radio
BLE/ZigBee
Internal antenna
Ports
2 x 10Gb Ethernet
Console
USB3.0
Max Data Rate
4.8 /4.8/1.2 Gbps
Spatial Streams
4x4 (2.4GHz); 4x4 (5GHz); 4x4 (6GHz)
Channel Width
20/40/80/80+80/160 MHz
Power 
802.3bt
802.3at (reduced functionality)
DC power
Dedicated WIPS
No
Mesh
No
LTE Interference Mitigation
Yes
WiFi Alliance Certification
In process
SKU
AP-C360
For complete country certification records, please visit the product certificate page on Arista website.
For Antenna selection for models with external antenna connectors, please see the Antenna Selection Guide.
All Arista Wi-Fi Access Points support WIPS functionality, either via the multi-function radio or with background scan enabled on the access radios.
Literature