Proliferation of cloud architectures and principles are transforming the traditional routing landscape. New business models around Service Provider NFV, Cloud WAN, Content Edge and data center interconnect (DCI) are disrupting the traditional approaches to networking.
Arista's Routing solution applies the cloud networking principles of "scale-out, simplify, software-driven networking" beyond the data center to routing use-cases. These solutions are based on Arista's 7280R Universal Leaf and 7500R Universal Spine platforms, powered by Arista EOS® and CloudVision®. Customers can leverage these platforms for roles that require high performance Routing, combined with high port density and deep buffers, integrated DWDM with wirespeed MACSec encryption and cloud automation, which traditional Routers are unable to offer. With the Arista FlexRoute™ engine in Arista's R-series portfolio, customers can now architect, transform and modernize their Routing layer for different applications. Additionally, with the advanced telemetry solutions along with security at scale, delivered with Arista AlgoMatch, customers can avail highest visibility and security for their networks.
Arista R-Series Portfolio
Featured Video: Arista 7280R/7500R Series Continuing Disruptions in Routing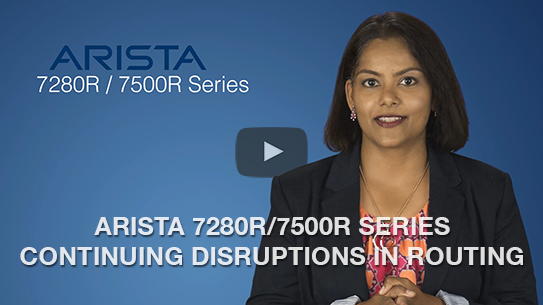 .
Key Highlights of Arista's Routing solutions:
Support for up to 2M+ Routes in hardware, with Arista FlexRoute engine and EOS NetDBTM on R-series platforms, with best-in-class Route convergence
Innovations with Arista AlgoMatch include accelerated sFlow, at high density 100G, 5X-10X ACL scale over standard silicon with uncompromised scale for IPv6
Support for various tunneling technologies including VXLAN, MPLS, GRE, MPLSoGRE and programmable traffic steering
Support for MPLS - LDP, ISIS Segment Routing and BGP Labeled Unicast (BGP LU)
Support for various Network Virtualization solutions such as BGP EVPN
EOS NetDB provides real-time state streaming and analytics for live monitoring and historic forensic troubleshooting