New
Arista welcomes Big Switch's Big Monitoring Fabric to our TAP Aggregation portfolio of visibility solutions. For more details, read our press release here and learn more about Big Mon
.
Arista offers a new approach to TAP Aggregation that delivers security, availability and data analysis for high density, non-blocking 10/25/40/50/100GbE networks at any scale– all powered by Arista EOS® software to deliver an order of magnitude improvement in the economics of building cloud-scale visibility.
Next generation TAP Aggregation using Arista CloudVision® with Arista Data ANalyZer (DANZ) makes it possible to cost-effectively and losslessly monitor all datacenter network traffic, while capturing and analyzing only the traffic that is needed. DANZ is a precision visibility architecture that can scale to thousands of access points and hundreds of Terabits bandwidth.
.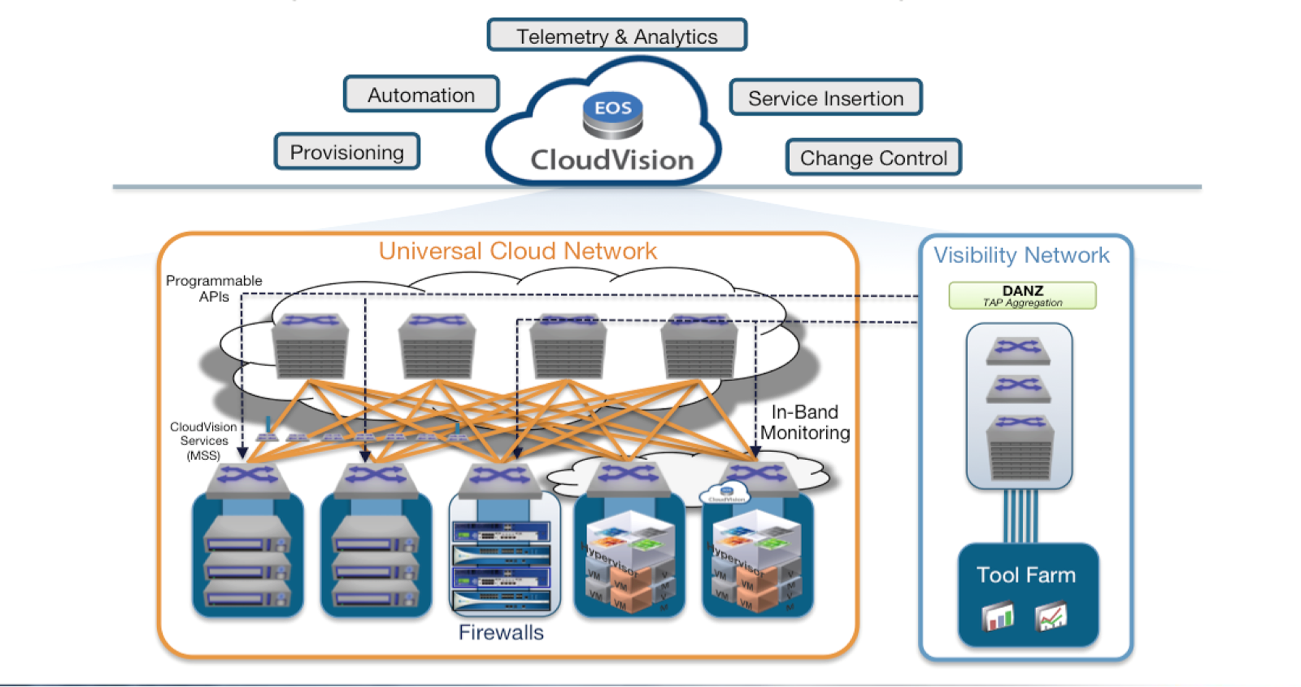 DANZ lowers CAPEX and OPEX versus traditional packet brokers or in-band monitoring approaches with its cloud-scale architecture, best-in-class business value and deep lossless visibility features. DANZ provides both an in-band and out-of-band telemetry and packet capture architecture, not available in lower scale, proprietary add-on visibility fabrics. With DANZ, customers can transform opaque datacenter traffic into comprehensive visibility for security threat detection and mitigation, application and network performance management, service availability monitoring, traffic recording and troubleshooting.
Arista TAP Aggregation capabilities deliver the ability to integrate visibility into current and future enterprise cloud, service provider and other large scale cloud environments with the same highly scalable platforms optimized as Arista's Universal Leaf and Spine, including:
High density, non-blocking, wire-speed 10/25/40/50/100GbE packet capture with advanced traffic management capabilities for lossless monitoring of network traffic
Support for up to 432 ports of 100G and 1152 ports of 10/25G in a single non-blocking platform that simplifies deployment by providing higher density and capacity with fewer devices
Programmability and automation for operations in a cloud environment that is all provided on Arista's proven open switching platforms, including: 7150-Series, 7280R-Series and 7500R-Series, without proprietary fabrics or inflexible designs
Advanced network packet broker functionality delivered at wire-rate without the need for additional service-nodes or "smart" blades that create performance bottlenecks
CloudVision as single point of control for provisioning, orchestration and real-time telemetry for both the TAP Aggregation network, as well as the general purpose datacenter network infrastructure
The DANZ solution delivers scalable end-to-end network and application visibility with exceptional flexibility and precision, while enabling existing third-party security and monitoring tools to integrate directly with captured data.
TAP Aggregation - Literature