Arista offers a next-generation approach to TAP Aggregation -- network observability -- that enables, pervasive network visibility, zero-trust security monitoring and contextual analytics for high density, non-blocking 10/25/40/50/100GbE networks at any scale– all powered by Arista Data ANalyZer (DANZ) monitoring software solutions to deliver cloud-scale visibility with Ethernet economics
Arista Network Observability Product portfolio comprises of:
DANZ Monitoring Fabric (DMF) - is a next-generation, controller-based network packet broker (NPB) with integrated advanced services, predictive analytics and scale-out packet capture.
DANZ EOS - enables a switch-based tap aggregation solution with familiar Arista EOS® and Arista CloudVision® operational model.
Predictive, App-aware, Flow Intelligence for Pervasive Observability
DANZ Monitoring Fabric (DMF) is a next-generation network packet broker (NPB) architected for pervasive, organization-wide visibility and security, delivering multi-tenant monitoring-as-a-service. DMF enables IT operators to pervasively monitor all user, device/IOT and application traffic (north-south and east-west) by gaining complete visibility into physical, virtual and container environments. Deep hop-by-hop visibility, predictive analytics and scale-out packet capture — integrated through a single dashboard — enables simplified network performance monitoring (NPM) and SecMon workflows for real-time and historical context, delivering a one-stop visibility solution for on-premise data centers, enterprise campus/branch and 4G/5G mobile networks.
To learn more, download the DMF Datasheet or test drive online at DMF Labs.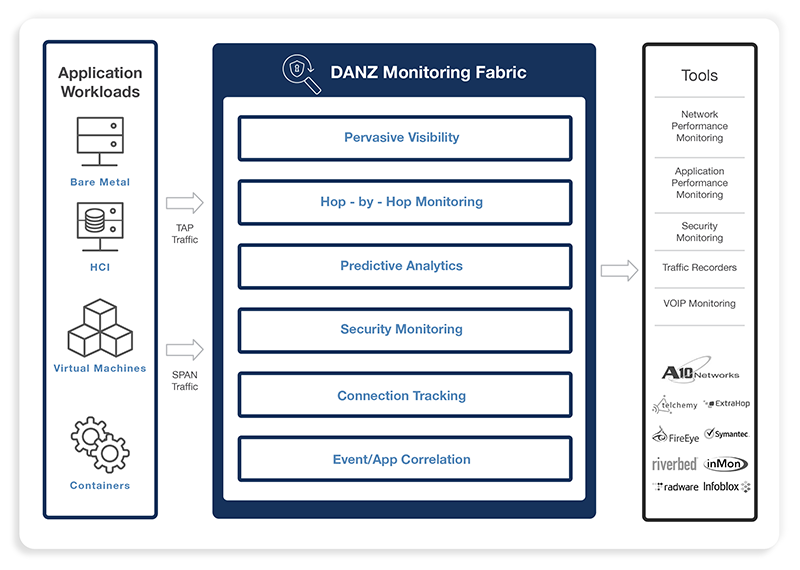 Featured Video: Arista DANZ Monitoring Fabric Delivering Pervasive, Context-driven Network Observability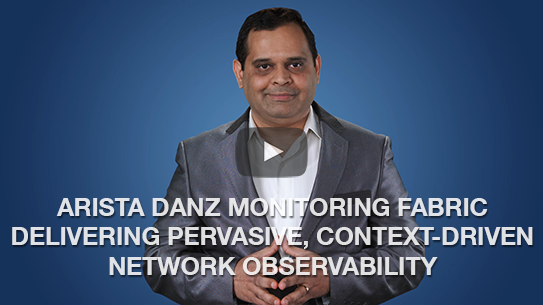 DMF - Pervasive Observability
One logical Network Packet Broker (NPB): Eliminates tool silos by centralizing tool farms
Zero-Touch Fabric Operations via DMF Controller: Automated, Built-in workflows for Day0 / Day1 / Day2 Operations
Scale-out, leaf-spine fabric design: Institutes a "Build as you grow" model leveraging horizontal scale-out fabric architecture
Resilient design: Ensures policy intent in the event of device/link failure for continuous visibility.
Monitoring-As-A-Service: Policy and delegated administration across multi-tenant NetOps/SecOps/DevOps tool owners
Mission-critical monitoring design: High-performance, high-density and deep-buffer 10G/25G/100G platforms at Ethernet economics
DMF - Integrated Contextual Insights
Comprehensive Flow Intelligence: Presents enterprise-wide actionable insights, deep visibility, and security analytics via intuitive, flow-aware dashboards.
Network Time Machine - Integrated real-time and historical network analysis, traffic recording and replay for security and performance monitoring
Predictive Analytics for Autonomous IT: Enables network and application performance analysis and capacity planning
Intelligent alert and notification engine: Provides real-time issue tracking and dramatically improves "mean time to resolution".
Application Dependency Mapping for Enhanced Reachability Analysis: Visualizations for app-to-app communications
Arista offers a new approach to TAP Aggregation that delivers security, availability and data analysis for high density, non-blocking 10/25/40/50/100GbE networks at any scale– all powered by Arista EOS® software to deliver an order of magnitude improvement in the economics of building cloud-scale visibility.
Next generation TAP Aggregation using Arista CloudVision® with Arista Data ANalyZer (DANZ) makes it possible to cost-effectively and losslessly monitor all datacenter network traffic, while capturing and analyzing only the traffic that is needed. DANZ is a precision visibility architecture that can scale to thousands of access points and hundreds of Terabits bandwidth.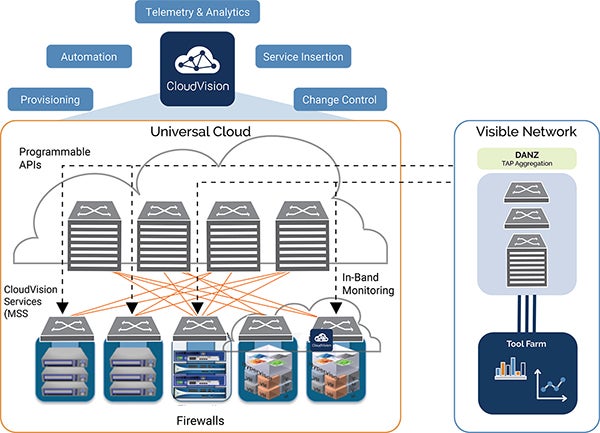 DANZ EOS lowers CAPEX and OPEX versus traditional packet brokers or in-band monitoring approaches with its cloud-scale architecture, best-in-class business value and deep lossless visibility features. DANZ provides both an in-band and out-of-band telemetry and packet capture architecture, not available in lower scale, proprietary add-on visibility fabrics. With DANZ, customers can transform opaque datacenter traffic into comprehensive visibility for security threat detection and mitigation, application and network performance management, service availability monitoring, traffic recording and troubleshooting.
Arista DANZ EOS delivers TAP aggregation capabilities with the same highly scalable platforms optimized as Arista's Universal Leaf and Spine, including:
Support for up to 432 ports of 100G and 1152 ports of 10/25G in a single non-blocking platform that simplifies deployment by providing higher density and capacity with fewer devices
Programmability and automation provided on Arista's proven open switching platforms, including: 7150-Series, 7280R-Series and 7500R-Series, without proprietary fabrics or inflexible designs
CloudVision as single point of control for provisioning, orchestration and real-time telemetry for both the TAP Aggregation network, as well as the general purpose data center network infrastructure.
TAP Agg DANZ EOS
DANZ Monitoring Fabric
DANZ EOS
DANZ Monitoring Fabric