Arista Networks is dedicated to providing 24x7x365 customer support to its customers. Arista TAC has a great team of networking experts who can assist you with any issues you may encounter. At Arista, we strive to provide you with a positive experience with our products. 
For other, non-urgent issues, please feel free to send us an email at support@arista.com. To assist with the investigation, please include the following with your communication:
The output of "show tech" from relevant Arista devices
A brief problem description
You may also wish to include a network topology diagram showing interconnections between devices.
Please register on our site and you will be granted access to the customer portal where you can submit service requests online as well. You can also upload relevant documents such as the "show tech" report and any related documents directly to the case.
Arista A-Care Service Offerings
Arista A-Care is designed to provide you with world-class support when and where you need it. With the goal of minimizing any network impact or downtime through fast problem resolution, Arista A-Care service offerings provide support on a 24x7x365 basis with the following components:
Global Technical Assistance Center (TAC)
Arista.com Online Resources
Worldwide Advance Hardware Replacement and an option for onsite hardware replacement services.
Arista Global TAC
Arista Global TAC provides you with 24x7x365 coverage for your product support needs around the world. You can obtain help anytime by email, phone or through the Arista website. Arista TAC engineers have many years of networking experience and are well-versed on the entire Arista product portfolio to help you quickly resolve problems and maximize network uptime. When you reach out for help, an Arista TAC engineer may already know of a solution based on our internal database of customer cases.
Arista.com Online Resources
With all of the A-Care Service offerings, you can access various resources online anytime. This includes:
Software Downloads: Unlimited access to the software download section where you can obtain new software maintenance releases as well a new feature releases. This includes EOS, vEOS, and CloudVision software.
Notification Service: Proactive notifications for known software and hardware issues, including security vulnerabilities, allowing you to take action before you run into any known issues.
Release Recommendations: Access to software release recommendations for helping in picking the most appropriate software version for your environment.
Bug Portal Access: Access to the Arista Bug Portal for reviewing known caveats and associated details.
Online Case Management: Customer portal to create new cases, provide updates, and upload necessary files in a secure manner.
Arista Community Forums via EOS Central: Our online forums help you share insights with other members of the community and leverage collective knowledge to better your experience with our products.
Advance Hardware Replacement
A-Care Service offerings provide worldwide RMA and advance hardware replacement with flexible choices to meet the operational needs of our customers. The offering includes two primary delivery options:
Standard shipment-based delivery for advance replacement hardware, with options for Next Business Day, 4 Hour, and 2 Hour service levels. These services are available via SKUs starting with 'SVC'.
Onsite installation for advance replacement hardware, performed by an onsite engineer with options for Next Business Day and 4 Hour service levels. These services are available via SKUs starting with 'OSV'.
Customers are able to choose the level of coverage on their capital investment that is most appropriate for your business. In addition, when you chose to obtain hardware support, you will receive proactive notifications about known hardware issues.
Arista A-Care Services at a Glance
 
A-Care Next Business
A-Care 4 Hour
A-Care 2 Hour
 
Shipment (SVC) 
Onsite Service (OSV)
 Shipment (SVC)
Onsite Service (OSV)
Shipment (SVC) 
Unlimited 24x7 TAC access

.

.

.

.

.

Software Download

.

.

.

.

.

Online Case Management

.

.

.

.

.

Arista Networks Community Forums

.

.

.

.

.

Advance Replacement of Hardware

.

.

.

.

.

RMA service level
Next Business Day
Next Business Day
4-Hour
4-Hour
2-Hour
RMA Installation
 Self
Arista Tech
 Self
Arista Tech
 Self
Shipment-based RMA Service Coverage Areas
Arista Service Depots are equipped to respond to our customers to meet their business needs - from Next Business Day, to 2-Hour, to 4-Hour advance replacements. Arista's global service coverage is shown in the map below.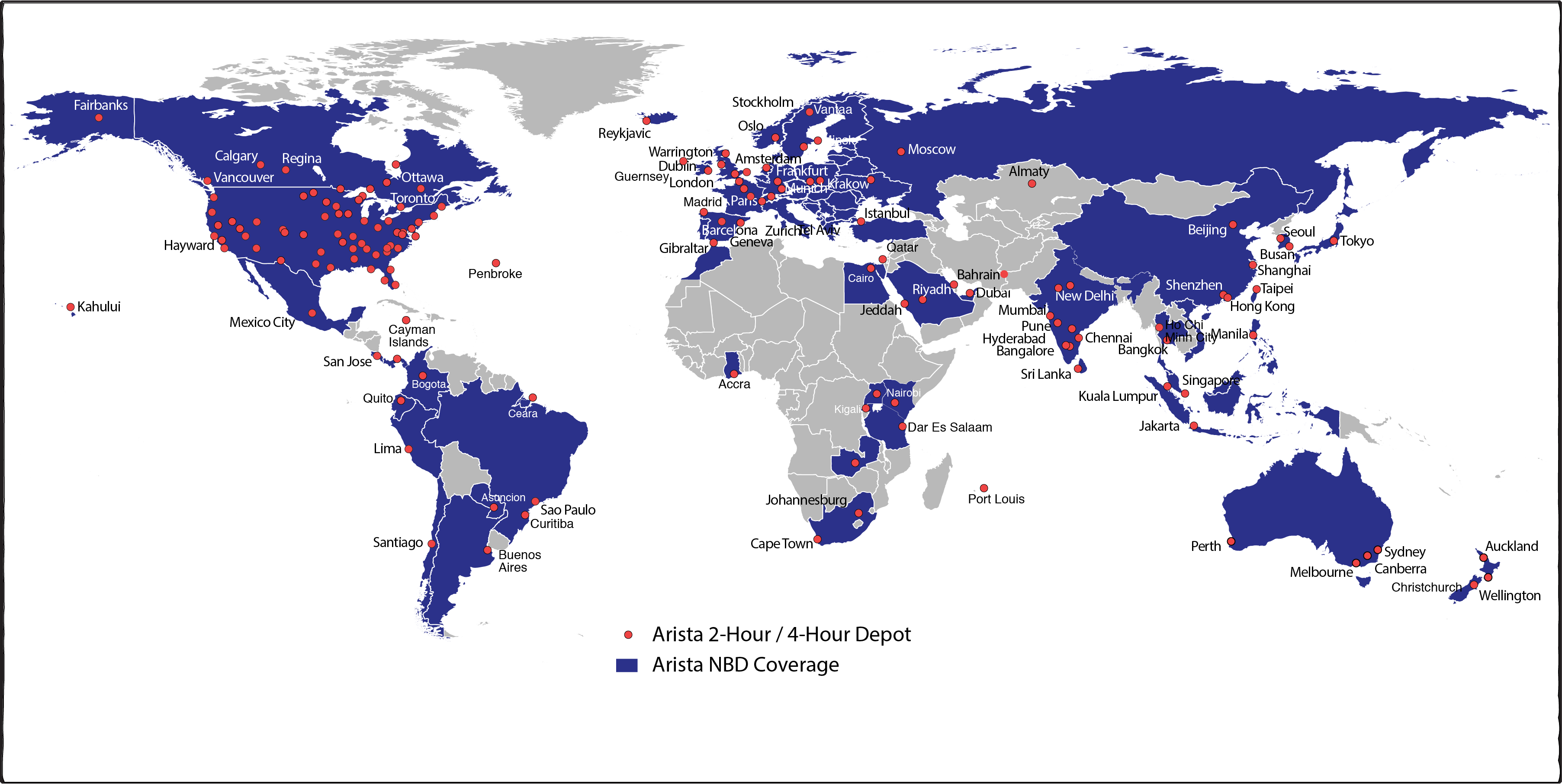 (Click on the map to enlarge)
In addition to the above active locations, Arista can bring on new locations as needed through our vast network of worldwide logistics partners.