The Arista software platforms, EOS and CloudVision, are designed to provide flexibility both in the choice of the appropriate feature functionality and in the software consumption model. The base feature set of Arista EOS comes bundled with the Arista products and systems. A set of feature licenses are available to enable additional functionality in advanced feature sets.
The traditional licensing procurement model employs a perpetual term for the right to use the feature, set at a fixed price. For Arista CloudVision and vEOS Router, the functionality is available as a monthly subscription, for an agreed upon term.
The following diagrams depict the two primary groupings for the advanced feature sets: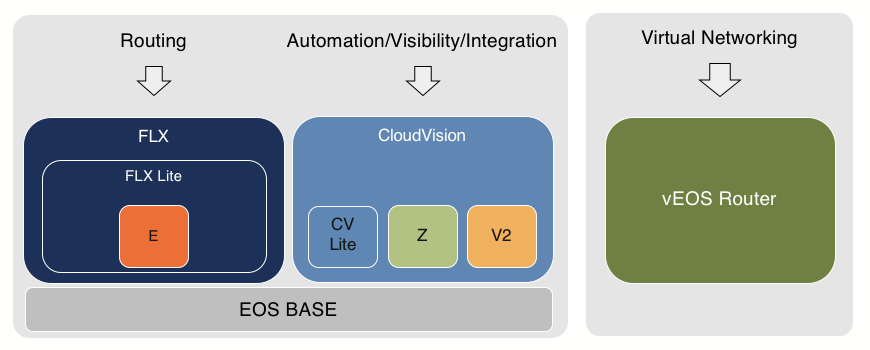 Figure 1: Software Procurement Approach
Routing: General Routing functionality (BGP, Multicast, etc) is available in the E license. The FLX Lite license expands that to include key features like BGP-EVPN for VXLAN. The FLX license is the superset that also includes larger routing tables and MPLS features. See the EOS Platform Licensing tab for specifics.
Automation/Visibility: CloudVision is the most complete offering for advanced automation and visibility. Arista also offers subsets of that offering with CloudVision Lite, for entry-level GUI functionality, and the Z license for discrete APIs and visibility tools. See the Automation/Visibility tab for specifics. Agility through EOS Extensions and Partner Integration: The V2 license includes capability to run custom extensions natively or via containers in EOS. In addition, the V2 license gives customers an option of integrating with Arista's best of breed ecosystem for security, analytics, visibility, and other use-cases.
vEOS Router: This product is a software-based datapath for routing, advanced network telemetry and secure IPSec VPN connectivity in a software-only package for EOS, for virtualized and cloud native deployments. See the vEOS Router tab for specifics.
Arista EOS offers a broad range of advanced features through the feature sets shown in diagram below.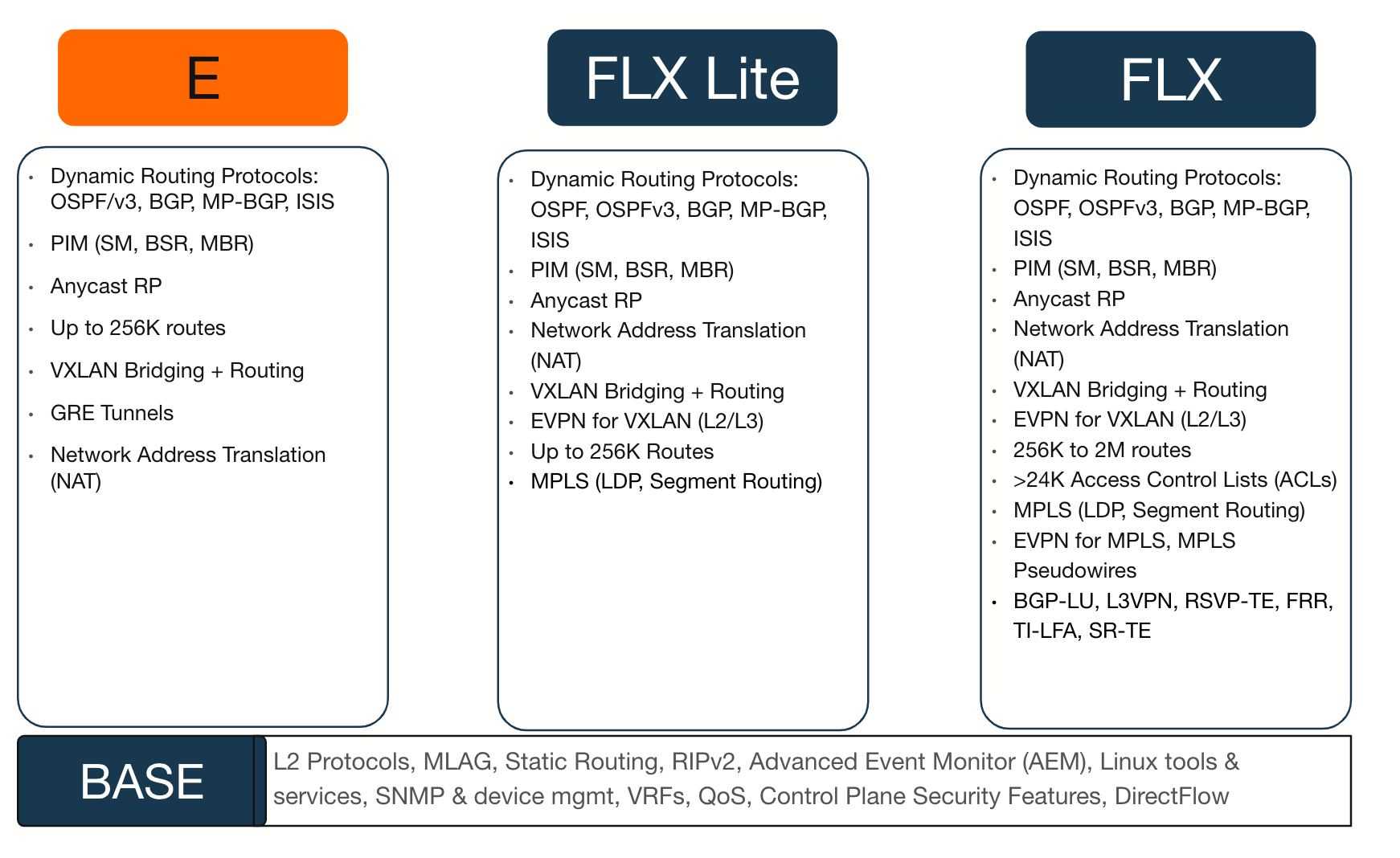 Figure 1: Software license to feature mapping
EOS licenses are offered as perpetual licenses applied on a per-system basis. Customers can choose the appropriate license, as shown in figure 1, based on the features required for the profile for which the system is to be deployed. The Platform to License SKU mapping is available here.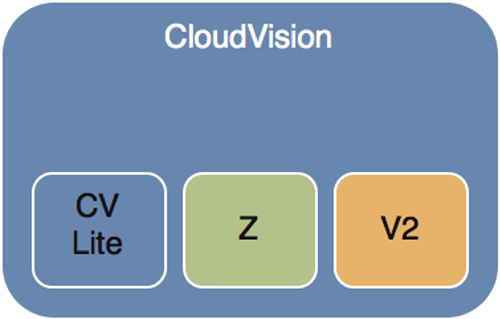 Figure 1: CloudVision Software Licensing summary
Arista CloudVision is built on a term-based software subscription licensing model. The CloudVision licenses are platform independent, with no mapping to any particular hardware device SKUs. There are two tiers of CloudVision Licenses available - CloudVision and CloudVision Lite. CloudVision the full feature set, including full analytics, telemetry, provisioning, and the Z and V2 features. CloudVision Lite is a subset of the Premier capabilities, providing a functional graphical user interface (GUI) for base visibility and network management. The feature sets for these licenses are defined below in Figure 2.
Figure 2: Mapping of Software features to CloudVision License
EOS offers extensive automation and integration capabilities for customers looking to advanced visibility and automation features directly. . Customers can deploy automation, custom extensions and integrate existing analytics and/or security systems with the Z and 'V2' licenses. The feature sets for these licenses are defined below in Figure 3.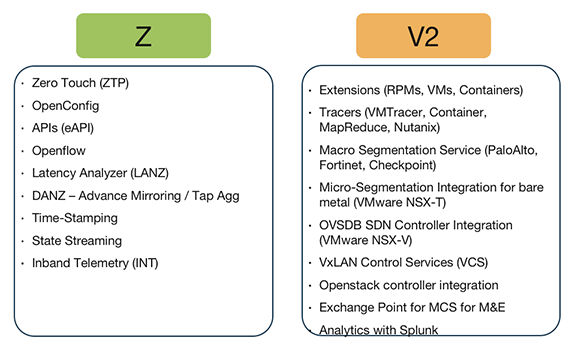 Figure 3: Mapping of Software features for the Z and V2 licenses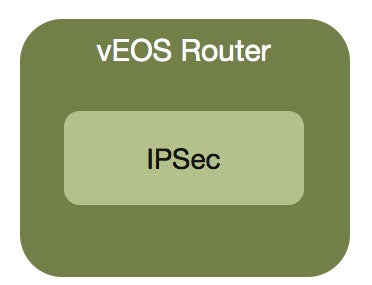 Figure 1: vEOS Router Software Licensing summary
The following table provides details on vEOS Router license tiers:
Arista vEOS Router Licensing Model
The Arista vEOS Router is based on a monthly subscription licensing model for software-only package of EOS, suitable to run in virtualized or cloud native platforms. It is designed for customers looking to extend/ interconnect cloud environments to on-premise deployments. vEOS Router includes routing and IPSec VPN functionality for secure transport and is tiered with three bandwidth options. For more details, please refer to the datasheet
Arista EOS as Subscription (EaaS) Licensing Model
The Arista EOS as a Subscription (EaaS) licensing is an alternative procurement model from traditional bundled licenses. It is designed for customers looking for OpEx and CapEx payment flexibility.
With Arista EaaS, EOS software is licensed as a monthly subscription. EaaS is available for a limited set of Arista switches, which are available as "hardware-only" items. These hardware-only items include 3 years of Next-Business Day hardware replacement.
EaaS is available as a choice of two feature sets: EaaS and EaaS+CloudVision.
The EaaS License includes all available EOS base and the set of advanced features (Baseline, E, V and Z), and includes 24x7 software A-Care support. This license does not include any additional CloudVision functionality.
The EaaS+CloudVision licenses include all EOS base and advanced features and the completed CloudVision feature set. The EaaS+CloudVision license also includes with 24x7 software A-Care support.
Currently, EaaS is available on following platforms:
| | |
| --- | --- |
| 7050TX-48 | 7160-32CQ |
| 7050SX-64 | 7160-48YC6 |
| 7050TX-64 | 7160-48TC6 |
| 7050TX-128 | 7050QX-32S |
| 7050SX-128 | 7280SR-48C6 |
The following software license SKUs are available for EaaS
| | |
| --- | --- |
| SS-EOS-Enh-FIX1-1M | EOS Subscription for 1-Month includes EOS E/V/Z/FLX-LITE Licenses and ACare SW for 1RU systems |
| SS-EOS-Enh-FIX2-1M | EOS Subscription for 1-Month includes EOS E/V/Z/FLX-LITE Licenses and ACare SW for 2RU systems |