Arista's Hardware Engineers attack complex challenges every day while designing and building high speed ethernet switches. Here's what you can expect to experience as an Arista Hardware Engineer: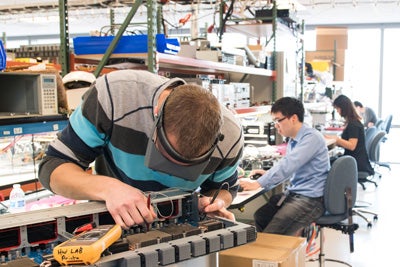 We value your skills and experience - Rather than starting you with basic tasks, we feel the best way to introduce you to Arista Hardware is to have you directly work on one of our challenging projects. This lets you work on a new project while also giving us insight into your full potential!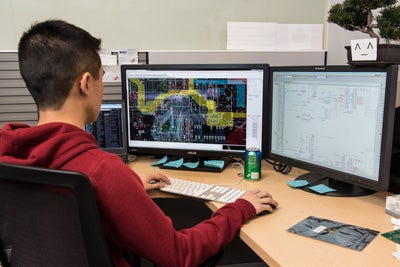 Cutting edge designs - You get to work with 10+ gigabit signals, high current power supplies, high layer count PCB stackups, dense board layouts, thermal analysis, and unique CPLD's. You will get to apply the knowledge and skills you've learned from school and previous internships, and gain much more!
You are in Control - Here at Arista we believe in the strength and skill of our engineers. As such, each Printed Circuit Board Design is the work and the creation of only one engineer. This unambiguous ownership means you get to drive every detail of your project – starting with spec creation, through schematic capture, layout guidance, bringup and manufacturing support. Even interns are often tasked with designing test boards that are used in our manufacturing lines (see left for a slideshow of some of them). At the end of the day, you will have a complete product that you can proudly say is your own.
We have awesome toys - Our HW lab has state of the art equipment, from high speed oscilloscopes, TDRs, and spectrum analyzers, to programmable electronic loads and temperature chambers. So whether you're measuring a Multi-Gigabit per second eye pattern, reworking a board that contains over 2000 (or 15,000) components, or checking the radiated EMI of your design - you can have the confidence that you will always have the tools needed to get the job done.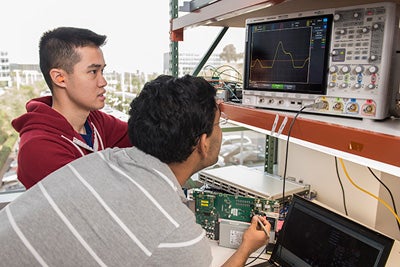 We want you to learn - Arista has a strong culture of sharing knowledge between our employees. Each full time engineer is encouraged to mentor at least one intern per year, and many choose to mentor multiple. We value and encourage your skills development.
So whether you're an intern looking for a challenge, or a new college grad interested in a career in high speed board design, Arista has a place for you. Arista offers hardware internships in Santa Clara, CA. Send your resume and a copy of your transcript to jobs@arista.com!