Quick Look Datasheet
Arista 7050X3 Series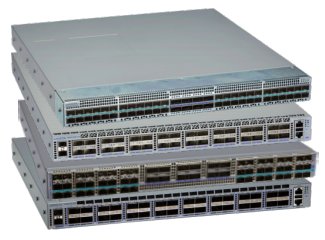 Arista 7050X3 Series
High Performance
Up to 6.4 Tbps System Capacity
Up to 2 Billion Packets per Second
Wire Speed Unicast & Mast
Latency as Low as 800nsec
High Density 25G and 100G Systems
Fully Shared 32MB Packet Buffer
Under 7W per 100G & 4W per 25G Port
Feature Rich
Rich L2 and L3 Features
VXLAN Gateway and Routing 
Zero Touch Provisioning
Network Address Translation *
Dynamic Load Balancing 
Smart System Upgrade 
Hitless MLAG ISSU
High Availability
DC Optimized Airflow
High Scalability
Wirespeed L2 and L3 Forwarding
Up to 32 x 100G or 128 x 25G
64-Way MLAG / 128-Way ECMP
Scalable Leaf-Spine Designs
MAC 288K / IPv4 Hosts 208K
Host Routes up to 108K
Routes: 384K IPv4 / 192K IPv6
Advanced Monitoring
CloudVision
LANZ Microburst Detection 
AEM Proactive Management
IEEE 1588 Precision Timing *
sFlow for Network Visibility
VM Tracer Integration
* Not currently supported in EOS
Arista 7050X3 Series Introduction
Highly dynamic data center networks continue to evolve with the introduction of new protocols and server technologies such as containers bringing with them ever increasing bandwidth demands, accelerating the need for dense 25 and 100 Gigabit Ethernet switching in both leaf and spine tiers of modern networks. The Arista 7050X3 Series are purpose built fxed configuration 10/25G and 100G systems built for the highest performance environments, and to meet the needs of the largest scale data centers. They combine scalable L2 and L3 resources and high density with extensive automation and programmability capabilities, low latency and consistent features for scalable leaf-spine designs.
7050X3 10/25G and 100G Flexibility
The 7050X3 Series are a range of compact 1U and 2U systems with a choice of 25G and 10G ports with 100G QSFP uplinks and 100G systems that ofer up to 32 ports of wire speed forwarding, powered by Arista EOS, the worlds most advanced network operating system.
The 7050X3 Series is available in a choice of models:
7050CX3-32S - 10/25/40/50/100G with 32 100G QSFP interfaces
7050CX3M-32S - 10/25/40/50/100G MACsec with 32 100G QSFP interfaces
7050SX3-96YC8 - 96 10/25G SFP interfaces with 8 100G QSFP interfaces
7050SX3-48YC12 - 48 10/25G SFP interfaces with 12 100G QSFP interfaces
7050SX3-48YC8 - 48 10/25G SFP interfaces with 8 100G QSFP interfaces
7050CX3-32S
7050CX3M-32S
7050SX3-96YC8
7050SX3-48YC12
7050SX3-48YC8
7050TX3-48C8
32 x 100G
96 x 25G &
8 x 100G
48 x 25G and
12 x 100GbE
48 x 25G &
8 x 100G
48 x 10G-T &
8 x 100G

Consistent Software, Flexibility, Throughput and Performance
Each of the 7050X3 models offers multiple connectivity options that provide flexibility in building scalable leaf and spine designs. The operational flexibility offered by the entire 7050X3 series ensures suitability for a variety of deployment scenarios. The following are a selection of use cases:
Dense Top of Rack

— For server racks with both 10GbE and 25GbE systems

10GbE to 25GbE Migration

— 802.3by 25GbE and Consortium compliant for seamless transition to the next generation of Ethernet performance

Grid / HPC

— Designs requiring cost effective and power efficient systems to enable non-blocking or minimal over-subscription for 10G and 25G Servers

Leaf-Spine

— Open standards based L2 and L3 with telemetry and visibility features

Secure Cloud

— Wirespeed MACsec leaf-spine at a range of speed

100GbE Scale Out Designs

— Small to medium locations requiring power efficiency and high density compact systems

ECMP Designs up to 128-way

— cost-efective multi-pathing using open protocols and the Arista 7300X3 and 7500R3 as 100GbE modular spine switches

Large Scale L2 Environments

— Flexible resource allocations achieve higher maximum L2 scale without inefficiency associated with traditional systems
7050X3 Series Systems
Arista 7050X3 Series support hot-swappable power supplies and N+1 fan redundancy, EOS high availability, a choice of L2 and L3 multi-pathing designs and powerful EOS innovations for visibility, application level performance monitoring and virtualization.
| Feature | Description |
| --- | --- |
| CloudVision | Network-wide workfow automation and workload orchestration as a turnkey solution for Cloud Networking |
| Wirespeed VXLAN Routing | Seamless integration between VXLAN and L2/L3 environments, physical and virtualized networks |
| IEEE 1588 PTP  | Build and scale accurate timing solutions with sub-microsecond accuracy |
| Fully Shared Packet Buffer | Advanced traffic manager with 32MB of packet buffer that is fully shared across all ports |
| 128-way ECMP and 64-way MLAG | Improve network scalability and balance traffic across large-scale leaf-spine designs or server load balancers |
| Latency Analyzer  | Real time visibility of port latency and per port high watermarks to provide immediate feedback and precision monitoring |
| Network Address Translation | Network Address translation with no performance impact to resolve overlapping addressing challenges without penalty |
| Programmable Architecture | Add support for new packet formats for quicker deployment of new networking solutions |
| Dynamic Load Balancing * | Enhanced load distribution for optimal traffic distribution and link utilization for intensive data center workloads |
| Time Stamping | Monitor end to end network performance with accuracy |
| IEEE 25GbE 802.3by | IEEE standard ensuring interoperability, long reach optics and long term investment protection |
* Not currently supported in EOS
Arista EOS
Arista EOS is a modular switch operating system with a unique state sharing architecture that cleanly separates switch state from protocol processing and application logic. Built on top of a standard Linux kernel, all EOS processes run in their own protected memory space and exchange state through an in-memory database. This multi-process state sharing architecture provides the foundation for in-service-software updates and self-healing resiliency.
|   | 7050CX3-32S | 7050CX3M-32S | 7050SX3-96YC8 | 7050SX3-48YC12 | 7050SX3-48YC8 | 7050TX3-48C8 |
| --- | --- | --- | --- | --- | --- | --- |
| Description | 32 100G QSFP and 2 SFP+ | 32 100G QSFP and 2 SFP+ | 96 25G SFP & 8 100G QSFP, 2 SFP+ | 48 25G SFP & 12 100G QSFP | 48 25G SFP & 8 100G QSFP | 48 10G-T & 8 100G QSFP |
| Maximum 100G Ports | 32 | 32 | 8 | 12 | 8 | 8 |
| Maximum 40G Ports | 32 | 32 | 8 | 12 | 8 | 8 |
| Maximum 10G Ports | 128 | 128 | 129 | 96 | 56 | 56 |
| Maximum 25G Ports | 128 | 128 | 128 | 96 | 56 | 8 |
| Maximum 50G Ports | 64 | 64 | 16 | 24 | 16 | 16 |
| Maximum System Throughput (bps) | 6.4Tbps | 6.4Tbps | 6.4Tbps | 4.8Tbps | 4Tbps | 2.56Tbps |
| Maximum Forwarding Rate | 2Bpps | 2Bpps | 2Bpps | 2Bpps | 1Bpps | 1Bpps |
| Latency | 800ns | 800ns | 800ns | 800ns | 800ns | 3usec |
| System Buffer | 32MB | 32MB | 32MB | 32MB | 32MB | 32MB |
| Airfow | F-R or R-F | F-R or R-F | F-R or R-F | Front-Rear | F-R or R-F | F-R or R-F |
Copyright © 2019 Arista Networks, Inc. All rights reserved. CloudVision, and EOS are registered trademarks and Arista Networks is a trademark of Arista Networks, Inc. All other company names are trademarks of their respective holders. Information in this document is subject to change without notice. Certain features may not yet be available. Arista Networks, Inc. assumes no responsibility for any errors that may appear in this document. June 6, 2020 · 11-0022-06