MetaProtect Firewall is a network application that runs on the Arista 7130L Series devices performing line-rate low-latency parallel packet filtering and logging between port-pairs.

Filtering is implemented via per-port Access Control Lists (ACL). MetaProtect Firewall provides complete flexibility in configuration, allowing authenticated administrators to create mappings between physical port-pairs and apply either uni or bidirectional security policy.
MetaProtect is ideally suited for deployments where compliance legislation mandates the use of a Firewall, but where the lowest possible latency is critical to business viability. With both packet inspection & forwarding occurring in as little as 135 nanoseconds; MetaProtect offers a significantly faster solution than traditional firewalls.
Administrators may also define port-pairs, or directions, that do not require filtering, in which case packets are passed through in 5 nanoseconds. Any ingress port, pre or post ACL, may be configured to fan out to multiple egress ports allowing for maximum flexibility based upon the desired filtering architecture.
In addition to being discarded, any packets not conforming to the defined security policy are logged. Logging involves the collection & exporting of the entire packet header, ensuring MetaProtect meets even the most stringent compliance requirements.
Features
Benefits
Parallel filtering
Cut-through filtering via 32 ACLs with up to 510 rules per ACL. Per-port filtering possible by assigning an ACL to a port
Flexible ACLs
ACLs support permit/deny rules based upon source/destination MAC/IP address/Port number. IP addresses may be wild-carded using CIDR style notation.
Ultra-low latency filtering
Average filter latency of 135 ns for the minimum latency configuration (1 rule) to 161 ns for the maximum configuration (510 rules).
High port density
48 x 10GbE SFP+ ports in 1 RU with 32 x 10GbE Firewall filters and accelerated traffic processing capacity.
Extensive packet statistics
Advanced monitoring and capture of comprehensive packet statistics across all ports. Support for detailed switch statistics via SNMP, CLI or InfluxDB.
Comprehensive logging

Logged statistics of permitted and denied packets
Individually logged events when packet fails an ACL, including packet information, date, time, ACL ID and reason
Logged administrative ACL rule changes
Local and remote logging via syslog

Easy to monitor and manage
Advanced monitorArista provides a complete range of additional features including:

A comprehensive set of Ethernet counters on each port
An integrated Linux management processor
Streaming telemetry to a remote InfluxDB database
Command-line interface (CLI) via secure shell (SSH), Telnet, serial connection
Local and remote logging via Syslog
JSON-RPC API
Simple network management protocol (SNMP) v1, v2, v3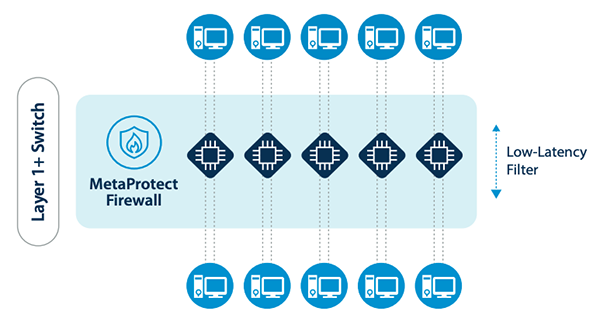 Product Overview
Product Briefs
White Papers
Case Study
Video