Quick Look
Arista 7170 Series Network Switch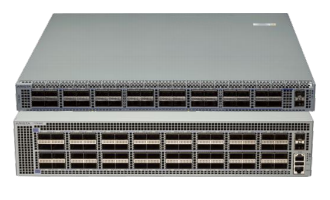 Arista 7170 Series
High Performance
Up to 12.8 Tbps System Capacity
Up to 4.8 Billion Packets per Second
Wire Speed Unicast & Multicast
Class Leading Latency as Low as 800ns
High Density 40G/100G
Quad 10G and 25G or Dual 50G Modes
22MB Packet Buffer
Under 5W per 100G Port
Feature Rich
High Availability
DC Optimized Airflow
Rich L2 and L3 Features
64-Way MLAG
128-Way ECMP or UCMP
Zero Touch Provisioning
Smart System Upgrade *
Hitless MLAG ISSU
Large Scale NAT *
AlgoMatch for Network Policy
System Scalability
Wirespeed L2 and L3 Forwarding
64 x 100G or 40G with Optics and Cables
Up to 256 x 25G or 10G or 128 x 50G using Breakout Cables
Scalable MAC & IPv4 Hosts and Routes
Wirespeed Network Address Translation
Advanced Monitoring
CloudVision
LANZ Microburst Detection *
AEM Proactive Management
IEEE 1588 Precision Timing *
sFlow for Network Visibility *
VM Tracer Integration
Advanced Telemetry with Packet Traces and User-defined Triggers



* = Not currently supported in EOS
Arista 7170 Series Introduction
Highly dynamic cloud data center networks continue to evolve with the introduction of new protocols and server technologies. The Arista 7170 series are purpose built, programmable fixed configuration data center switches for flexible, dense 100GbE solutions at spine layer and 25/50GbE solutions for storage and compute.
Combining Arista EOS and a highly programmable switch architecture with customizable system resources, the 7170 Series delivers unique features for traditional and new network based applications and services.
7170 Series Deployment Scenarios
With 32 and 64 port QSFP100 port fixed configuration systems in compact form factors, the 7170 series are 100GbE systems that can support a flexible combination of up to 64x 40/100GbE, 128x 50GbE or 256x 10/25GbE of wire speed performance powered by Arista EOS, the worlds most advanced network operating system.
The 7170 series supports a unique programmable pipeline with the flexibility to change the packet parser dynamically through profiles defined in P4, to add new functionality, vary table sizes and order of operations. This provides phenomenal investment protection along with opening the possibility to support highly personalized use cases to solve traditional and new network challenges which are otherwise not feasible with traditional switching platforms. The following are a selection of such use cases
Network Services Offload

in a bare metal environment freeing up compute resources and accelerating applications.

Tunnel Termination

in a multi-tenant design.

Large Scale NAT

for address and port translation.

Flexible Routing

to support MPLS label modification or custom protocols.

Network and Application Telemetry

with flow level visibility, timestamping and end to end latency measurement.

Network Security

with stateful and hierarchical ACLs, rule based policies, and conditional filtering for enhanced security and application monitoring.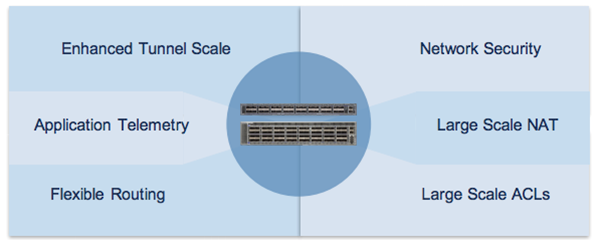 Arista EOS
Arista EOS is a modular switch operating system with a unique state sharing architecture that cleanly separates switch state from protocol processing and application logic. Built on top of a standard Linux kernel, all EOS processes run in their own protected memory space and exchange state through an in-memory database. This multi-process state sharing architecture provides the foundation.
7170 Series Systems
Arista 7170 Series support hot-swappable power supplies and N+1 fan redundancy, EOS high availability, a choice of L2 and L3 multi-pathing designs and powerful EOS innovations for visibility, network security, application level performance monitoring and virtualization.
| Feature | Description |
| --- | --- |
| CloudVision | Network-wide workflow automation and workload orchestration as a turnkey solution for Cloud Networking |
| Smart System Upgrade* | Optimized SW upgrades to reduce the impact of software upgrades and avoid network convergence |
| Hitless Speed Changes | Eliminate downtime when configuring different speeds and bringing up new links |
| 128 way ECMP and 64 way MLAG | Improve network scalability and balance traffic across large-scale leaf-spine designs or server load balancers |
| Programmable Packet Processor | Multi-stage pipeline which allows reconfiguration of the packet forwarding logic programmatically |
| Flexible Resource Profiles | Flexible allocation of L2 and L3 forwarding table resources for greater design choice. New profiles implemented via EOS |
| Network Telemetry | Identify application performance in real time by parsing packets, combining flow and packet level information and exporting for analysis |
| IEEE 25GbE 802.3by | IEEE standard ensuring interoperability, long reach optics and long term investment protection |
| Packet Timestamping | Monitor end to end network performance with accuracy |
| Large Scale NAT* | Network Address translation with no performance impact to resolve overlapping addressing challenges |
* = Not currently supported in EOS
 

7170-64C

7170-32C

Description
64-Port QSFP100
and 2 SFP+
32-Port QSFP100
and 2 SFP+
Maximum 100G Ports
64
32
Maximum 40G Ports
64
32
Maximum 10G Ports
258
130
Maximum 25G Ports
256
128
Maximum 50G Ports
128
64
Maximum System Throughput
12.8Tbps
6.4Tbps
Maximum Forwarding Rate
4.8Bpps
2.4Bpps
Port to Port Latency
800ns
800ns
Total System Buffer
22MB
22MB
Typical Power per Port
5W
7W
Airflow
Front-Rear
or Rear-Front
Front-Rear
or Rear-Front
High Availability
1+1 Hot-Swappable Power Supplies
Four N+1 Hot-Swap Fans
Color Coded PSU's and Fans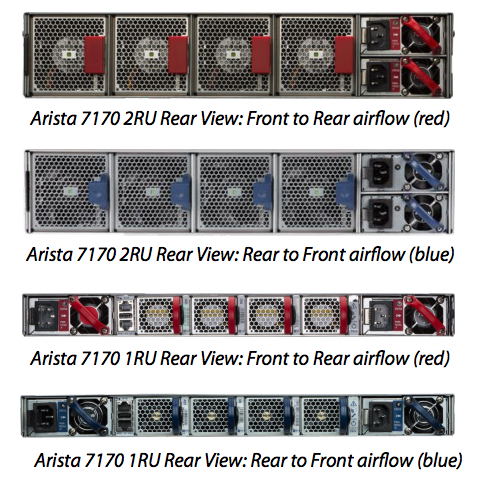 Copyright © 2018 Arista Networks, Inc. All rights reserved. CloudVision, and EOS are registered trademarks and Arista Networks is a trademark of Arista Networks, Inc. All other company names are trademarks of their respective holders. Information in this document is subject to change without notice. Certain features may not yet be available. Arista Networks, Inc. assumes no responsibility for any errors that may appear in this document. August 14th, 2019   11-0023-03