Careers at Arista Networks
Come join our company and be a part of a team that continues to ignite new innovations in the software driven cloud networking space. Arista is transforming the way data centers, cloud networking and high performance computing environments operate and manage their mission critical environments with our networking solutions.
Arista Networks is an industry leader in data-driven, client to cloud networking for large data center, campus and routing environments. Arista's award-winning platforms deliver availability, agility, automation, analytics and security through an advanced network operating stack.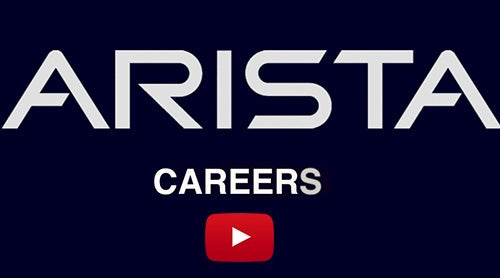 So what are you waiting for? Come join us and be a part of the passionate, collaborative and innovative team at Arista. We seek innovative thinkers, team players and individuals who are passionate about creating great products that solve networking problems. Take a closer look at opportunities in:
.
.
 Job Openings
Our Culture
Our culture is one that is founded on key values that resonate across all employees in the organization. As professionals, colleagues, friends and peers, Arista is all about respect, integrity, innovation, passion, pride and trust.
Culture at Arista - Software Engineer's Perspective
"Culture is a word that gets thrown around a lot in modern tech companies. But in many of them it is just jargon and doesn't mean much beyond some customary corporate messaging. But in a select few companies which continuously disrupt the status quo and break technology and business barriers (in a good way), culture has a special place and plays a key role. I have spent the last 7 years of my career at Arista Networks. I have experienced first hand the joy and satisfaction of not just good but a great workplace culture." Read Thejas' Full Article on LinkedIn.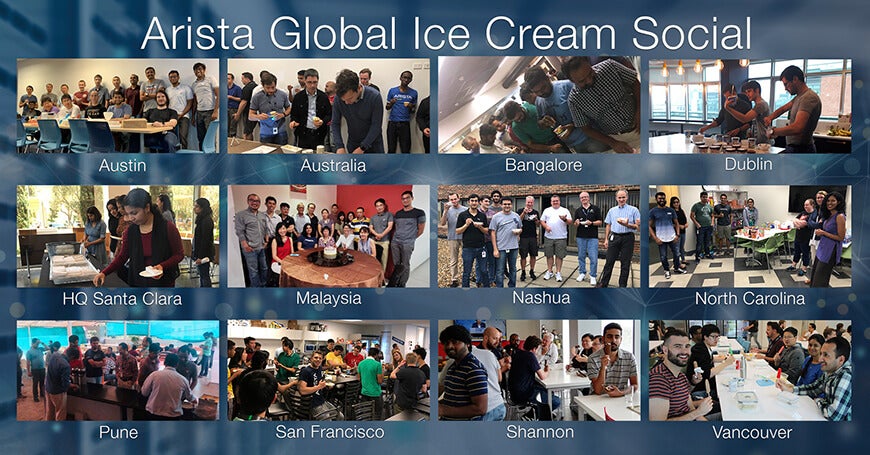 Life at Arista
Not only are our employees busy developing products but the cool thing is that they find time to participate and wind-down in other company programs and events. Some of which include:
"Friday Socials"- Food & drinks every Friday after work!
Second Harvest Food Bank Fundraiser
Bike to Work Day
Company Picnic/ Parties
Halloween Costume competitions and more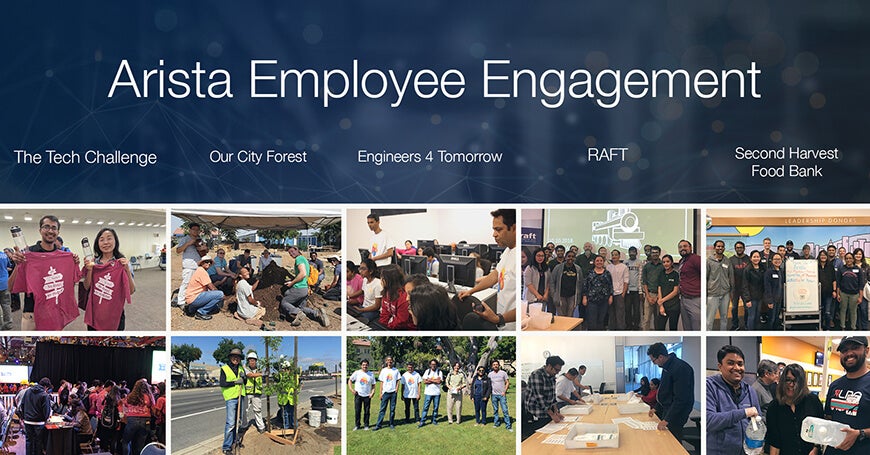 Benefits & Perks
Arista believes in supporting its people. Our employees work hard, and we ensure they are receiving competitive and comprehensive benefit packages to match their efforts. We offer a wide range of employee health and other benefits that are designed to assist our employees to make the best decisions for themselves, their family, and lifestyle.
Medical, Dental & Vision Plan Coverage
Life Insurance, AD&D, STD & LTD
Flex Spending Accounts
Employee Assistance Programs
PTO & Paid holidays
401k Plan
On-site Gym & Showers
Secured Bike Lockers
Purple Tie Dry Cleaning pick up and delivery
Fully Stocked Break Rooms
On-site cafeteria
Flexible hours
Our Process
Hiring at Arista is subject to a successful interview process, including in person interviews, and verifications of candidate materials and authorization for employment, as well as meeting other requirements suitable to the role. Official offers of employment will always come from an official arista.com email address.
We strive to build an inclusive culture that encourages, supports and celebrates the diverse voices of our employees. It fuels our innovation and connects us closer to the customers and communities we serve.
Arista Networks is an equal opportunity employer. Employment selection and employment related decisions are made in a non-discriminatory manner - without regard to sex, race, age, disability, religion, national origin, color or any other factor determined to be unlawful by federal, state, or local statutes.
EEO is the Law. Applicants and employees of Arista Networks are protected under Federal law from discrimination.
. Know Your Rights - Workplace Discrimination
. U.S only: Arista uses E-Verify to confirm U.S. employees' eligibility to work
Agency Resume Submittals
Resumes received by Arista Networks, Inc. from search firms and/or individual recruiters are considered unsolicited and will be kept as Arista Networks, Inc. intellectual property, or deleted as appropriate, unless a contractual obligation exists otherwise between Arista Networks, Inc. and a search firm and/or individual recruiter.
Job Scam Alert
There has been an unfortunate rise in fraudulent job openings/offers posted on job websites or made by fake recruiters claiming to be working for Arista Networks. The postings and related emails may appear legitimate by using Arista Networks logos or copied material. Some keys to identifying these scams include:
Correspondence from e-mail accounts such as Google, Yahoo!, AOL, or Hotmail;
"Interviews" conducted by chat;
Failure to list a specific location for the job or some "work from home" listings, especially when combined with other items listed here;
Misspellings and grammatical errors;
Get rich quick language;
Request to cash checks and monetary transfers; and/or
Request for Social Security Number or financial information.
The best way to apply for jobs at Arista Networks is through this site.