High Performance and Deep Buffer Gigabit Ethernet Switch
Datacenters demand high performance networking solutions. The Arista 7020R Series expands the portfolio of Arista fixed and modular deep buffer systems with a high performance and power efficient solution.
Designed for IP storage, Content Delivery and leaf and spine networks, the Arista 7020R Series fixed configuration switches combine dynamic and deep buffering for lossless forwarding with high density, large table sizes and comprehensive L2 and L3 features. Ultra deep buffers and VOQ provide lossless performance in demanding environments where congestion and large flows are present such as in Big Data environments or Media and Entertainment. The non blocking architecture improves performance of bandwidth intensive applications found in High Performance Storage or streaming video.
When used in conjunction with the Arista 7000 series of fixed and modular switches it allows networks to scale out in a high performance two-tier network that provides predictable and consistent application performance.
Featured Video: Arista 7020R Series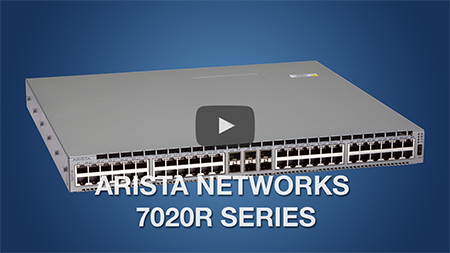 Offering a choice of two models the 7020R Series have 48 RJ45 ports for 100/1000Mb Ethernet and 6 SFP+ ports for both 1GbE or 10GbE uplink connections using a wide range of optics and cables and support a choice of AC or DC power.
Unparalleled Performance and Routing Scale with Dynamic Deep Buffers and VOQ
Dynamic deep buffers solve 1GbE and 10GbE speed mismatches in High Performance Computing and Oil and Gas Exploration Systems due to TCP incast
Virtual Output Queue (VOQ) eliminates head of line blocking and virtually eliminates packet drops due to network congestion
Arista FlexRoute™ and EOS NetDB™ for large scale routing with high density and low power
EOS Open Programmability and comprehensive Advanced Traffic Control, Provisioning and Monitoring features
High availability and power efficient, purpose built for for modern data centers
High-Performance Universal Leaf
High performance solution with non-blocking 48 100/1000 Mbps (RJ-45) & six 1/10GbE uplinks (SFP+) for top of rack
Wire speed layer 2/3 switching up to 216 Gbps and 162 Mpps of throughput
3GB packet buffer for lossless forwarding
Consistent architecture to 7280R Series for common operations, certification and sparing
60 Gigabits of interconnect capacity from leaf to the spine
Cloud Networking and Arista FlexRoute
Up to 256K MAC entries
Up to 80K IPv4 and IPv6 Host Routes
Up to 200K IPv4 and 100K IPv6 Routes with FlexRoute
128-way ECMP and 54-port MLAG
Up to 12K ACLs
Arista EOS
Open Extensibility and Programmability
Software Driven Cloud Networking
Fine-grain modular protected memory architecture
Access to Linux tools
In-service-software-patches and Self-healing stateful fault repair (SFR)
Rich Feature Sets and Open Programmability
Comprehensive switching and routing feature set with rapid convergence
Full featured IPv4 / IPv6, ACLs, and QoS
VXLAN and 128-way multi-pathing
LANZ for Microburst Detection
VXLAN and EOS Network Tracers
CloudVision® for Workflow Automation and Orchestration
Datacenter Optimized
High availability and simple provisioning
Redundant & hot-swappable AC and DC power with power consumption under 1Watt per Gb
Redundant & hot-swappable fans
2 post and 4 post mounting with tool-less rails
High performance CPU with 8GB of memory
Arista 7020Rシリーズ 技術仕様
Arista 7020Rイーサネット・スイッチ・ファミリは、コンパクトな筐体、低消費電力、冷却機能に、パフォーマンス、スケーラビリティ、可用性、運用の容易さを併せ持ち、高度なパフォーマンスを必要とする企業のニーズを満たします。
7020Rシリーズには電源の異なる2つのモデルがあり、ACとDCのいずれかを選択できます。どちらも100/1000Mb用RJ45ポートを48個、1Gまたは10Gアップリンク接続用SFP+ポートを6個装備し、多様な光ケーブルに対応します。Arista 7020Rスイッチは、低レイテンシーで動的なディープ・バッファを備えたアーキテクチャとなっており、パケットロスのない転送のためのVOQも備えています。
Arista 7020Rシリーズ 仕様
|   | 7020TR-48 |
| --- | --- |
| 説明 | 48個のRJ45ポートと6個のSFP+ポートを備えたスイッチ |
| 筐体 | 1RU |
| スイッチング容量 | 216Gbps |
| パケットの最大処理能力 | 162Mpps |
| 遅延 | 3.8マイクロ秒未満 |
| システム・バッファ | 3GB |
| MACテーブル・サイズ | 最大256K |
| 最大IPv4ルート数 | 最大80K |
| 最大IPv6ルート数 | 最大80K |
| IPv4/IPv6ルート | 32K / 16K |
| IPv4/IPv6 FlexRoute | 200K / 100K |
| ECMPファンアウト | 128way |
| LAGメンバー | 32ポート/チャネル |
| LAGグループ | 54グループ/システム |
| ACLエントリ | 12K |
| 電源 | 2(1+1冗長) |
| ACおよびDC | あり |
| ファン | 4個(ホットスワップ可能) |
| エアフロー | 前面吸気/背面排気または背面吸気/前面排気 |
| CloudVision® | あり |
| Smart System Upgrade* | あり |
| ZTP | あり |
| VM Tracer | あり |
| AEM* | あり |
| VXLAN* | あり |
| LANZ* | あり |
| ヒットレスな速度変更 | あり |
| 通常消費電力 | 105W |
* EOSでは未サポート
Arista EOSおよび7020Rシリーズ
7020Rシリーズを利用することで、MLAGとECMPのテクノロジ、オープンなプロトコル、包括的で高度なモニタリングおよびプロビジョニング機能によって、非常にスケーラブルなユニバーサル・クラウド・ネットワークのデザインを実現でき、高性能ネットワークの要求に応えることができます。
MLAG - レイヤ2のオール・アクティブ・マルチパス
業界標準のプロトコル(LACP)
スパニング・ツリー・トポロジの簡素化や排除
トラフィックの把握や調整が簡単
MLAGメンバーを個別にアップグレードできるISSU
ECMP - レイヤ3のオール・アクティブ・マルチパス
業界標準のプロトコル(OSPF、BGP、ISIS)
L2の排除で非常に優れたスケーラビリティとフォールト・トレランスを実現
2階層で非常に優れたスケーラビリティと一貫性のあるパフォーマンス
IPv4およびIPv6ルーティング・サポート
L2およびL3の転送テーブル・リソースに関する設計の自由度を向上
高度な耐障害性を備えたマルチパス・ネットワークを実現するIPv4およびIPv6レイヤ3ルーティング(OSPF、BGP、ISIS、およびPIM)
ワイヤスピードのVXLANルーティングおよび128wayのマルチパスによる、次世代ハイブリッド・クラウド・バースティングのためのネットワーク全体の仮想化プラットフォーム
高度なモニタリングとプロビジョニング
標準規格に基づくプロトコルおよびスクリプト・ツールを使用した、ZTPによるネットワークとサーバの完全なプロビジョニングの自動化
eAPIが提供するEOSへのオープンなインターフェイスによる、NetOpsでの強固なワークフロー自動化の構築
統合されたオーケストレーションのためのOpenStack Neutronのサポート
トポロジ非依存の一元管理のためのCloudVision
物理環境および仮想環境のモニタリングをシンプルにする、VM TracerによるVMwareとの統合