High Performance and Deep Buffer Gigabit Ethernet Switch
Datacenters demand high performance networking solutions. The Arista 7020R Series expands the portfolio of Arista fixed and modular deep buffer systems with a high performance and power efficient solution.
Designed for IP storage, Content Delivery and leaf and spine networks, the Arista 7020R Series fixed configuration switches combine dynamic and deep buffering for lossless forwarding with high density, large table sizes and comprehensive L2 and L3 features. Ultra deep buffers and VOQ provide lossless performance in demanding environments where congestion and large flows are present such as in Big Data environments or Media and Entertainment. The non blocking architecture improves performance of bandwidth intensive applications found in High Performance Storage or streaming video.
When used in conjunction with the Arista 7000 series of fixed and modular switches it allows networks to scale out in a high performance two-tier network that provides predictable and consistent application performance.
Featured Video: Arista 7020R Series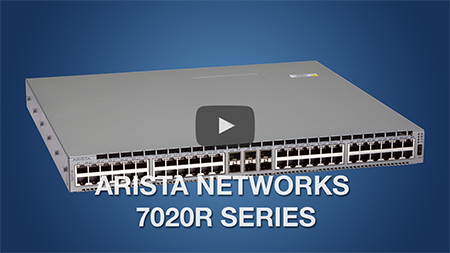 Offering a choice of two models the 7020R Series have 48 RJ45 ports for 100/1000Mb Ethernet and 6 SFP+ ports for both 1GbE or 10GbE uplink connections using a wide range of optics and cables and support a choice of AC or DC power.
Unparalleled Performance and Routing Scale with Dynamic Deep Buffers and VOQ
Dynamic deep buffers solve 1GbE and 10GbE speed mismatches in High Performance Computing and Oil and Gas Exploration Systems due to TCP incast
Virtual Output Queue (VOQ) eliminates head of line blocking and virtually eliminates packet drops due to network congestion
Arista FlexRoute™ and EOS NetDB™ for large scale routing with high density and low power
EOS Open Programmability and comprehensive Advanced Traffic Control, Provisioning and Monitoring features
High availability and power efficient, purpose built for for modern data centers
High-Performance Universal Leaf
High performance solution with non-blocking 48 100/1000 Mbps (RJ-45) & six 1/10GbE uplinks (SFP+) for top of rack
Wire speed layer 2/3 switching up to 216 Gbps and 162 Mpps of throughput
3GB packet buffer for lossless forwarding
Consistent architecture to 7280R Series for common operations, certification and sparing
60 Gigabits of interconnect capacity from leaf to the spine
Cloud Networking and Arista FlexRoute
Up to 256K MAC entries
Up to 80K IPv4 and IPv6 Host Routes
Up to 200K IPv4 and 100K IPv6 Routes with FlexRoute
128-way ECMP and 54-port MLAG
Up to 12K ACLs
Arista EOS
Open Extensibility and Programmability
Software Driven Cloud Networking
Fine-grain modular protected memory architecture
Access to Linux tools
In-service-software-patches and Self-healing stateful fault repair (SFR)
Rich Feature Sets and Open Programmability
Comprehensive switching and routing feature set with rapid convergence
Full featured IPv4 / IPv6, ACLs, and QoS
VXLAN and 128-way multi-pathing
LANZ for Microburst Detection
VXLAN and EOS Network Tracers
CloudVision® for Workflow Automation and Orchestration
Datacenter Optimized
High availability and simple provisioning
Redundant & hot-swappable AC and DC power with power consumption under 1Watt per Gb
Redundant & hot-swappable fans
2 post and 4 post mounting with tool-less rails
High performance CPU with 8GB of memory
Arista 7020R Series Technical Specifications
The Arista 7020R family of Ethernet switches combine a compact form factor, low power and cooling with performance, scalability, availability and operational ease to meet the demands of today's higher performance enterprises.
Featuring a choice of two models the 7020R Series provide a choice of AC or DC power. Both models have 48 100/1000Mb RJ45 ports and 6 SFP+ ports for both 1G or 10G uplink connections with a full range of optics and cables. The Arista 7020R switches offer low latency and a dynamic deep buffer architecture with VOQs for Lossless forwarding.
Arista 7020R Series Specifications
|   | 7020TR-48 |
| --- | --- |
| Description | 48-Port RJ45 and 6-Port SFP+ switch |
| Form Factor | 1 RU |
| Switching Throughput | 216 Gbps |
| Max Forwarding Rate | 162 Mpps |
| Latency | Under 3.8 microseconds |
| System Buffer | 3GB |
| MAC Table Size | Up to 256K |
| Maximum IPv4 Routes | Up to 80K |
| Maximum IPv6 Routes | Up to 80K |
| IPv4/IPv6 Routes | 32K/16K |
| IPv4/IPv6 FlexRoute | 200K/100K |
| ECMP Fanout | 128-Way |
| LAG Members | 32 Ports / Channel |
| LAG Groups | 54 groups per system |
| ACL Entries | 12K |
| Power Supplies | 2 (1+1 Redundant) |
| AC and DC | Yes |
| Fans | 4 hot swappable |
| Airflow | F/R or R/F |
| CloudVision® | Yes |
| Smart System Upgrade* | Yes |
| ZTP | Yes |
| VM Tracers | Yes |
| AEM* | Yes |
| VXLAN* | Yes |
| LANZ* | Yes |
| Hitless Speed Changes | Yes |
| Typical Power | 105W |
* Not yet supported in EOS
Arista EOS and 7020R Series
The 7020R Series enable highly scalable universal cloud network designs with MLAG and ECMP technologies, open protocols and a comprehensive set of advanced monitoring and provisioning features to meet the demands of high performance networks.
MLAG - All Active Multipath for Layer 2
Standards based protocol (LACP)
Simplified or eliminates Spanning Tree topology
Simple to understand and easy to engineer traffic
ISSU for fully independent upgrades of MLAG members
ECMP - All Active Multipath for Layer 3
Standards based protocol (OSPF, BGP, ISIS)
Eliminates L2 for exceptional scalability and fault tolerance
Exceptional scale with consistent performance in 2 tiers
IPv4 and IPv6 Routing Support
Comprehensive L2 and L3 forwarding table resources for more design choice
IPv4 and IPv6 Layer 3 routing (OSPF, BGP, ISIS and PIM), enabling highly resilient multi-path networks
Network–wide virtualization platform for next generation hybrid cloud bursting with wire-speed VXLAN routing and 128-way multi-pathing
Advanced Monitoring and Provisioning
ZTP fully automates network and server provisioning using standards based protocols and scripting tools
eAPI provides an open interface to EOS to allow Netops to build robust workflow automation
OpenStack Neutron Support for integrated orchestration
CloudVision for a topology agnostic single point of management
VMTracer integration with VMWare to simplify monitoring of physical and virtualized environments