Arista 7130B Series Large Scale Layer 1 + Programmable Pipeline
Optimized to meet the needs of very large Layer 1 fabrics, the 7130B Series offers an unprecedented 256 Layer 1/2/3 10G or 25G ports with an integrated Intel Tofino P4 programmable switch. Its unique, fully-connected architecture enables a variety of hybrid distribution designs combining the determinism and low latency of Layer 1 replication with the flexibility of L2/L3 switching.
With more than 2.5x the Layer 1 density compared to preceding generations, the 7130B consolidates the equivalent of nine 96 port Connect Series devices in a leaf-spine topology into a single compact 2RU unit. Compared to a 9 x 96 unit leaf spine, the 7130B provides significant advantages:
Reduction in host to host latency from 25+ ns to just 7 ns
Elimination of hundreds of inter-device cables
Reduction in rack space from 17 RU to 2RU
90% decrease in power and cooling requirements
Single point of management
Flexibility of 10G/25G
Leveraging high density 32 QSFP-DD front-panel connections further helps to minimize cabling.
In addition to the large Layer 1 capacity, the 7130B also integrates an Intel Tofino switching chip, which is also fully connected to the crosspoint. The Tofino chip supports robust switching and routing directly within the 7130 system, further eliminating the requirement for an external router.
Leveraging the same pipeline as the 7170 Series the 7130B can also be configured to use Arista's advanced application pipelines, including encapsulation, address translation and load balancing, while the fully P4 programmable architecture enables customers to build their own packet processing pipelines for customized forwarding.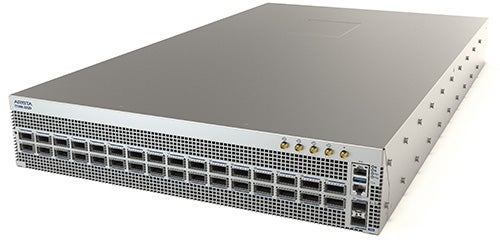 Key Advantages of Arista 7130B devices
Scales low latency Layer 1 distribution across 256 ports in only 2RU
Ultra-low jitter and deterministic latency from 7 ns at 10/25G speeds
Supports an unlimited number of 1:N replication groups
Manage and monitor Layer 1 ports with a full set of counters and streaming telemetry
The integrated P4 programmable switch offers L2/L3 features to any front-panel port, and can be configured with custom pipeline profiles.
7130B Series Devices
Model
System Configuration Components
Front Panel Ports
Switch Chip Ports
RU
PPS In/Out
CPU
32QD
L1 Crosspoint Intel Tofino
32 x QSFP-DD (10G NRZ) (256 Lanes)
256 to Crosspoint
2
2/2
Eight-Core x86
32YD
L1 Crosspoint Intel Tofino
32 x QSFP-DD (10/25G NRZ) (256 Lanes)
256 to Crosspoint
2
2/2
Eight-Core x86