The Arista 7060X and 7260X Series are a range of 1RU and 2RU high performance 40GbE and 100GbE high density, fixed configuration, data center switches with wire speed layer 2 and layer 3 features, and advanced features for software driven cloud networking. The Arista 7060X and 7260X deliver a rich choice of interface speed and density allowing networks seamlessly evolve from 10GbE and 40GbE to 25GbE and 100GbE. With support for advanced EOS features these switches are ideal for traditional or fully virtualized data centers. Arista 7060SX2-48YC6 and 7060CX2-32S provide support for IEEE 25GbE and support a larger shared packet buffer pool of 22 MB with the same low latency of 450ns.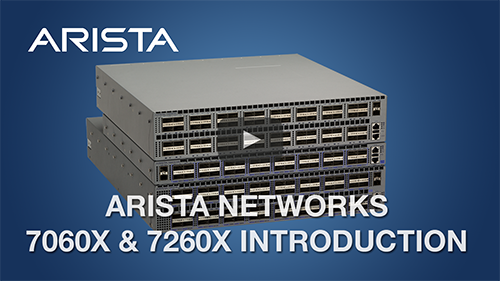 The 7060X and 7260X support a flexible combination of speeds including 10G, 25G, 40G and 100G in compact form factors that allows customers to design networks to accommodate the myriad different applications and east-west traffic patterns found in modern data centers whilst providing investment protection.
 
7060CX2-32S
7060SX2-48YC6
7060CX-32S
7260QX-64
7260CX-64
Switch Height
1RU
1RU
1RU
2RU
2RU
Ports
32 x QSFP100
2 x SFP+
48 x SFP25
6 x QSFP100
32 x QSFP100
2 x SFP+
64 x QSFP+
2 x SFP+
64 x QSFP100
2 x SFP+
Max. 10GbE Density
130
72
130
2
258
Max. 25GbE Density
128
72
128
--
256
Max. 40GbE Density
32
6
32
64
64
Max. 50GbE Density
64
12
64
--
128
Max. 100GbE Density
32
6
32
--
64
Max. I/O Rate (Tbps)
6.4Tbps
3.6Tbps
6.4Tbps
5.12Tbps
12.8Tbps
Max. Forwarding Rate
3.3Bpps
2.7Bpps
3.3Bpps
3.3Bpps
9.52Bpps
Latency
450ns
450ns
450ns
550ns
550 to 1500ns
Packet Buffer Memory
22MB
22MB
16MB
64MB
Airflow Direction
Front-to-Back or Back-to-Front
.
High Performance 25/50/100GbE and 10/40GbE leaf-spine
High Density wirespeed 10GbE, 25GbE, 40GbE, 50GbE and 100GbE
Latency from 450ns port to port
Quad 10GbE or 25GbE mode support for seamless migrations
50GbE support for high bandwidth storage and compute applications
Optimized for DC Designs
Flexible choice of 10G, 25G, 40G, 50G and 100G interfaces
Up to 128 Way Multi-Pathing over L2 and L3
Power efficient for lower total cost of ownership
Redundant and hot swap power and cooling
Reversible airflow options for hot and cold aisle
Advanced Traffic Control, Provisioning and Monitoring
High Availability
Smart System Upgrade with Hitless Software Upgrade
Self-healing stateful fault repair (SFR)
Resilient ECMP and LAG Hashing
The 7060X and 7260X Series enables highly scalable two-tier network designs with MLAG, ECMP and VXLAN technologies.
MLAG Spine - All Active Multipath for Layer 2
Standards based protocol (LACP)
Simplified or eliminates Spanning Tree topology
Simple to understand and easy to engineer traffic
ECMP - All Active Multipath for Layer 3
Standards based protocol (OSPF, BGP)
Eliminates L2 for exceptional scalability and fault tolerance
Exceptional scale with consistent performance in 2 tiers
VXLAN Layer 2 over Layer 3 - Best of Both Worlds
All active multipath using ECMP (up to 128-way)
Single L3 network for all applications
L2 extensions for stateful VM - VM over Layer 3
Extends L2 with exceptional scalabilty (16M Virtual NWs)
Cloudburst over public infrastructure
25/100GbE and 10/40GbE Leaf and Spine solutions for cloud scale and open networking
The Arista 7060X and 7260X Series switches are the industry's first fixed configuration switches with high density 100GbE with support for both 10GbE and 25GbE in compact 1RU and 2RU designs. They combine scalable L2 and L3 forwarding and traffic management with advanced features for non-stop operations, network monitoring and network virtualization to deliver the required levels of network performance for cloud data centers, enterprise networks and HPC environments.
The following table compares the different 7060X and 7260X Series models. For a complete catalog of Arista 7000 Series switch specifications click here
Arista 7060X and 7260X Series Model Comparison
 
7060CX2-32S
7060SX2-48YC6
7060CX-32S
7260QX-64
7260CX-64
Description
32-Port 100G QSFP and 2 SFP+
48-Port 10/25G SFP and 6 QSFP100
32-Port 100G QSFP and 2 SFP+
64-Port QSFP+ and
2 SFP+
64-Port 100G QSFP and
2 SFP+
Maximum 100G Ports
32
6
32
-
64
Maximum 40G Ports
32
6
32
64
64
Maximum 10G Ports
130
72
130
2
258
Maximum 25G Ports
128
72
128
-
256
Maximum 50G Ports
64
12
64
-
128
SFP Ports
2
48
2
2
2
L2/L3 Throughput
6.4 Tbps
3.6 Tbps
6.4 Tbps
5.12 Tbps
12.8 Tbps
L2/3 PPS
3.3 Bpps
2.7 Bpps
3.3 Bpps
3.3 Bpps
9.52 Bpps
Latency
450ns
450ns
450ns
550ns
550 to 1500ns
Typical Power Draw
220W
240W
220W
315W
1672W
AC and DC
Yes
Yes
Yes
Future
Future
Total System Buffer
22MB
22MB
16MB
16MB
64MB
RU
1
1
1
2
2
CloudVision
Yes
Yes
Yes
Yes
Yes
Smart System Upgrade
Yes
Yes
Yes
Yes
Yes
ZTP
Yes
Yes
Yes
Yes
Yes
VM Tracer
Yes
Yes
Yes
Yes
Yes
AEM
Yes
Yes
Yes
Yes
Yes
VXLAN
Yes
Yes
Yes
Yes
Yes
LANZ
Yes
Yes
Yes
Yes
Yes
Hitless Speed Changes
Yes
Yes
Yes
NA
Yes
Airflow
F/R or R/F
F/R or R/F
F/R or R/F
F/R or R/F
F/R or R/F
Common system resources:
| Resources * | 7060X / 7260X |
| --- | --- |
| MAC Table Size | 136K |
| Maximum v4/v6 Host Routes | 104K / 56K |
| Maximum IPv4 Route Prefixes | 128K |
| Maximum IPv6 Route Prefixes | 84K |
| Maximum Multicast Groups | 136K |
| Maximum LAG Groups | 256 (in breakout modes) |
| Maximum LAG Members | 64 Ports |
| Maximum ECMP Fanout | 128-way |
* All resource values are maximum hardware capacity