Quick Look Datasheet
Arista 7020R Series Network Switch

Arista 7020R Series Network Switch
High Performance
Up to 1.04 Tbps system capacity
Up to 300 million packets per second
Wire speed unicast and multicast
Latency as low as 3.8usec
Virtual Output Queue per port to eliminate
head of line blocking
Dynamic deep packet buffer up to 3GB
Under 2W power per 10Gbps of performance
Feature Rich
Arista FlexRoute
Rich L2 and L3 features
High Availability
DC optimized airflow
VXLAN gateway and routing
Zero Touch Provisioning
Smart System Upgrade *
Hitless MLAG ISSU
RAIL for Big Data and Hadoop
Chef, Puppet and Ansible automation
Extensible platform - bash, python, C++
IPSec encryption in hardware
High Scalability
Wirespeed L2 and L3 forwarding
32 x 10G SFP+ and 2 x 100G QSFP
24 x 10G SFP+ and 2 x 100G QSFP
48 x 100/1000BASE-T and 6 x 1/10G
64-Way MLAG / 128-Way ECMP
Scalable Leaf-Spine designs
MAC 256K / IPv4 Hosts 80K
Max IP Routes: 200K IPv4 / 200K IPv6
Advanced Monitoring
CloudVision
sFlow for network visibility
LANZ microburst detection *
AEM proactive management
IEEE 802.1 AVB
VM Tracer integration *
Arista 7020R Series Introduction
The Arista 7020R Series are a purpose built high performance and power efficient solution for high density data center deployments. With a choice of 10G SFP+ or 100Mb/1G RJ45, the switch delivers non-blocking forwarding of up to 1.04Tbps combined with feature rich L2 and L3 switching. The 7020R are designed for the high performance environments as a server edge for 1G leaf and spine designs or a high performance storage network switch, where wire speed L2 and L3 forwarding are combined with advanced features for network virtualization, open monitoring and network analysis, resiliency and architectural flexibility.
Lossless Architecture With Unparalleled Performance and Scale
The
Arista 7020R Series Switches
uses a deep buffer VOQ architecture consistent with the 7280R Series that eliminates head-of-line blocking and packet drops even in the most congested network scenarios. As a result, the Arista 7020R can handle the most demanding data center requirements with ease, including mixed traffic loads of real-time streaming, multicast, and storage traffic. The switches all use a common dedicated packet processor that delivers consistent features.
The 7020R has a high performance quad core CPU and 8GB of system memory to allow for a combination of larger routing tables, vrfs, additional protocols and faster convergence. With support for Arista FlexRoute engine and large forwarding tables along with EOS NetDB the 7020R enable scalability not natively available in typical 1G switches. AlgoMatch
TM
, a unique Arista innovation to enable more exible and scalable solutions for access control, policy based forwarding and network telemetry is available on the Arista 7020TRA series.
A Flexible Universal 1G and 10G Leaf Platform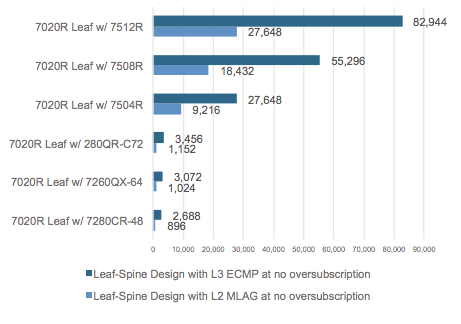 With Arista EOS, the 7020R allows for flexible options at all tiers of the network and deployment scenarios including
layer 2 MLAG, layer 3 ECMP, VXLAN Overlay
bridging and routing.
The flexibility of the L2 and L3 multi-path design options combined with support for open standards provides maximum flexibility, scalability and network wide virtualization that scales to thousands of hosts in a single two-tier design.
Arista EOS
Arista EOS is a modular switch operating system with a unique state sharing architecture that cleanly separates switch state from protocol processing and application logic. Built on top of a standard Linux kernel, all EOS processes run in their own protected memory space and exchange state through an in-memory database. This multi-process state sharing architecture provides the foundation for in-service-software updates and self-healing resiliency.
7020R Deployment Scenarios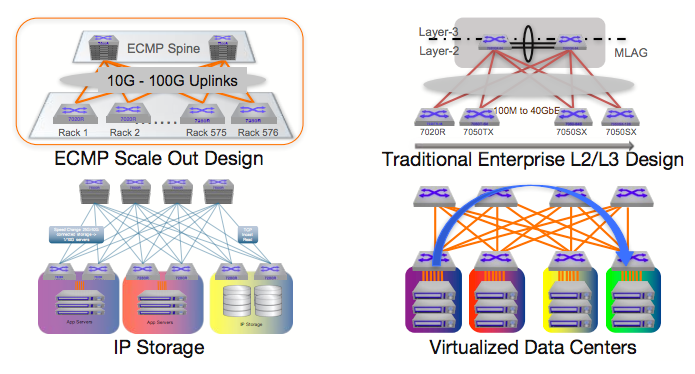 Arista 7020R Series Deployment Scenarios
Universal Leaf

— Delivering high performance and bandwidth with density, resiliency, equal cost multi-pathing, rapid convergence and large routing tables

Virtualized and Cloud Data Centers

— Large scale resources coupled with a rich L2/L3 feature set and innovative provisioning and monitoring

IP Storage

— Lossless performance with dynamic deep buffers and predictable low latency in non-blocking systems for consistent application response

Digital Media

— Low and predictable latency, nonblocking with high density 1G, precision timing and monitoring

Big Data and IP Storage

— High performance leaf for east-west traffic patterns with advanced monitoring and traffic control features for deterministic performance

Content Delivery Networks

— Ultra deep buffers create a lossless network for streaming media and content delivery networks that ensures reliable performance under peak loads

Hyperconverged Server and Storage Infrastructure

— Small form factor system with 10G SFP for local connections and 100G QSFP uplinks allows high performance and non-blocking designs with deep buffers

Site-to-Site VPN with IPSec

— Secure VPNs for the transmission of of sensitive information over unprotected public networks

Edge computing and 5G networks

— High performance with compact and power efficient platform with dual 100G uplinks
7020R Series Systems
Arista 7020R Series support hot-swappable power supplies and N+1 fan redundancy, EOS high availability, a choice of L2 and L3 multi-pathing designs and powerful EOS innovations for visibility, application level performance monitoring and virtualization.
With deep packet buffers, large forwarding tables, data center class reliability and an architecture and features consistent with the 7280R Series, the 7020R is an ideal platform for building reliable and highly scalable
data center networks
.
Feature
Description

CloudVision

Network-wide workflow automation and workload orchestration as a turnkey solution for Cloud Networking

Dynamic Deep Buffers

3GB of packet memory per switch virtually eliminating packet drops in congestion scenarios

Equal Cost Multi Pathing (ECMP)

All paths between spine and leaf run active/active utilizing standard routing protocols like BGP and OSPF and ECMP is used to run all paths in active/active mode

IPv4 and IPv6 Routing Support

IPv4 and IPv6 Layer 3 routing (OSPF, BGP, ISIS and PIM) is available in the Enhanced Routing license, enabling highly resilient multi-path networks

Zero Touch Provisioning

With ZTP, a switch loads its image and configuration from a centralized location within the network. This simplifies deployment, enabling network engineering resources to be used for more productive tasks

Wirespeed VXLAN Routing

Seamless integration between VXLAN and L2/L3 environments, physical and virtualized networks

IPSec VPN

*
Site to site IPSec VPN for secure connections between datacenter and points of presence (7020SR only)

Latency Analyzer

* (LANZ)
Real time visibility of port latency and per port high watermarks to provide immediate feedback and precision monitoring

Network Wide Virtualization

*
Multi-vendor API Support with eAPI, VXLAN and NSX, and other encapsulation techniques

High Performance Control Plane

Quad core CPU and 8GB of system memory to support larger routing tables, vrfs and faster convergence.
* Not currently supported in EOS
Copyright © 2018 Arista Networks, Inc. All rights reserved. CloudVision, and EOS are registered trademarks and Arista Networks is a trademark of Arista Networks, Inc. All other company names are trademarks of their respective holders. Information in this document is subject to change without notice. Certain features may not yet be available. Arista Networks, Inc. assumes no responsibility for any errors that may appear in this document.  March 15, 2019   11-0017-04