Arista 7130 Connect Series ultra-low latency switches
Arista's 7130 Connect Series of Layer 1+ switches are powerful network devices designed for ultra low latency and offer a wealth of integrated management features and functionalities.
Available in 16, 48, or 96 port device options, they combine a multitude of network functionality on a single device:
Signal regeneration
Media conversion
Port mirroring
Telemetry
Dynamic patching/link management
Layer 1+ statistics on every link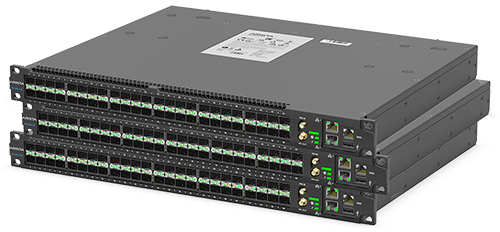 The Arista 7130 Connect switches forward data between ports in 4 nanoseconds with full signal recovery and regeneration. They are non-blocking, deterministic with virtually undetectable jitter, and do not buffer or queue data.
State of the art signal integrity circuitry allows for flexible use of SFP/SFP+ including long-range multi-mode (LRM) as well as passive and active direct-attach copper cables.
The 7130 Connect Series platform is packet-aware providing comprehensive packet statistics, signal quality monitoring including eye diagrams, and diagnostics. Packet replication provides the ability to sniff packets without affecting the data path.
The Arista's 7130 Connect Series Layer 1+ switches can be used in a network as a remotely configurable patch panel, for one to many data broadcast, ad-hoc tapping, media conversion, and link monitoring with the same overhead as a metre of fiber and no degeneration of signal quality.
Key Advantages of Arista 7130 Connect devices
7130 Layer 1+ devices provide extremely low latency of 4 nanoseconds, equivalent to the propagation delay down a single meter of fiber or copper interconnect
A connection can be configured between any incoming port and any outgoing port almost instantly with no physical presence required via a number of interfaces including CLI, HTTP and JSON-RPC.
Any connection can be torn down or reconfigured using different ports almost instantly
Connections can be one-to-one or one-to-many while retaining the same latency and signal characteristics
Key Features
| Feature | Description |
| --- | --- |
| Ultra-low latency | Fan-out, tap, or patch with a latency of 4 ns, equivalent to a single meter of fibre or copper interconnect, and insignificant jitter. |
| Ethernet media conversion | Reduce costs by converting between different Ethernet media types. E.g. one end of a link can be 10G twinax and the other 10G-BASE-LR single-mode fiber. |
| Multi-feature | Save rack space and reduce complexity by leveraging dynamic patching, tapping, 1:N replication, telemetry, and comprehensive port statistics on a single device. |
| Flexible SFP/SFP+ support | Make significant cost savings through the support of most SFP/SFP+ transceivers including DWDM and direct attached copper cables; boosted by high-performance signal recovery and regeneration. |
| Deterministic | Replace taps to monitor or share feeds such as market-data with full signal regeneration and no additional overhead. |
| Packet statistics | Leverage advanced monitoring and capture high-level packet statistics across all ports. Receive detailed switch statistics via SNMP or CLI and obtain tcpdump and LLDP on every port. |
| 64-bit x86 management processor and MOS/EOS | Leverage an open standards platform and the MOS or EOS operating system to provide user extensible solutions. |
| Remote configuration | Change mappings between ports at any time via a number of standard APIs with no physical reconfiguration required. Wire-once to reduce visits to the data center and save on remote hands |
Model Comparison of 7130 Connect Series devices
| Platform | 7130-16G3S | 7130-48G3S | 7130-96S |
| --- | --- | --- | --- |
| Description | 16 port Layer-1 Switch | 48 port Layer-1 Switch | 96 port Layer-1 Switch |
| SFP+ Interfaces (100M-11.3Gbps) | 16 | 48 | 96 |
| Port-to-Port Latency | 4 ns | 4 ns | 6 ns |
| RU | 1 | 1 | 2 |
| Airflow | Front-Rear or Rear-Front | Front-Rear or Rear-Front | Front-Rear or Rear-Front |
| Power Supplies | Redundant AC or DC | Redundant AC or DC | Redundant AC or DC |