Quick Look Datasheet
Arista 7150 Series Network Switch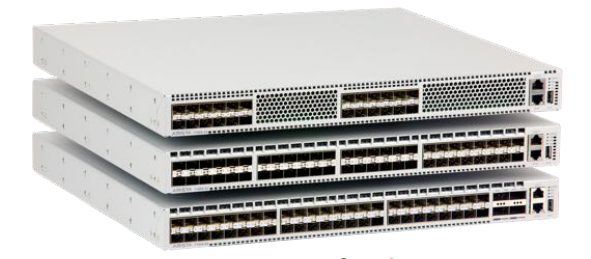 Arista 7150 Series Network Switch
High Performance
7150S-24: 24x1/10GbE
7150S-52: 52x1/10GbE
7150S-64: 48x1/10GbE and 4 x 10/40GbE
7150SC-24: 24x1/10GbE
7150SC-64: 48x1/10GbE and 4 x 10/40GbE
Up to 1.28 terabits per second
Up to 960 million packets per second
Wire speed L2 and L3 forwarding
Ultra Low Latency
From 350 nanosecond latency
Same latency for L2 and L3
Low latency at 1,10 and 40GbE
Low jitter for unicast and multicast
Dynamic buffer allocation
Advanced Provisioning & Monitoring
CloudVision
LANZ Microburst Analysis
IEEE 1588 PTP high precision clock option
Ultra Low Latency NAT, MNAT
DANZ Advanced Mirroring & TAP Aggregation for improved visibility
sFlow (RFC3176)
Zero Touch Provisioning (ZTP)
VMTracer
Self-configure/recover from USB
Data Center Optimized Design
Typical power draw from 3.5W/port
1+1 redundant & hot-swappable power
N+1 redundant & hot-swappable fans
Front-to-rear or rear-to-front fans
Resilient Control Plane
Multi-core x86 CPU
4GB DRAM
2 (S) or 4GB (SC) Flash
User applications can run in a VM
SC models are ROHS compliant
Built-in Solid State Storage
Solid State Drive options (*D models)
Store logs and data captures
Leverage linux tools with no limitations
Arista Extensible Operating System
Single binary image
Fine-grained truly modular network OS
Stateful Fault Containment (SFC)
Stateful Fault Repair (SFR)
Full access to Linux shell and tools
Extensible platform - bash, python, C++
7150 Series Introduction – 1/10 GbE SFP Ultra Low Latency Switch
The Arista 7150 series represents the industry's leading ultra low latency 1RU 1/10/40GbE layer 2/3/4 wire speed switch family, offering a unique combination of performance, advanced functionality and extensive onboard resources. The 7150 Series includes the 7150S and the 7150SC models. The 7150SC variants are equipped with a higher performance control plane and meet newer ROHS requirements.***
Designed to suit the requirements of demanding environments such as ultra low latency financial ECNs, HPC clusters and cloud data centers, the class-leading deterministic latency from 350ns is coupled with a set of advanced tools for monitoring and controlling mission critical environments.
| Feature | Benefit |
| --- | --- |
| Wire-speed Low Latency Network Address Translation | Reduce NAT latency by 10s of microseconds vs traditional high latency solutions |
| IEEE 1588 Precision Time Protocol (Boundary and Transparent modes) | Provides hardware-based timing for accurate in-band time distribution with nanosecond accuracy |
| Integrated High Precision Oscillator | Ensures highly accurate timing with extended holdover |
| Latency and Application Analysis LANZ | Detect, capture, stream microbursts and transient congestion at microsecond rates |
| Advanced Multi-port Mirroring Suite | Avoid costly SPAN/TAP aggregators with in-switch capturing, filtering and time-stamping |
| Wire-speed VXLAN Gateway | Enabling next generation Data Center virtualization |
| AgilePorts | Adapt from 10G to 40G without costly upgrades |
Arista EOS
Arista EOS is a modular switch operating system with a unique state sharing architecture that cleanly separates switch state from protocol processing and application logic. Built on top of a standard Linux kernel, all EOS processes run in their own protected memory space and exchange state through an in-memory database. This multi-process state sharing architecture provides the foundation for in-service-software updates and self-healing resiliency.
With Arista EOS, advanced monitoring and automation capabilities such as Zero Touch Provisioning, VMTracer and Linux based tools can be run natively on the switch with the powerful dual-core x86 CPU subsystem.
Deterministic, Ultra Low Latency
The Arista 7150 switch is optimized for ultra low latency, cut-through forwarding. It offers the same low latency characteristics at all packet sizes. The latency remains consistent even when features such as L3, ACL, QoS, Multicast, Port Mirroring, LANZ+ and Time-Stamping are enabled. The 7150S also supports cut-through mode at 100Mb and 1GbE speeds at low latency for legacy connections.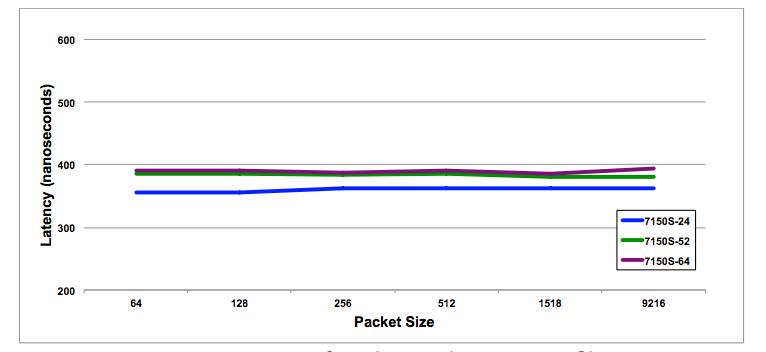 Arista 7150 family 10G latency profile
Dynamic Buffer Allocation
The Arista 7150 forwards packets at an ultra low latency of 350 nanoseconds from any port to any other port. However when a microburst or transient in-cast condition causes contention of an egress interface, packets must be buffered. The 7150's global packet memory is dynamically allocated on demand to congested interfaces, avoiding packet loss.
Enhanced Features for High Performance Networks
The Arista 7150 delivers a suite of
advanced traffic control and network monitoring
features to improve the agility of modern high performance environments, with solutions for network address translation, precise timing and next-generation virtualization.
Monitoring, Analysis and Forensics
Arista's enhanced LANZ microburst and latency analysis enables the monitor of even the slightest transient congestion at microsecond granularity. Data affected by congestion is captured and verbose logs are written locally and streamed in real time to external tools over an open protocol buffer encoded format. Event Monitoring complements LANZ with protocol-layer captures, providing a forensic history of network adds, moves and changes. The combination of Arista's Advanced Mirroring Suite and the ability to time-stamp every packet in hardware with features such as sFlow, delivers unmatched instrumentation of network behavior and performance. Optimized to support pro-active capacity planning and pre-empt issues, the 7150 is uniquely equipped to root-cause network anomalies.
Precision Timing (IEEE 1588)
Arista's hardware derived Precision Time Protocol solution provides a robust mechanism for accurate in-band time distribution in high performance environments. Offering both Boundary and Transparent Clock modes, the versatile 7150 enables timing networks to scale independently of Grand Master capacity, maintaining accuracy approaching that of a dedicated out-of-band platform. The 7150 Series employs a high precision OCXO for consistent timekeeping. This clock module ensures exceptional determinism in timing operations.
Virtualization
Supporting next-generation virtualized data centers requires tight integration with orchestration tools and emerging encapsulation technologies such as VXLAN and NVGRE. The 7150S builds on the valuable tools already provided by the Arista VMTracer suite to integrate directly into encapsulated environments. Offering a true, wire-speed, low latency gateway between VXLAN and traditional L2/3 environments, the 7150S makes integration of non-VXLAN aware devices including servers, firewalls and load-balancers, seamless and provides the ability to leverage VXLAN as a standards based L2 extension technology for non-MPLS environments.
AgilePorts Enable Flexible Deployment
AgilePorts deliver complete flexibility in connectivity - each SFP+ interface is capable of supporting 100M-10G over a variety of media, including DWDM with distances up to 80km. The AgilePorts feature also enables groups of adjacent SFP+ ports to be configured for 40Gb operation using 10Gb transceivers and cables providing maximum port flexibility and a seamless migration from 10Gb to 40Gb.
High Availability
The Arista 7150 switches were designed for high availability and simple provisioning from both a software and hardware perspective.
Key Features Include: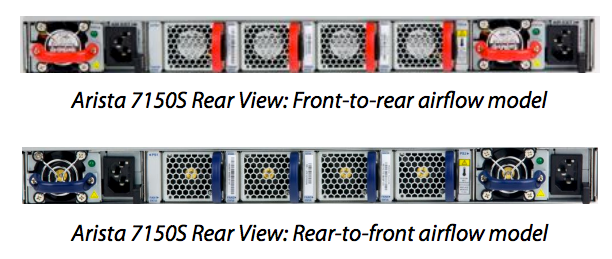 1+1 hot-swap power supplies and four N+1 hot-swap fans
Color coded PSUs and fans - common to Arista 1RU devices
EOS Zero Touch Provisioning (ZTP)
Self healing software with Stateful Fault Repair (SFR)
Live software patching
32-way MLAG and ECMP routing for all-active L2 and L3
*** Material changes were made to the new 7150SC models to ensure RoHS compliance as per Commission Delegated Directive (EU) 2019/172 - of 16 November 2018. As of February 2020 the 7150S models will no longer be available for sale in RoHS countries. Customers in RoHS countries should transition to the 7150SC models on or before February 2020.
Copyright © 2017 Arista Networks, Inc. All rights reserved. CloudVision, and EOS are registered trademarks and Arista Networks is a trademark of Arista Networks, Inc. All other company names are trademarks of their respective holders. Information in this document is subject to change without notice. Certain features may not yet be available. Arista Networks, Inc. assumes no responsibility for any errors that may appear in this document.     11-0019-01