Arista 的 CloudVision CUE™ 解决方案使无线网络能够学习、预测、保护和进步,从而优化无线体验。CloudVision CUE 利用云、大数据分析和自动化的强大功能,凭借智能、速度和准确性优势增强网络管理能力。通过根本原因分析和主动解决问题的选项,CloudVision CUE 还可以减少平均解决问题时间,最大限度减少网络的故障排除工作。
CloudVision CUE (CV-CUE) is at the core of Arista's cloud-native approach to enterprise Wi-Fi networks. It enables centralized management of APs which remarkably simplifies policy management and provisioning of Wi-Fi networks. At the network edge, APs are equipped with distributed algorithms to handle control plane functions locally. This decoupling of management and control planes, along with a flexible data plane that allows wireless access points to provide customizable traffic redirection at the network's edge, results in a more robust network, without a single point of failure. Thus, CV-CUE enables seamless scaling of the network from a few to 1000s of APs.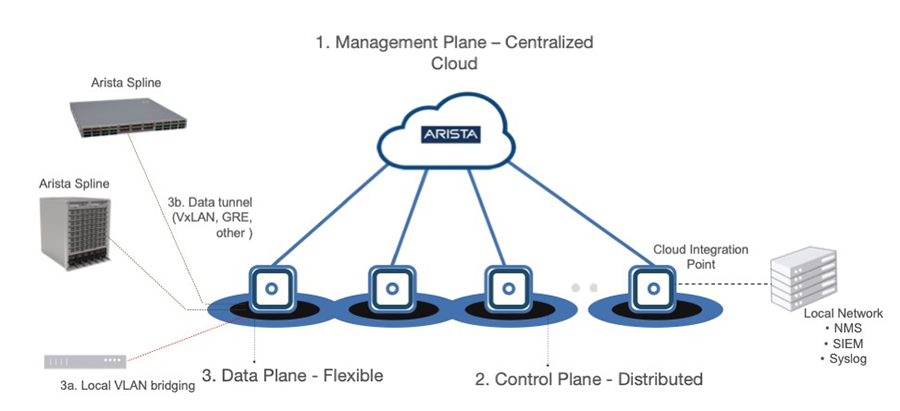 With virtually unlimited and elastic availability of storage and compute resources, the Arista Wi-Fi solution eliminates artificial boundaries inherent in controller-based WLAN architectures. Naturally, it enables many innovative, previously unforeseen applications in big data analytics, machine learning and cognitive computing in the context of Wi-Fi.
Key Features
Cognitive Management Plane
CloudVision CUE is powered by a cognitive management plane which simplifies configuration and troubleshooting while delivering richer telemetry to network administrators. The innovative cognition plane uses AI and ML techniques to provide root cause analysis and proactive problem resolution options to reduce the mean time to resolve problems, minimizing network troubleshooting effort and reducing total cost of ownership
| | |
| --- | --- |
| Network Baselining | Baselines network behavior and automatically detects and highlights anomalies, using ML algorithms. |
| Root Cause Analysis Engine | Automatically detects and classifies Wi-Fi clients' connection failures and pinpoints the root cause in real-time. |
| Single Client Inferencing | Identifies clients facing poor QoE, based on RF, network and application KPIs and performs root cause analysis for specific clients. |
| Automatic Packet Capture | Proactively captures packet traces to help diagnose problems; traces are stored alongside related failures or symptoms to simplify troubleshooting later. |
| Client Emulation and Network Profiling | Takes advantage of the multi-function radio, present in most Arista Wi-Fi APs, turning it into a client to run a wide variety of tests and proactively identify problems before users do. |
The Cognitive Management Plane is driven by Arista's NetDB, a state-based, cloud-hosted, network-wide database that collects real-time data streamed from wired and wireless devices for cognitive analytics. CloudVision CUE's capabilities can be extended further by integration with 3rd party applications using OpenConfig and Arista's ReST API framework.
Wireless Intrusion Prevention
With a multi-function radio acting as a dedicated wireless intrusion prevention (WIPS) sensor, wireless threats are detected and blocked almost instantly in your network. CV-CUE works with the APs, which are powered by patented techniques such as Marker PacketsTM, to enable surgical over-the-air intrusion prevention, automatically and accurately creating alerts and classifying wireless threats. CloudVision CUE uses behavior based detection of threats; rather than a signature based approach; to enable zero day protection without chasing exploits, tools and their signatures.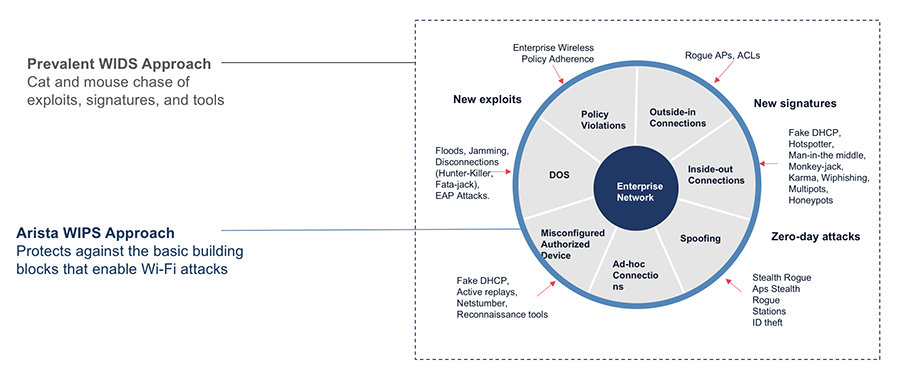 Secure Client Access
CV-CUE supports flexible end user access management in enterprise Wi-Fi networks by enabling seamless integration with leading identity management solutions such as Aruba ClearPass, ForeScout NAC, Cisco ISE etc. Arista Guest Manager provides multiple ways for guest access in the enterprise including Guestbook, vouchers, OTP-based etc.
Choose from a broad range of indoor and outdoor Wi-Fi 6 and the latest Wi-Fi 6E access points to provide reliable and high performing wireless connectivity for users.
Wi-Fi 6E Access Points
Wi-Fi 6E is the latest Wi-Fi technology in use, and the Arista Wi-Fi 6E access points provide maximized wireless performance for high bandwidth, ultra low-latency applications and IoT connectivity. Wi-Fi 6E access points are designed for immediate and future worldwide operation with investment protection.
Explore Wi-Fi 6E Access Points
Wi-Fi 6 Access Points
All Arista Wi-Fi Access Points support WIPS functionality, either via the multi-function radio or with background scan enabled on the access radios.Wi-Fi 6 is ideal for critical, high-density networks serving a high volume of diverse clients and applications. Common deployment scenarios include large schools, large remote offices, auditoriums, meeting rooms, and enterprise campuses. A variety of access points for indoor or outdoor use is available.
Explore Wi-Fi 6 Access Points
Hardware Data Sheets
Software and Services Data Sheets
Guides and FAQs
White Papers and Application Notes