Automated Fabric Delivers Network-as-a-Service with VPCs On-Prem
Converged Cloud Fabric (CCF)™ is an automated fabric built with cloud networking design principles. CCF leverages VPC/VNet constructs on-prem to deliver a cloud Network-as-a-Service operational model. CCF automates networking for multiple private cloud platforms, enabling the network to operate at the speed of VMs and Containers. With built-in analytics and telemetry, CCF provides real-time contextual visibility across the fabric and one-click troubleshooting workflows. With CCF, NetOps, DevOps and CloudOps teams can effectively collaborate, and rapidly on-board applications and tenants.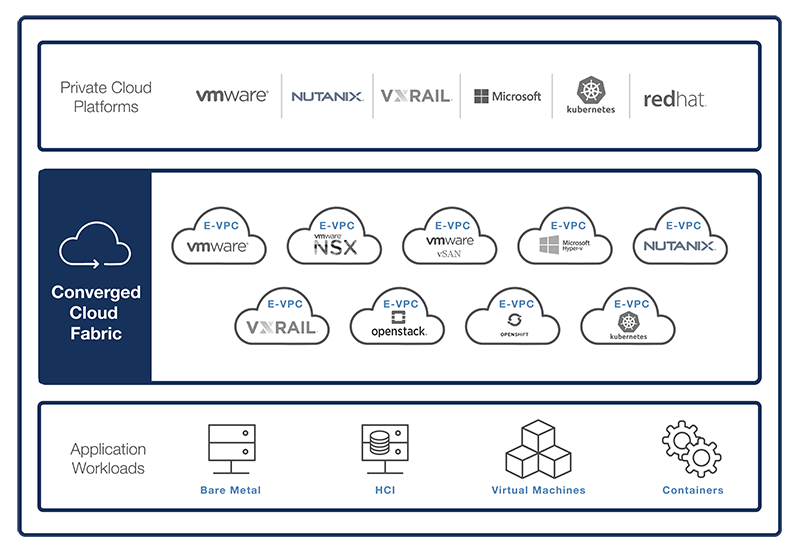 CCF enables mainstream and midsize organizations to leverage network as a strategic pillar of the digital transformation strategy. With CCF's self-service networking and contextual intelligence, NetOps team can focus on innovations such as new services and analytics, instead of time-consuming manual tasks. Collaborations across NetOps and CloudOps/DevOps teams is enhanced, as the network operates at the speed of VMs and containers. Enterprise-VPC (E-VPC) based self-service networking model with delegated administration provides CloudOps/DevOps teams cloud-style experience on prem for VMware (vSphere/NSX/vSAN), VXRail and Nutanix HCI workloads.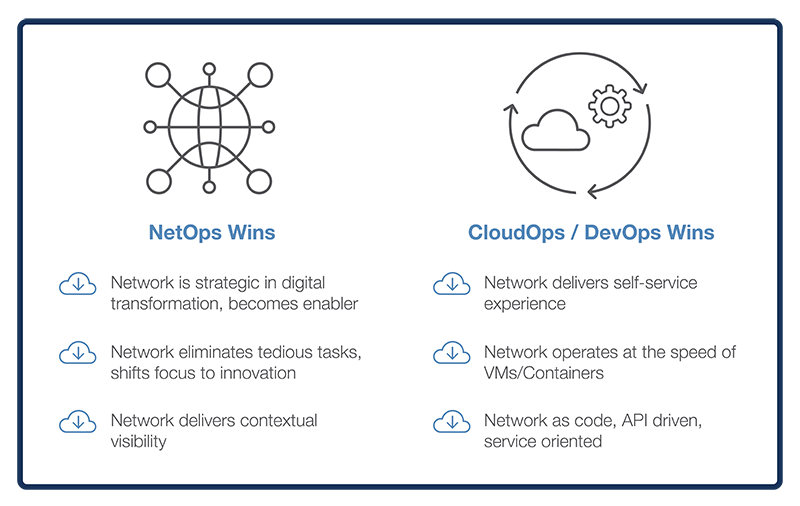 CCF Architecture - Modular, Scale-Out, Pod-Based SDN Fabric
Inspired by public cloud design principles, CCF is a modern data center switching fabric built from the ground up for software-defined data centers (SDDC), private clouds, hyperconverged environments and cloud-native applications. CCF is the industry's first data center fabric leveraging SDN controller software and open networking hardware.
Converged Cloud Fabric — Under the Hood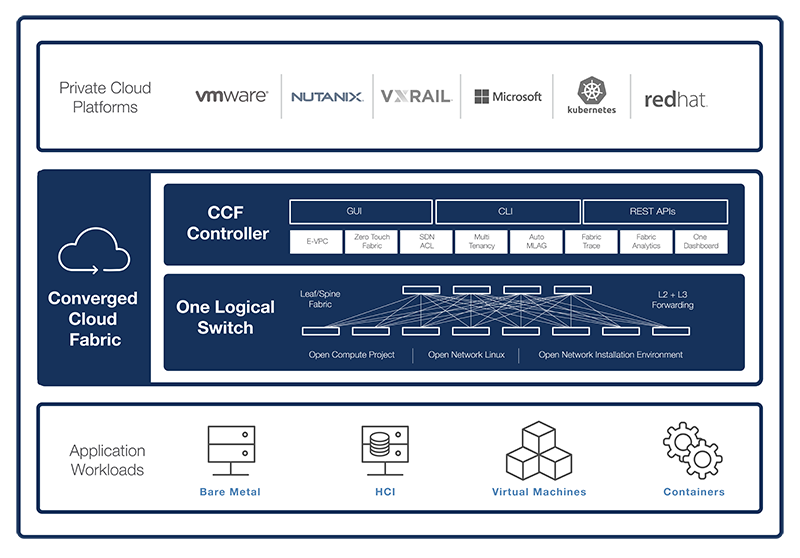 The CCF Controller operates as "one logical switch", which removes complexity and automates Day0/Day1/Day2 operations, delivers network-as-a-service through cloud-style E-VPC, and provides contextual analytics for deep visibility.
Converged Cloud Fabric — Resilient Logical Switch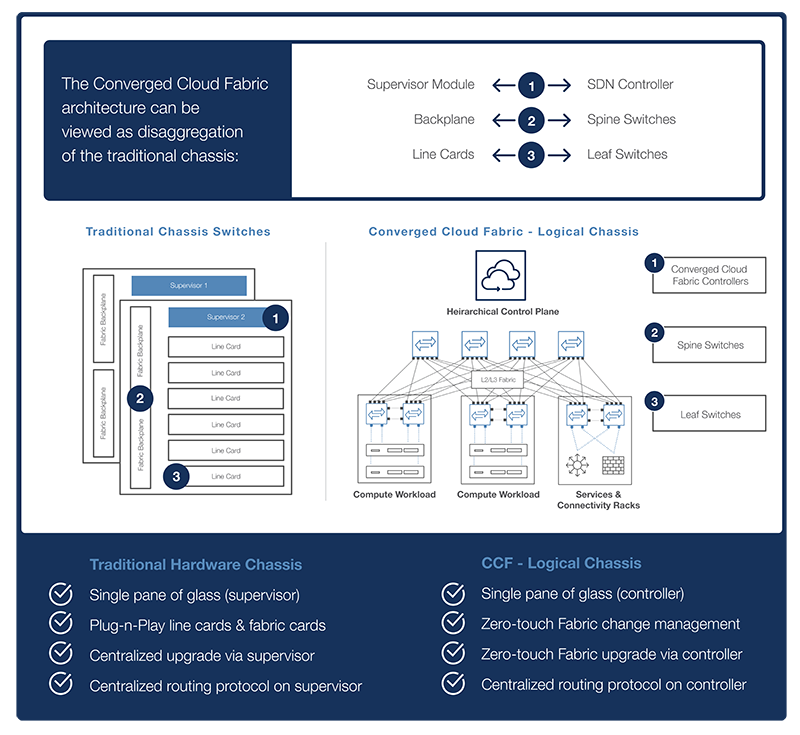 CCF Experience - Modern, Automated, Liberating
Enterprise VPC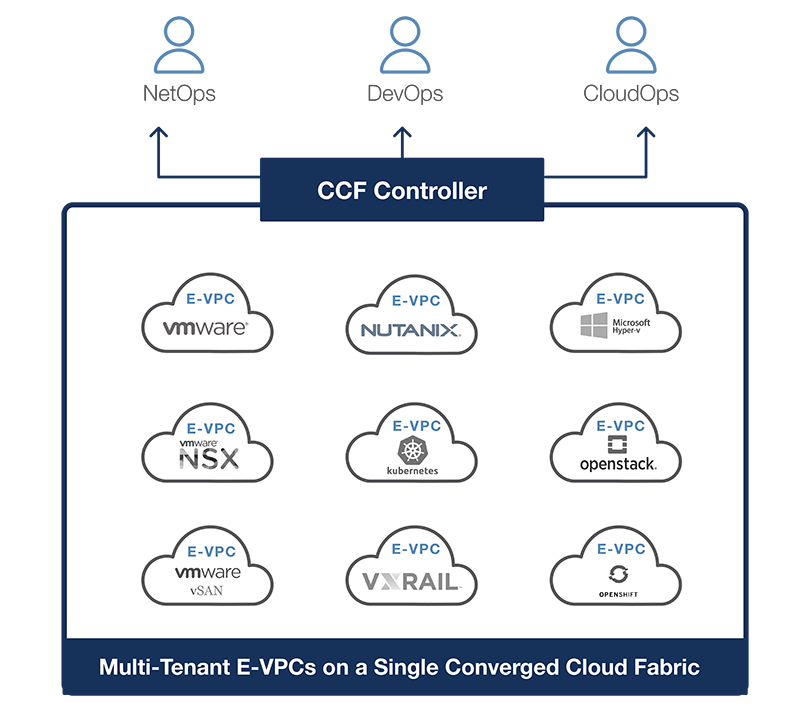 Network-as-a-Service with VPCs on-prem
Enterprise VPCs (E-VPC) make networking as simple as VPC/VNets on public clouds
Enables Network-as-a-Service, eliminates box-by- box network complexity
VPC on-prem logical networking alleviates provisioning dependency on hardware constructs (ports, VLANs, VRFs)
Built-in multi-tenancy and delegated administration, ideal for DevOps/Cloud teams for programmatic automation
E-VPC Network Automation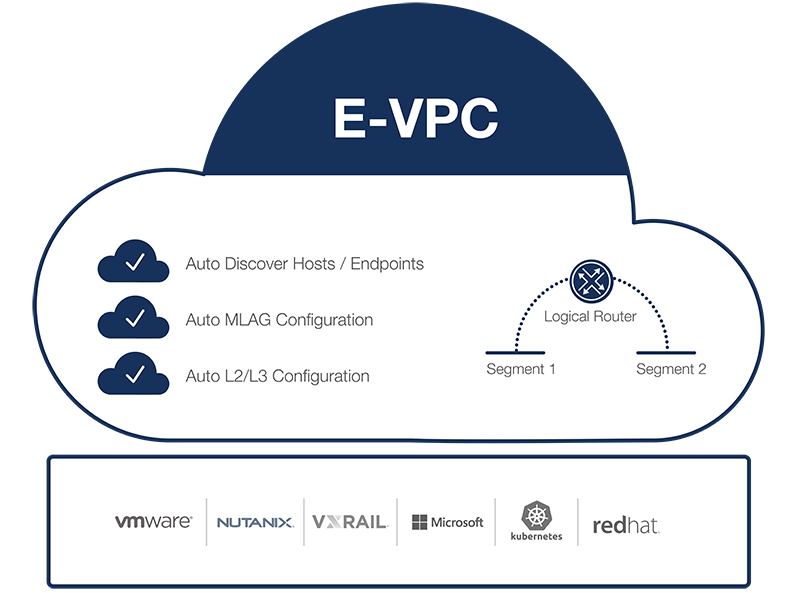 Agility, drive networks at the speed of VMs/Containers
Auto-discovery of hosts/VMs/containers provides richer endpoint visibility beyond IP/MAC address
Auto-provisioning of host-to-network MLAG eliminates tedious multi-team dependencies and delays
Auto L2/L3 fabric configuration enables instantaneous application connectivity, adapts to application elasticity
Only fabric delivering concurrent multi-EVPC automation for VMware (vSphere, NSX, vSAN), Nutanix, Dell EMC VxRail, Red Hat (OpenStack, OpenShift) and Kubernetes
Contextual Analytics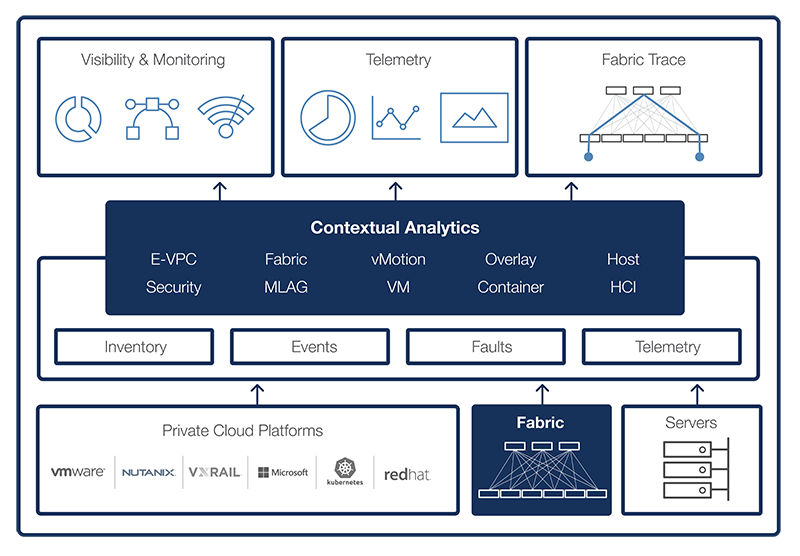 Network insights — real-time visibility and rapid troubleshooting
Built-in analytics enable detailed fabric visibility through insightful dashboards that provide actionable intelligence
Contextual VM, container and host level visibility through integration with on-prem cloud platforms (VMware, Nutanix, Red Hat and Container)
Single-click fabric trace enables rapid root cause analysis and troubleshooting
Telemetry enabled through event-driven analytics and real-time network state
CCF Operations - Intent-Based, Zero-Touch, Secure
Intent Based Networking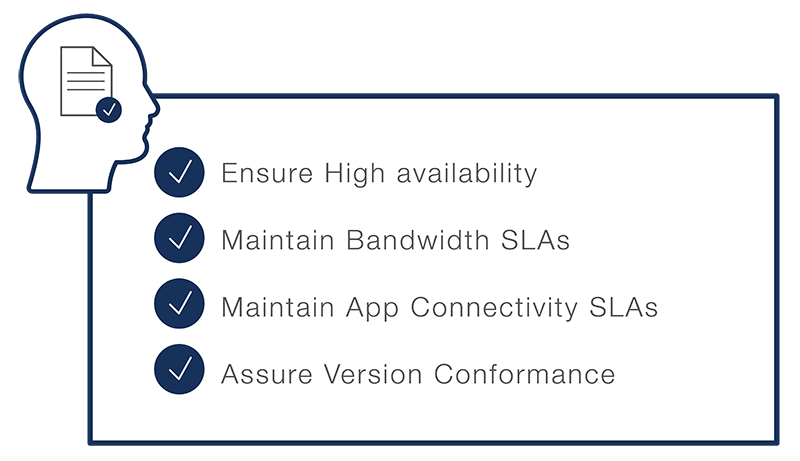 Declarative policy management and verification
IT business intent delivered as automated policy workflows across the fabric — Design, Deploy, Operate, Verify
Enforce operational intent with zero-touch fabric formation and scale-out, one-click fabric-wide SW upgrades and one-click troubleshooting
Deliver application connectivity intent via auto- MLAG to host and automated L2/L3 networking through private cloud integration
Real-time intent verification and predictive analytics for health assessment, resource utilization and capacity planning
Zero-Touch Fabric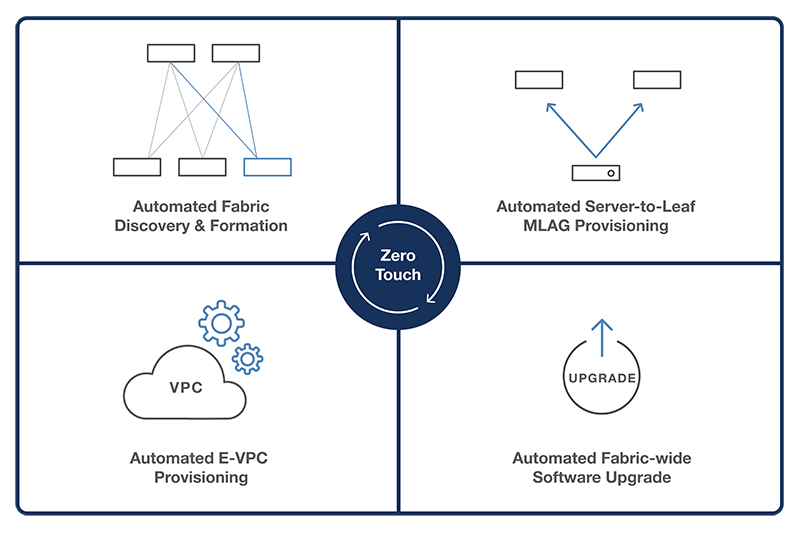 Built-in workflows for Day0/Day1/Day2 operations
Rapid Day0 deployment through auto- discovery and auto-provisioning of switches and auto-formation of leaf/spine fabric
Faster Day1 change management for ongoing switch and cable replacements, and fabric-wide software upgrades
Speed-up Day2 fabric-wide auto-configuration for hosts and application VMs/containers
Comprehensive fabric life-cycle management from one dashboard — never touch a switch
Multi-Layer Security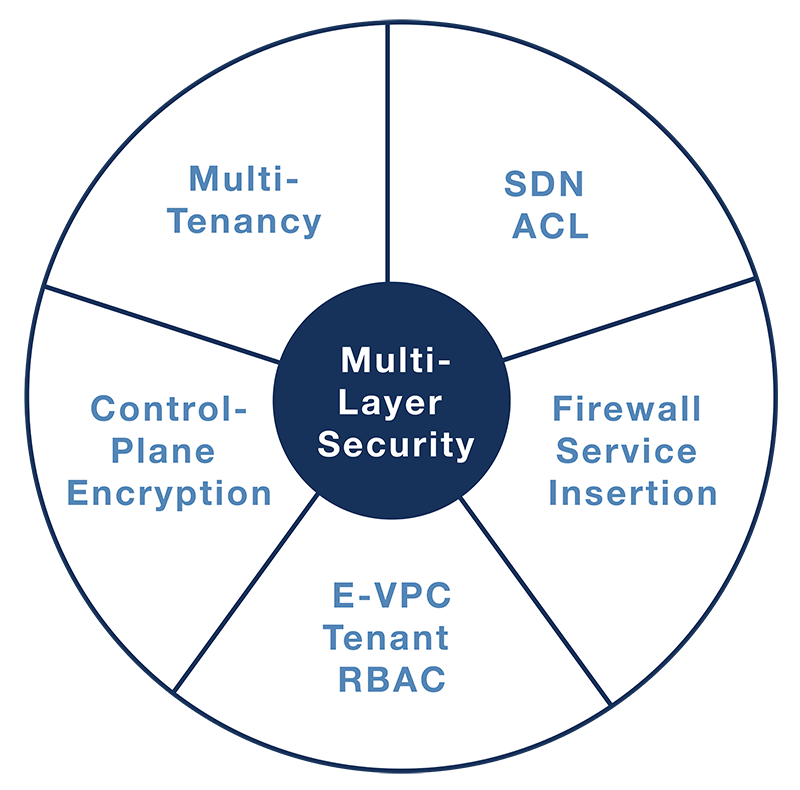 Centralized policy, multi-tenancy and delegated administration
Simplifies fabric-wide security policy/ACL creation and management via SDN controller
E-VPCs ensure tenant isolation, with additional controls for traffic across E-VPCs
Few-click firewall service insertion, to rapidly secure application traffic
Delegate E-VPC tenant management to DevOps with role-based access controls
Multi-Cloud Director (MCD): Enterprise-wide Multi-CCF Management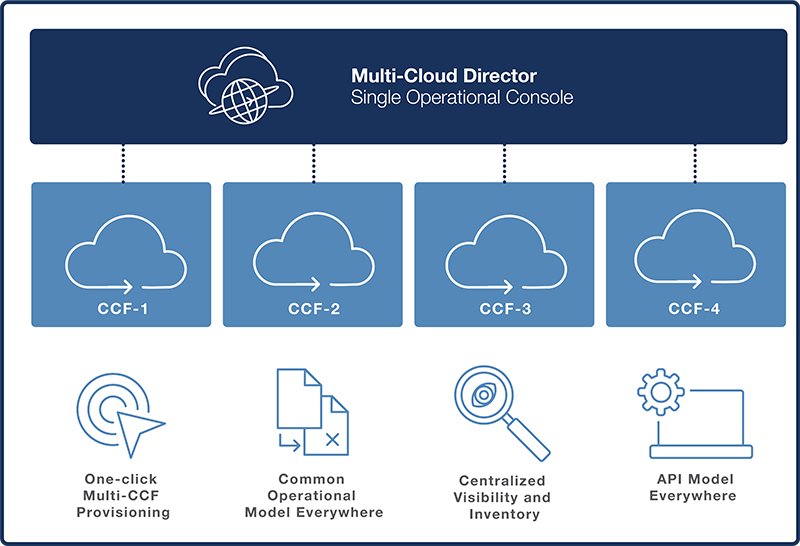 MCD provides a unified dashboard for global provisioning, operations and visibility of multiple CCF deployments
Enables globally orchestrated workflows across multiple controllers, including provisioning, Day1/Day2 operations, upgrades and troubleshooting for faster service enablement, global security compliance and ensures consistent operations.
Provides global inventory, real-time visibility, resource utilization, version consistency and operational health to streamline capacity planning and to ensure operational consistency across all controller deployments.
Single sign-on and role-based access control enable multiple teams to manage different sets of controllers, meeting segregation of duties requirement as well as ensuring consistent enterprise-wide operational posture.
Provides a single point of API integration to simplify programmatic access across multiple controllers for rapid automation in a global, multi-cloud organization.
CCF Infrastructure - Controller-Based, Resilient, Open
SDN-based Fabric Controller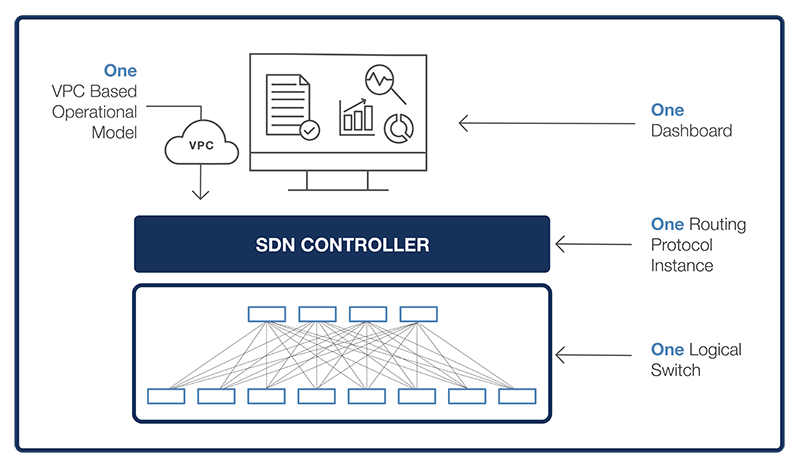 Software controls for uncomplicated networking
Remove operational complexity by managing the entire fabric as one logical switch
Single Layer-3 control protocol instance for the entire fabric eliminates box-by-box protocol complexity
Integration with private cloud platforms to deliver built-in network automation and visibility
Intuitive self-service dashboard, for policy, provisioning, operations and visibility
Unmatched Resiliency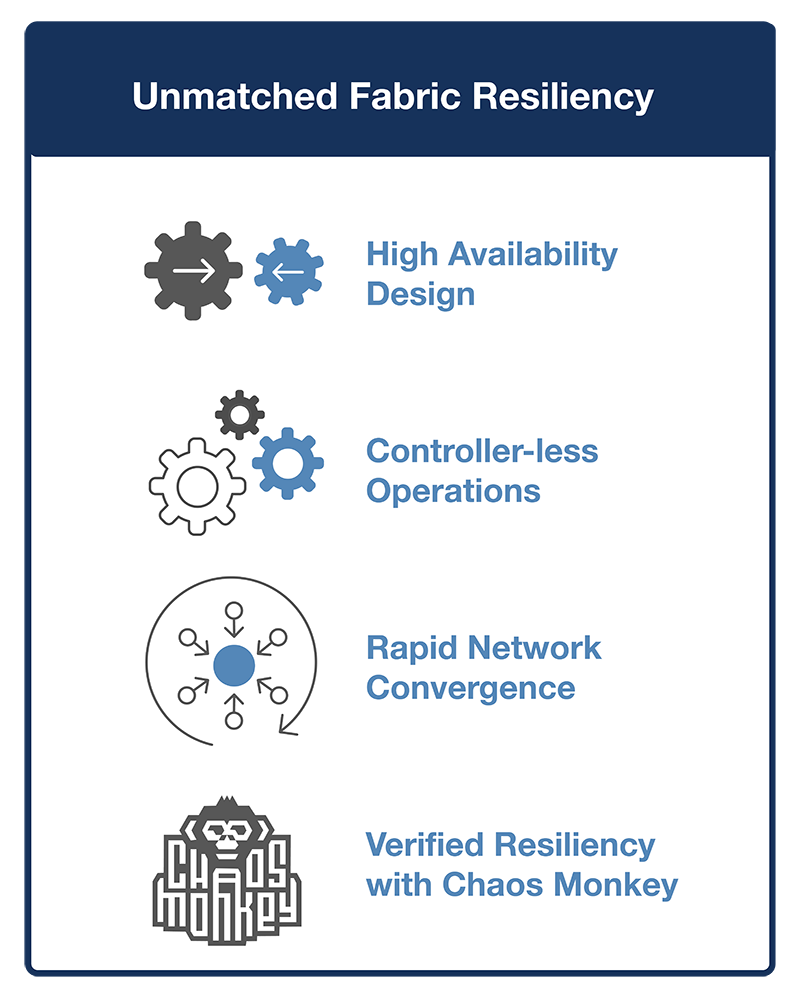 Uptime and service assurance
Fully HA design guarantees service availability by circumventing any single point of failure
CCF's SDN architecture ensures rapid network recovery by eliminating box-by-box protocol convergence delays
Hierarchical control plane, optimally partitioned across controller and switches delivers resiliency comparable to distributed controls
Controller-less (headless) mode ensures continuous fabric operations during the rare event of a controller cluster outage
Assures CCF robustness across every SW release with Netflix-inspired "Chaos Monkey" resiliency verification
Open, Multi-vendor Architecture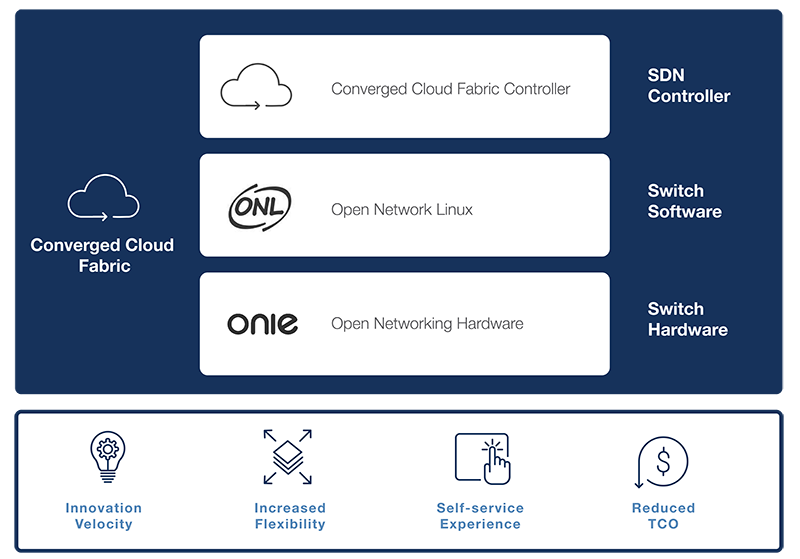 Modern Cloud-style Design
Software intelligence delivered on open networking
Enables flexibility and choice based on application needs
Single-source procurement and support for the entire solution
Turn-key (zero-touch) solution, no programming required
Arista Converged Cloud Fabric is also available from the following OEM/SI partners

Arista and OEM/SI partners together are offering an industry-accepted commercial model to procure and support the Converged Cloud Fabric solution.