Security Advisory 0079 .CSAF
Date: July 26th, 2022
| Revision | Date | Changes |
| --- | --- | --- |
| 1.0 | July 26th 2022 | Initial release |
CVE-2022-2907
The CVE-ID tracking this issue: CVE-2022-29071
CVSSv3.1 Base Score: 4.0 (AV:L/AC:L/PR:N/UI:N/S:U/C:L/I:N/A:N)
Common Weakness Enumeration (CWE): CWE-200 (Exposure of Sensitive Information to an Unauthorized Actor)
The internal bug tracking this issue: BUG 695468
Description
This advisory documents an internally found vulnerability in the on premises deployment model of Arista CloudVision Portal (CVP) where under a certain set of conditions, user passwords can be leaked in the Audit and System logs.
The impact of this vulnerability is that the CVP user login passwords might be leaked to other authenticated users.
While this advisory is similar to Arista Security Advisory 0045, it is different both in the underlying root cause and in that it discloses the passwords in the audit logs.
This issue is specific to using CVP user authentication via local (user accounts local to CVP application), TACACS or RADIUS, thus only applicable to the on-premises CloudVision Portal; CloudVision as-a-Service does not use these modes of authentication and is not affected by this issue.
This issue was discovered by an Arista customer and Arista is not aware of any malicious use of this issue in customer networks.
Vulnerability Assessment
Affected Software
CloudVision Portal (CVP):
All releases in the 2020.2 train
All releases in the 2020.3 train
All releases in the 2021.1 train
All releases in the 2021.2 train
All releases in the 2021.3 train
2022.1.0
Affected Platforms
The following CloudVision Portal products are affected with the previously mentioned software versions.
CloudVision Portal, virtual appliance or physical appliance running CVP
The following product versions and platforms are not affected by this vulnerability:
All Arista EOS-based products (All switching platforms with no exceptions)
Arista Wireless Access Points
CloudVision WiFi, virtual appliance or physical appliance
CloudVision WiFi cloud service delivery
CloudVision as-a-Service
Arista 7130 Systems running MOS
Arista Converged Cloud Fabric and DANZ Monitoring Fabric (Formerly Big Switch Nodes for BCF and BMF)
Awake Security Platform
Required Configuration for Exploitation
In order for this vulnerability to occur, the following conditions must all be met:
"Enable" passwords on the switch must be different from the CVP users login passwords
Advanced Login Options for Device Provisioning is enabled. This can be verified by navigating to the Settings page and looking for the 'Advanced login options for device provisioning' as shown in the screenshot below:
Cluster Management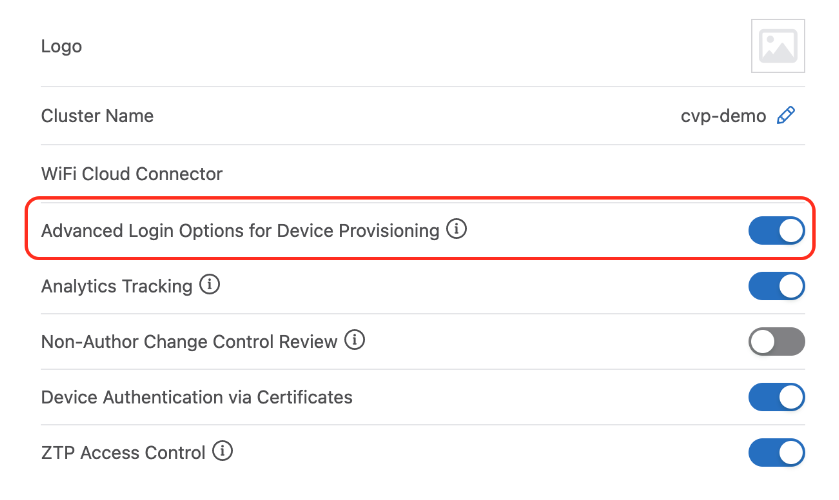 Indications of Compromise
User passwords will appear in logs.
Mitigation
It is recommended for users logging into CVP to change their password and ensure that it is the same as the enable password on the switch. As a security best practice, it is recommended to restrict access to the CVP application and host operating system to trusted users/user groups and periodically rotate user passwords.
Resolution
The recommended resolution is to upgrade to a remediated software version at your earliest convenience.
Hotfix
No hotfix will be made available for this issue.
The following versions contain a fix for this vulnerability
CVP 2022.1.1
CVP 2022.2.0 (pending release)
For More Information
If you require further assistance, or if you have any further questions regarding this security notice, please contact the Arista Networks Technical Assistance Center (TAC) by one of the following methods:
Open a Service Request
By email: 该邮件地址已受到反垃圾邮件插件保护。要显示它需要在浏览器中启用 JavaScript。
By telephone: 408-547-5502 ; 866-476-0000 Contact information needed to open a new service request may be found at:
https://www.arista.com/en/support/customer-support