Arista Networks, Inc. Reports Third Quarter 2015 Financial Results
Arista Networks, Inc. Reports Third Quarter 2015 Financial Results
SANTA CLARA, Calif. -- November 5, 2015 -- Arista Networks, Inc. (NYSE: ANET), an industry leader in software-driven cloud networking solutions for large data center and computing environments, today announced financial results for its third quarter ended September 30, 2015.
Third Quarter Financial Highlights
Revenue of $217.5 million, an increase of 40% compared to the third quarter of 2014, and an increase of 11% from the second quarter of 2015.
Non-GAAP gross margin of 65.5%, compared to non-GAAP gross margin of 65.2% in the third quarter of 2014 and 65.8% in the second quarter of 2015.
GAAP gross margin of 65.2%, compared to GAAP gross margin of 64.9% in the third quarter of 2014 and 65.4% in the second quarter of 2015.
Non-GAAP net income of $42.4 million, or $0.59 per diluted share, compared to non-GAAP net income of $28.1 million, or $0.40 per diluted share, in the third quarter of 2014.
GAAP net income of $28.7 million, or $0.39 per diluted share, compared to GAAP net income of $21.9 million, or $0.30 per diluted share, in the third quarter of 2014.
"Arista is witnessing the mainstream acceptance of open and programmable cloud networking across the globe," stated Jayshree Ullal, Arista President and CEO. "I am delighted by our customer traction across four major verticals and our consistent profitable revenue growth."
Commenting on the company's financial results, Ita Brennan, Arista's CFO, said, "We are pleased with yet another record revenue quarter, as we grew our top line 40% year over year, with continued strong profitability while funding significant product and technology innovation."
Company Highlights
Announced a new service capability for CloudVision® called Macro-Segmentation Service (MSS™). MSS provides automated insertion of Security and other in-line L4-7 services within any Software Driven Cloud Networking Infrastructure. MSS has been endorsed by our technology alliance ecosystem partners VMware, Palo Alto Networks, Check Point Software, Fortinet, and F5 Networks who are each working with us to deliver MSS support for their platforms.
Introduced a new portfolio of data center switches that address the demand for 25/50/100GbE switching. Arista EOS (extensible operating system) features such as Smart System Upgrade with hitless software upgrades, hitless speed change and network rollback, provide customers with non-stop operational tools for building cloud scale networks.
Demonstrated integration with HP OneView at VMworld 2015, as a joint converged network offering.
Financial Outlook
For the fourth quarter of 2015, we expect:
Revenue between $238 and $242 million.
Non-GAAP gross margin between 62% to 65%, and
Non-GAAP operating margin of approximately 26%.
Guidance for non-GAAP financial measures excludes legal expenses associated with the OptumSoft and Cisco litigation, stock-based compensation and other non-recurring expenses. A reconciliation of non-GAAP guidance measures to corresponding GAAP measures is not available on a forward-looking basis.
Prepared Materials and Conference Call Information
Arista executives will discuss third quarter 2015 financial results on a conference call at 1:30 p.m. Pacific time today. To listen to the call via telephone, dial 1-877-201-0168 in the United States or 1-647-788-4901 from outside the US. The Conference ID is 50091413.
The financial results conference call will also be available via live webcast on our investor relations website at investors.arista.com. Shortly after the conclusion of the conference call, a replay of the audio webcast will be available on Arista's Investor Relations website.
Forward-Looking Statements
This press release contains "forward-looking statements" regarding our future performance, including statements in the section entitled "Financial Outlook," such as estimates regarding revenue, non-GAAP gross margin and non-GAAP operating margin for the fourth quarter of FY 2015. Forward-looking statements are subject to a number of uncertainties and risks that could cause actual results to differ materially from those anticipated in the forward-looking statements including: Arista Networks' limited operating history; risks associated with Arista Networks' rapid growth; Arista Networks' customer concentration; the dispute with Cisco Systems, Inc. and OptumSoft, Inc.; requests for more favorable terms and conditions from our large end customers; declines in the sales prices of our products and services; changes in customer order patterns or customer mix; increased competition in our products and service markets, including the data center market; dependence on the introduction and market acceptance of new product offerings and standards; rapid technological and market change; the evolution of the cloud networking market and the adoption by end customers of Arista Networks' cloud networking solutions; and general market, political, economic and business conditions. Additional risks and uncertainties that could affect Arista Networks can be found in Arista's Quarterly Report on Form 10-Q filed with the SEC on August 7, 2015, and other filings that the company makes to the SEC from time to time. You can locate these reports through our website at investors.arista.com and on the SEC's website at www.sec.gov. All forward-looking statements in this press release are based on information available to the company as of the date hereof and Arista Networks disclaims any obligation to publicly update or revise any forward-looking statement to reflect events that occur or circumstances that exist after the date on which they were made.
Non-GAAP Financial Measures
The company reports certain non-GAAP financial measures that exclude stock-based compensation expenses, expenses associated with the OptumSoft and Cisco litigation, and other non-recurring charges. The company uses these non-GAAP financial measures internally in analyzing its financial results and believes that the use of these non-GAAP financial measures is useful to investors as an additional tool to evaluate ongoing operating results and trends. In addition, these measures are the primary indicators management uses as a basis for its planning and forecasting for future periods.
Non-GAAP financial measures are not meant to be considered in isolation or as a substitute for comparable GAAP net income, net income per diluted share, gross margin, or operating margin. Non-GAAP financial measures are subject to limitations, and should be read only in conjunction with the company's consolidated financial statements prepared in accordance with GAAP. A description of these non-GAAP financial measures and a reconciliation of the company's non-GAAP financial measures to their most directly comparable GAAP measures has been provided in the financial statement tables included in this press release, and investors are encouraged to review the reconciliation.
About Arista Networks
Arista Networks was founded to pioneer and deliver software-driven cloud networking solutions for large data center storage and computing environments. Arista's award-winning platforms, ranging in Ethernet speeds from 10 to 100 gigabits per second, redefine scalability, agility and resilience. Arista has shipped more than five million cloud networking ports worldwide with CloudVision and EOS, an advanced network operating system. Committed to open standards, Arista is a founding member of the 25/50GbE consortium. Arista Networks products are available worldwide directly and through partners.
ARISTA, EOS, CloudVision and Spline are among the registered and unregistered trademarks of Arista Networks, Inc. in jurisdictions around the world. Other company names or product names may be trademarks of their respective owners.
Additional information and resources can be found at www.arista.com 
Media Contact
Amanda Jaramillo
Corporate Communications
Tel: (408) 547-5798
amanda@arista.com
Investor Contact
Chuck Elliott
Product and Investor Advocacy
Tel: (408) 547-5549
chuck@arista.com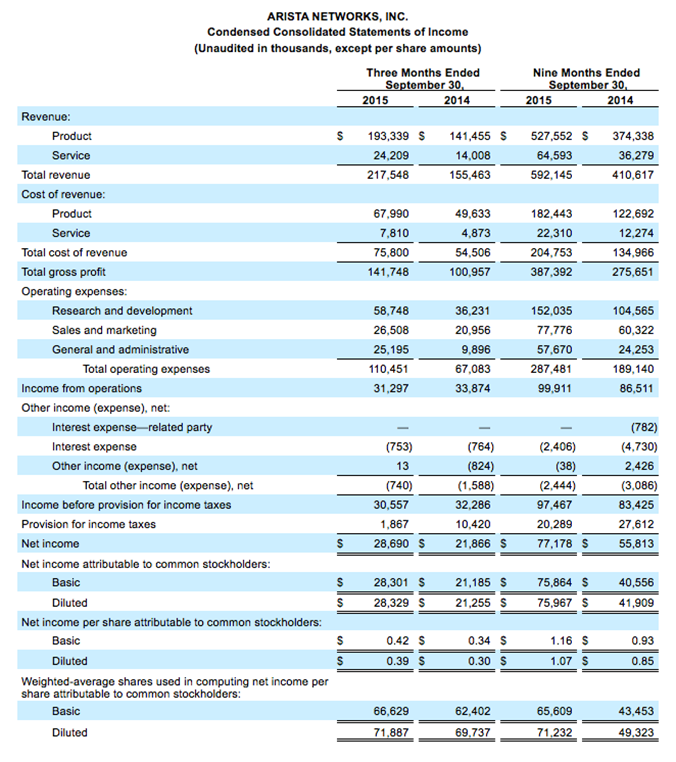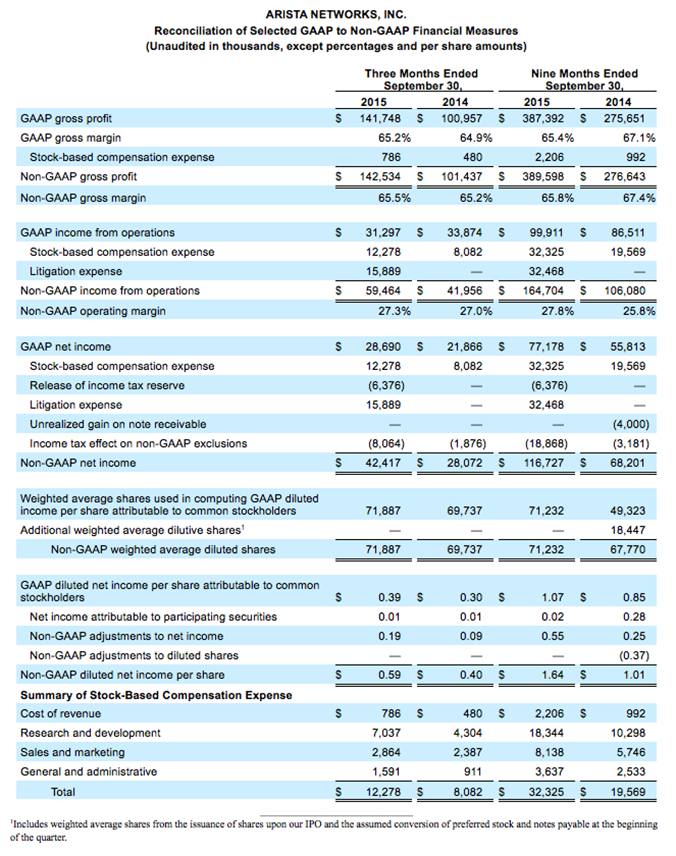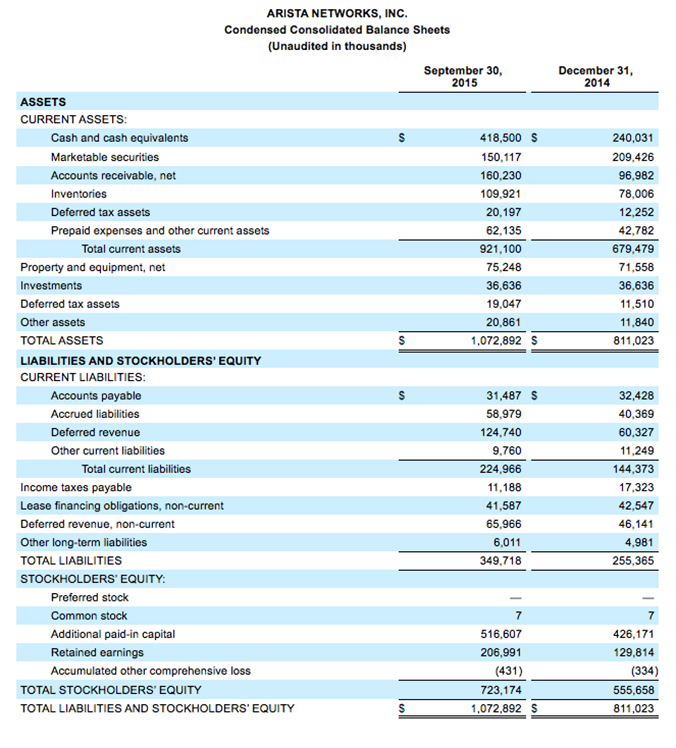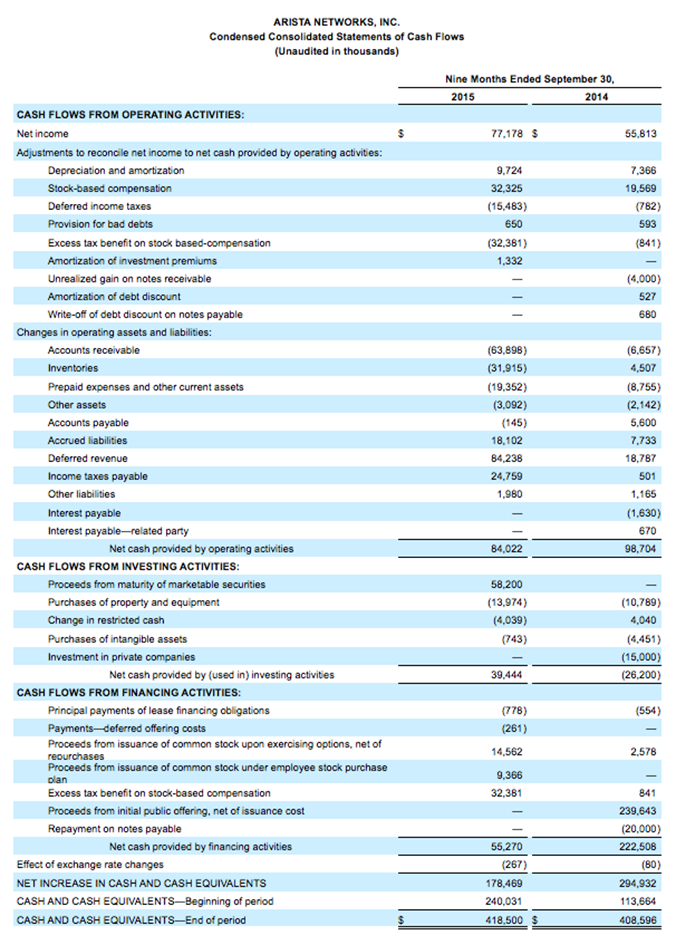 The links above are for the viewer's convenience, and Arista has not reviewed and is not responsible for their content.