Arista Networks, Inc. Reports Second Quarter 2014 Financial Results
Continued Industry Movement to the Cloud Drives Growth
SANTA CLARA, Calif. -- August 7, 2014 -- Arista Networks, Inc. (NYSE: ANET), an industry leader in software-driven cloud networking solutions for large data center and computing environments, today announced financial results for its second quarter ended June 30, 2014.
Second Quarter Financial Highlights
Revenue of $137.9 million, an increase of 65.2% compared to the second quarter of 2013, and an increase of 17.7% from the first quarter of 2014.
GAAP gross margin of 67.7%, compared to GAAP gross margin of 64.6% in the second quarter of 2013 and 69.4% in the first quarter of 2014.
GAAP net income of $21.6 million, or $0.34 per diluted share, compared to GAAP net income of $10.3 million, or $0.18 per diluted share, in the second quarter of 20131.
Non-GAAP net income of $23.7 million, or $0.35 per diluted share, compared to non-GAAP net income of $12.3 million, or $0.20 per diluted share, in the second quarter of 2013.
1GAAP diluted per share amounts exclude net income attributable to preferred shareholders through the date of the initial public offering (IPO) on June 6, 2014, and exclude the impact of the full weighting of the additional common shares outstanding in connection with the IPO.
 "I'm pleased with our performance in Q2 2014 as we increased to 2,700 customers this quarter," stated Jayshree Ullal, Arista President and CEO. "We saw good balance across our top four verticals, as customers adopted our new Arista 7000 Spine and Spline products for cloud networking innovation and reduced total cost of ownership (TCO)."
 Commenting on the company's financial results, Kelyn Brannon, CFO of Arista Networks, said, "Our non-GAAP net income rose by 92.5% in the second quarter, compared with the same quarter of the prior year. We also saw solid revenue growth while maintaining our gross margin and operating margin. During Q2, we also generated cash flow from operations of $46.3 million and we ended the quarter with approximately $397.2 million in cash and cash equivalents, including net proceeds of $238.7 million from our IPO in June 2014."
Company Highlights
Demonstrated continued strategic relationships and alliances to further industry-wide open standards via:

25/50 GbE alliance consortium with Google, Microsoft, Broadcom and Mellanox
Puppet Supported Program Certification for server automation
AVnu Alliance for Audio Video Bridging (AVB) certification

Introduced the industry's first leaf switch with 100GbE uplinks for use in high performance storage and streaming content applications, the Arista 7280.
Introduced the industry's first universal 40GbE optic for both multimode and single mode fiber.
Introduced advanced EOS capabilities with SSU (Smart System Upgrade) and Arista 7500-based DANZ (Data AnalyZer) network visibility tools and OpenFlow 1.3 support.
In addition, President and CEO Jayshree Ullal will be speaking at the Pacific Crest Global Tech Leadership Conference with the financial community on Monday, August 11, 2014 at 4:30pm PT. A live audio webcast of the event will be accessible from the "Investors" section of Arista Networks website at investors.arista.com.
Financial Outlook
For the third quarter of 2014, we expect:
Revenue between $142 and $150 million.
Non-GAAP gross margin in the range of 64% to 66% and non-GAAP operating margin in the range of 19% to 22%.
GAAP gross margin in the range of 64% to 66% and GAAP operating margin in the range of 13% to 17%, both of which include stock-based compensation expense.
Prepared Materials and Conference Call Information
Arista executives will discuss Q2 2014 financial results on a conference call at 1:30 p.m. Pacific time today. The conference call can be heard via webcast on our investor relations website: investors.arista.com, or by dialing 1-877-201-0168 in the United States or 1-647-788-4901 from international locations. The Conference ID is 77161116.
Shortly after the conclusion of the conference call, a replay of the audio webcast will be available on Arista's Investor Relations website.
Forward-Looking Statements
This press release contains "forward-looking statements" regarding our performance, including statements in the section entitled "Financial Outlook," such as estimates regarding revenue, GAAP and non-GAAP gross margin and GAAP and non-GAAP operating margin for the third quarter of FY 2014. Forward-looking statements are subject to a number of uncertainties and risks, and are based on potentially inaccurate assumptions that could cause actual results to differ materially from those anticipated in the forward-looking statements. Among the factors that could cause actual results to differ materially from those in any forward-looking statements are: Arista Networks' limited operating history; risks associated with Arista Networks' rapid growth; quarterly fluctuation of Arista Networks' financial performance; Arista Networks' customer concentration; our recent revenue growth may not be indicative of future performance; material weaknesses in our internal controls; our ability to attract new large end customers or to sell additional products to existing end customers; pricing concessions and requests for more favorable terms and conditions from our large end customers; market awareness of our company and products; declines in the sales prices of our products and services; variations in customer demand for products and services; the timing of orders and manufacturing and customer lead times; changes in customer order patterns or customer mix; increased competition in our products and service markets, including the data center market; dependence on the introduction and market acceptance of new product offerings and standards; rapid technological and market change; industry consolidation; our reliance on licenses to third-party software and other intellectual property; the dispute with OptumSoft, Inc.; product, support or service quality problems; defects, errors or vulnerabilities in Arista Networks' products or services; the evolution of the cloud networking market and the adoption by end customers of Arista Networks' cloud networking solutions; business and economic conditions and growth trends in the networking industry, Arista Networks' customer markets and various geographic regions; global economic conditions and uncertainties in the geopolitical environment; overall information technology spending; insufficient, excess or obsolete inventory; variability of component costs; variations in sales channels, product costs or mix of products sold; manufacturing and sourcing risks; product defects and returns; litigation involving patents, intellectual property, antitrust, shareholder and other matters, and governmental investigations; natural catastrophic events; a pandemic or epidemic; our ability to achieve the benefits anticipated from our investments in sales, engineering, service, marketing and manufacturing activities; and risks related to the global nature of our operations, including our operations in emerging markets; currency fluctuations and other international factors. Additional risks and uncertainties that could affect Arista Networks can be found in Arista's prospectus filed with the Securities and Exchange Commission (the "SEC") pursuant to Rule 424(b)(4) on June 6, 2014 and other filings that the company makes to the SEC from time to time. You can locate these reports through our website at http://investors.arista.com and on the SEC's website at www.sec.gov. All forward-looking statements in this press release are based on information available to the company as of the date hereof and Arista Networks disclaims any obligation to publicly update or revise any forward-looking statement to reflect events that occur or circumstances that exist after the date on which they were made.
Non-GAAP Financial Measures
The financial information contained in this press release should be read in conjunction with the consolidated financial statements and notes thereto included in Arista's Form 10-Q (and the financial statements included in our prospectus filed with the Securities and Exchange Commission pursuant to Rule 424(b)(4) on June 6, 2014). Arista's results of operations for the three months ended June 30, 2014 are not necessarily indicative of Arista's operating results for any future periods.
This press release and the accompanying tables include a reconciliation of selected GAAP to non-GAAP financial measures. The company uses these non-GAAP financial measures internally in analyzing its financial results and believes that the use of these non-GAAP financial measures is useful to investors as an additional tool to evaluate ongoing operating results and trends. The company's non-GAAP financial measures included in the tables below exclude stock-based compensation and a one-time unrealized gain on a note receivable. In order to evaluate per share information on a comparative basis, the company believes it is meaningful to provide a non-GAAP financial measure that gives pro forma effect to the conversion of the preferred shares and notes payable into common shares and the issuance of common shares in connection with the company's initial public offering as if each happened at the beginning of each period presented. Non-GAAP financial measures are not meant to be considered in isolation or as a substitute for comparable GAAP financial measures, and should be read only in conjunction with the company's consolidated financial statements prepared in accordance with GAAP.
Investors are cautioned that there are a number of limitations associated with the use of non-GAAP financial measures as an analytical tool. In particular, many of the adjustments to the company's GAAP financial measures reflect the exclusion of items that are recurring and will be reflected in the company's financial results for the foreseeable future, such as stock-based compensation. Stock-based compensation is an important part of Arista Networks employees' compensation and impacts their performance. The components that Arista Networks excludes in its calculation of non-GAAP financial measures may differ from the components that its peer companies exclude when they report their non-GAAP results of operations. Arista Networks compensates for these limitations by providing specific information regarding the GAAP amounts excluded from these non-GAAP financial measures. In the future, the company may also exclude non-recurring expenses and other expenses that do not reflect the company's core business operating results.
About Arista Networks
Arista Networks was founded to deliver software-driven cloud networking solutions for large data center and computing environments. Arista's award-winning 10/40/100 GbE switches redefine scalability, robustness, and price-performance, with over 2,700 customers and more than two million cloud networking ports deployed worldwide. At the core of Arista's platform is EOS, an advanced network operating system. Arista Networks products are available worldwide through distribution partners, systems integrators and resellers.
ARISTA, EOS and Spline are among the registered and unregistered trademarks of Arista Networks, Inc. in jurisdictions around the world. Other company names or product names may be trademarks of their respective owners.
Additional information and resources can be found at https://www.arista.com 
Media Contact
Amanda Jaramillo
Corporate Communications
Tel: (408) 547-5798
amanda@arista.com
Investor Contact
Chuck Elliott
Product and Investor Advocacy
Tel: (408) 547-5549
elliott@arista.com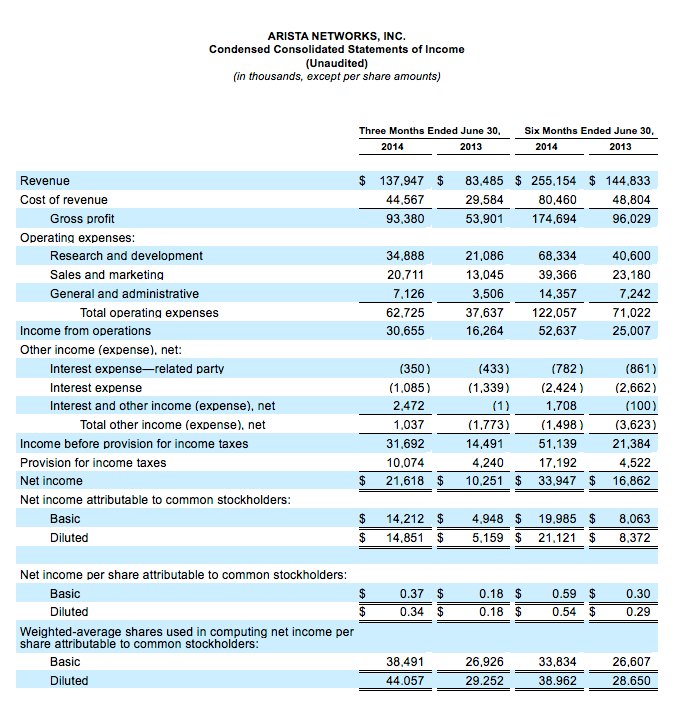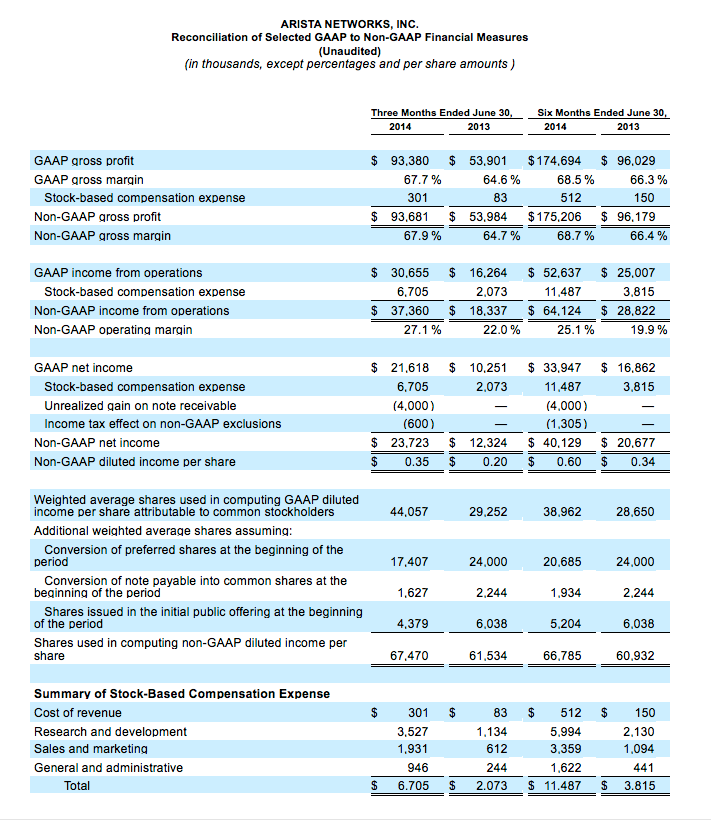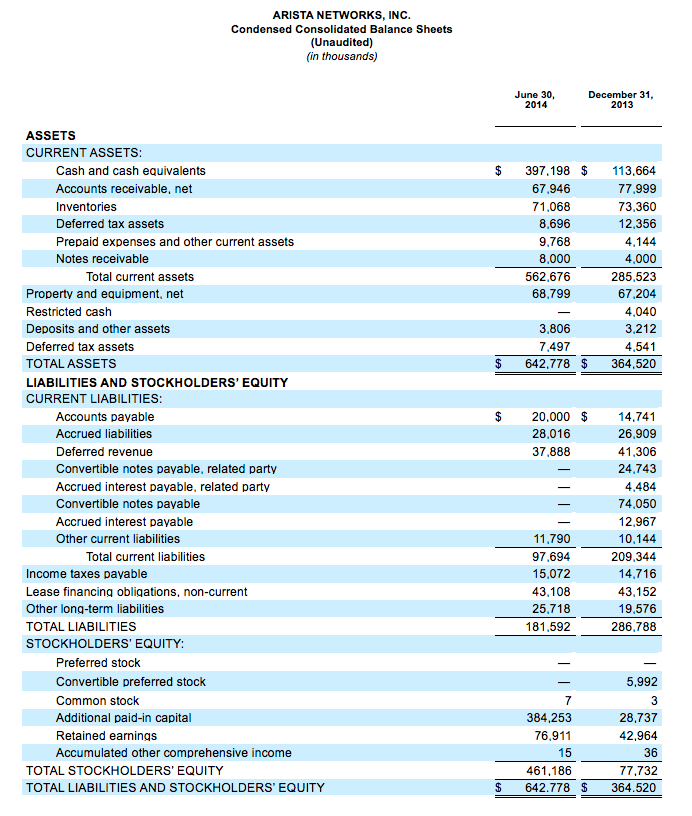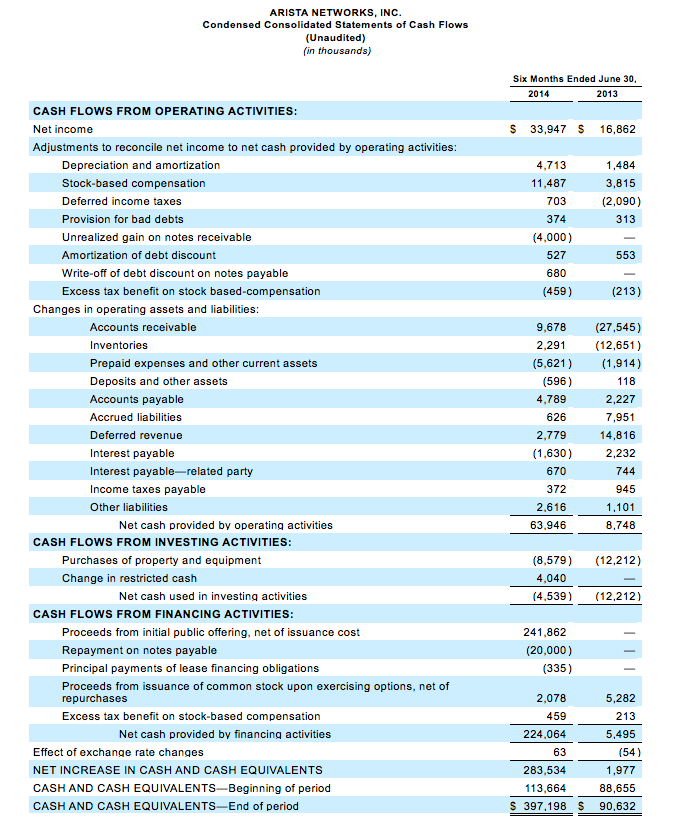 The links above are for the viewer's convenience, and Arista has not reviewed and is not responsible for their content.