Software Driven Cloud Networking
Arista Networks has championed the guiding cloud principles of cloud leaders with network designs serving private cloud, public cloud, hybrid cloud, enterprise and high-performance network use cases. These include the use of open APIs, cloud automation features, and self service provisioning and deployment – coupled with an open approach to network integration, customer programmability, and simplified standards-based deployment architectures.
Featured Video: Software Driven Network Provisioning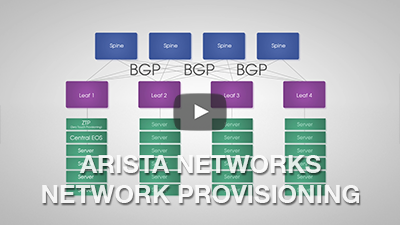 The five attributes of Software Driven Cloud Networking that are critical to achieving successful cloud deployments and lowering TCO are available across our entire portfolio. These attributes embody all of the core characteristics that are required by our customers to deliver highly efficient, seamless and effective Software Driven cloud IT infrastructures.
Available Architectures – highly available, scalable and efficient spine-leaf architectures
Agile Work-X – agility to support any workload, workflow or workstream
Automation – from native programmability for Do-It-Yourself automation, to DevOps workflow automation, to cloud automation for everyone with CloudVision
Analytics – reducing operating costs and time-to-resolution with NetDB real-time state-streaming, as well as the CloudVision Analytics Engine and Telemetry Apps
Any Cloud API – programmable platforms allowing rapid, automated deployment and provisioning with open SDK/APIs and single-OS consistency
The Arista Software Driven Cloud Networking solution creates a best-in-class software foundation for maximizing the value of the network to both the enterprise and service provider datacenter. It enables seamless integration across any IT infrastructure that simplifies management and provisioning, speeds up service delivery, lowers costs and creates opportunities for agile introduction of new workloads.