Arista Cognitive Cloud Networking for the Campus에서는 레거시 솔루션의 사일로 방식 복잡도와 비교하여 간단한 방법으로 캠퍼스 네트워크 문제를 처리합니다. 최신 클라우드 데이터 센터를 구축하는 데 사용하는 동일한 개방형 클라우드 네트워킹 원칙을 기반으로 하는 Arista의 Cognitive Cloud Networking에서는 EOS® 및 CloudVision®을 활용하여 UCN(유니버설 클라우드 네트워크) 아키텍처를 캠퍼스로 확장합니다. 일관된 소프트웨어 중심 접근 방식을 활용하여 복잡도를 줄이고 안정성과 성능을 향상하며 자동화, 모니터링 및 보안을 간소화합니다.
Arista의 Cognitive Cloud Networking for the Campus는 다음과 같은 세 가지 원칙을 기반으로 합니다.
유니버설 클라우드 네트워크 - 레거시 벤더의 불안정한 독점 솔루션의 대안으로 제공되는 Arista UCN은 소프트웨어 중심 제어 원칙에 중점을 둔 개방형의 표준 기반 설계입니다. Arista의 축소된 Spline™ 접근 방식에서는 기존 캠퍼스 코어 및 집계 레이어를 하나의 간단한 고가용성 계층으로 통합합니다.
인지 관리 플레인 - 관리 플레인 일관성에 심각한 문제가 있으며 데이터 센터에서와같이 캠퍼스에도 데이터 중심 분석이 필요합니다. Arista에서는 공통 모델을 둘 모두에 적용할 수 있으므로 고객의 운영 비용을 줄일 수 있습니다. Arista CloudVision을 기반으로 하는 Cognitive 관리 플레인은 네트워크 분석 전체의 자동화된 조치를 위한 데이터 중심 저장소입니다.
캠퍼스 보안 - 캠퍼스 Spline을 보호하려면 네트워크 세그먼테이션, 장치 규정 준수 및 감사 외에도 Arista의 보안 협력사와의 서비스를 통합하는 전체적인 접근 방식이 필요합니다. Arista에서는 EOS와 CloudVision을 통해 이 기능을 제공합니다.
Arista Cognitive Unified Edge (CUE)
Commercial Business requirements are driving accelerated adoption of cloud based applications; this requires a highly adaptive networking edge, that is secure, mobile, compliant and ubiquitous whether in the office, working remote, or onboarding a myriad of IoT devices. Just as Data Centers have moved from rigid, highly structured infrastructures, to agile on demand infrastructures as a service, so has the need for Campus networks to move to Edge as a Service. Arista's Cognitive Unified Edge (CUE) enables this market transition by encompassing a comprehensive portfolio of services that leverages Arista's EOS Network Data Lake and advanced AI capabilities optimized for commercial and mid market customers to deliver an integrated management platform with built-in automation, visibility and security for wireless, wired and WAN network infrastructure.
Featured Video: Introducing Arista Cognitive Unified Edge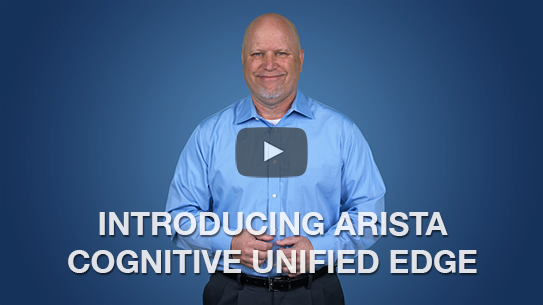 CUE- The Next Evolution in Edge Communications
The next technology evolution in commercial campus networks whether small branches or large headquarter buildings stretches well beyond bandwidth capacity upgrades. Hardware is easily keeping pace with bandwidth needs, driven by Moore's productivity law where high volume commodity chip technologies are quadrupling bandwidth speeds every 2-3 years.
Of bigger importance is designing these networks where they can be easily deployed, maintained, secured, and amortized especially as the number of services these networks offer continue to expand. Customers must look beyond gigabits per second, and the latest Wi-Fi access points offerings when choosing their edge networking solutions. They must take a cloud centric networking approach where many of the design principles that have transformed data centers to cloud infrastructures are similarly leveraged. At a high level this cloud centric approach views infrastructure as a combined set of services, where business outcomes are more easily mapped to a set of integrated IT technologies.
Automation, artificial data intelligence, pro-active remediation, advanced telemetry, virtualization, segmentation, video broadcasting, and simplified topology designs are just several of the technologies that embody a cloud centric network. All of these technologies are directly applicable to campus networks. The combination of these technologies, working together as a solution rich with a number of services, is what Arista defines as the Cognitive Unified Edge (CUE) and has many use cases from single site deployments to distributed branch and cloud: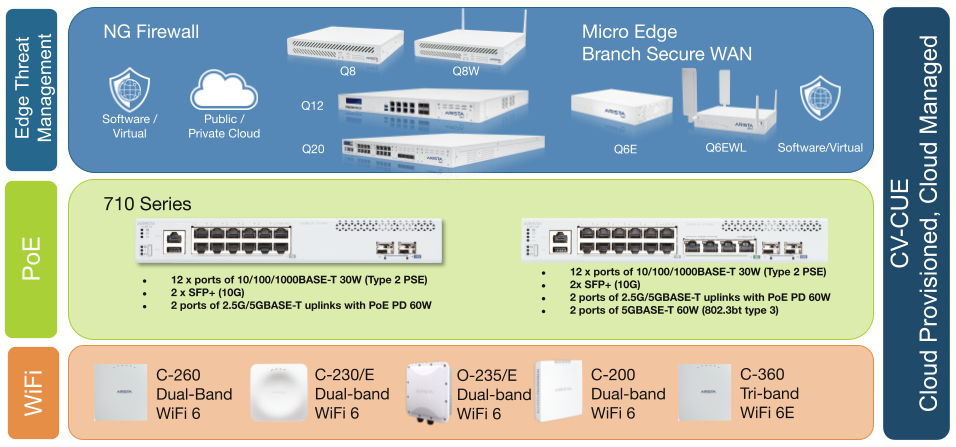 CUE Hardware Portfolio

CUE Use Cases
Arista CUE for Distributed Enterprises
Connect and Secure Branch Offices
The way we work is evolving. Enterprises have adapted to new cloud-based technologies and applications that have increased employee efficiency and provided a scalable pathway to continued business growth. Work teams, now composed of employees working in headquarter offices, remotely or in branch offices have become spread across increasingly large distances with a growing number of branch offices. While these distributed enterprises realize a range of important benefits in this transformative era, managing these dispersed networks and their connected devices can bring new challenges of cost, complexity, and control. Network administrators cannot be in all locations at once, however at any time they could be required to provide network expertise to adjust network configurations or resolve issues to maintain the network.
Arista's Cognitive Unified Edge (CUE) helps distributed enterprises optimize their networks with centralized management, while also safeguarding their data and devices. CUE redefines enterprise networks with enhanced management, security, connectivity, flexible PoE switching, and Wi-Fi 6/6E offerings that work together seamlessly to ensure connectivity, protection, monitoring, and control across the entire network from headquarters to the network edge.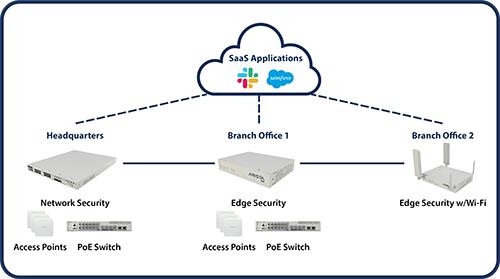 CUE Benefits
Remote management - centralized cloud-based management makes it easy to deploy, configure and manage on-premises, cloud-hosted and remote office appliances from any browser. Centralized management streamlines configuration of intelligent traffic routing between headquarters, branch offices and the cloud. Alerting, reporting, and policy management across sites has never been easier.
Business reliability and continuity - ensure secure connectivity to business-critical, cloud-hosted applications like accounting and CRM systems, as well as internal network resources. Sites with less reliable Internet service can leverage LTE for backup connectivity. Access points provide full functionality even when access to the cloud is not available. When an AP detects the loss of connectivity to the cloud, it continues operating normally which gives unmatched network uptime.

Optimize connectivity - comprehensive VPN options that work seamlessly with complete bandwidth shaping and optimization, and WAN balancing and WAN failover for locations with multiple WAN connections.
Right size form factor - efficiently connect smaller sites or sites with Internet Service Provider bandwidth limitations. Easily scale as the number of users at locations increase and as more locations are brought online.
Protect the growing attack surface - Broad endpoint device coverage, including IoT device protection and automatic detection and blocking of wireless threats.
Flexible deployment - Layer products into an existing network, with standards based interoperability and many physical and software appliances to service locations with just a few users to locations with hundreds of users.
CUE Literature
FAQs
.
Case Studies
.
White Papers
.
Solution Briefs
Design Guide