The SOC Visibility Triad
The Security Operations Center Visibility Triad provides complete and comprehensive visibility into network communication, endpoint and events. It is a holistic security approach consisting of:
NDR: Proactive Network based machine learning technology to identify an attacker based on their intent versus merely looking at indicators of an attack - the Awake NDR platform
SIEM/UEBA: Provides the ability to collect and analyze logs generated by the IT infrastructure, applications and other security tools.
EDR: An endpoint agent that provides endpoint analysis of running processes, memory activities and running applications.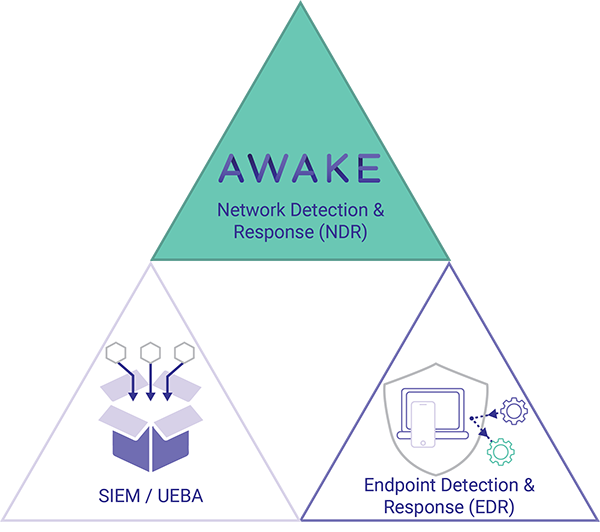 The Awake AI-Driven Security Platform
Awake Security is the only advanced network detection and response (NDR) solution that delivers answers, not alerts. By combining artificial intelligence with human expertise, Awake autonomously hunts for both insider and external attacker behaviors, while providing triage, digital forensics and incident response across the new network—campus, data center, Internet of Things (IoT) / operational technology (OT) and cloud networks.
The Awake AI-driven Security Platform deeply analyzes billions of network communications to autonomously discover, profile and classify every device, user and application across any network. Using a multi-dimensional ensemble machine learning approach, Awake then models complex adversarial behaviors and detects threats by connecting the dots across entities, time, protocols and attack stages.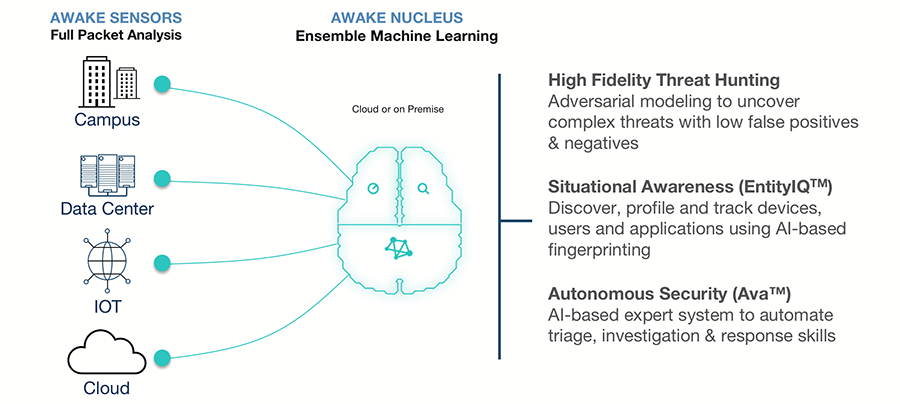 The Awake AI-driven Security Platform is more than twice as accurate and produces almost 1500% less operational overhead than the competition. For more information click here