Rear Panel
The rear panel of the AP has its DC power port and 802.3af compliant PoE LAN port to power the device and connect it to a wired LAN.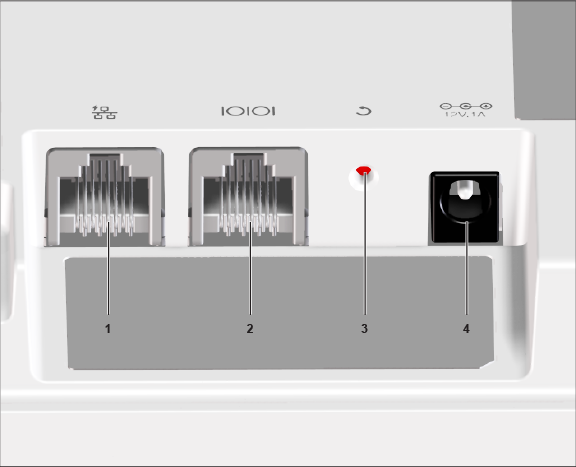 Table 1.

Labels: Rear Panel

| Label | Description |
| --- | --- |
| 1 | LAN1 |
| 2 | Console |
| 3 | Reset |
| 4 | Power |
Table 2.

C-200 Port Details

Port
Description
Connector Type
Speed/Protocol
LAN 1
1 Gigabit Ethernet
RJ-45
100M/1G Ethernet
Console
Establish 'config shell' terminal session via serial connection
RJ-45

RS 232 Serial (115200 bits per second)
Data bits:8; Stop bits: 1
Parity: None
Flow Control: None

Reset
Reset to factory default settings port. Hold down and power cycle the device to reset.
Pinhole push button
N/A
Power
12V DC
5.5 mm overall diameter / 2.1 mm center pinhole
N/A
When you reset the AP, the following settings are reset:
Config shell password is reset to config.
Server discovery value is erased and changed to the default, redirector.online.spectraguard.net (primary) and wifi-security-server (secondary).
All the VLAN configurations are lost.
If a static IP is configured on the AP, the IP address is erased and DHCP mode is set. The factory default IP address of the AP is 169.254.11.74.