CloudVision® is Arista's modern, multi-domain management platform that leverages cloud networking principles to deliver a simplified NetOps experience. Unlike traditional domain-specific management solutions, CloudVision enables zero-touch network operations with consistent operations enterprise-wide, helping to break down the complexity of siloed management approaches.
As Arista's platform for Network as-a-Service, CloudVision is designed to bring OpEx efficiency through automation across the entire network lifecycle - from design, to operations, to support and ongoing maintenance.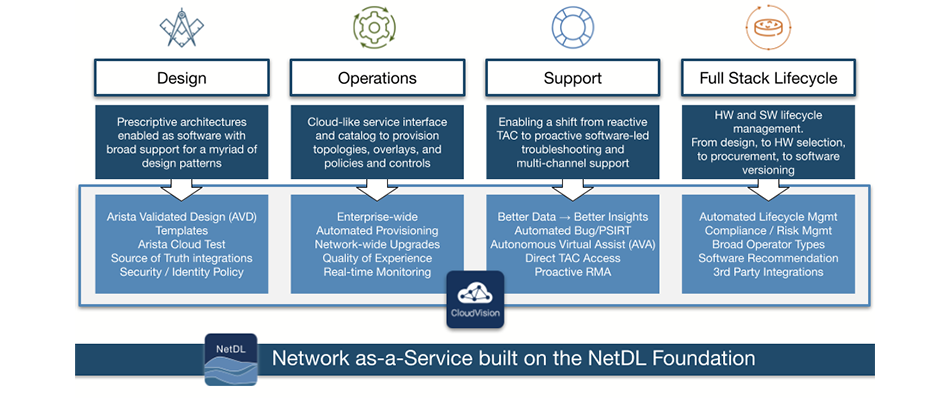 CloudVision - Arista's Platform for Network as-a-Service
CloudVision is built on a Network Data Lake (NetDL) architecture that leverages realtime state to provide an abstraction of the physical network to a broader, network-wide perspective allowing for a more efficient approach for several operational and network telemetry capabilities including the following highlights:
Multi-domain scope, bringing consistent network operations to Data Center, Campus, WAN/Interconnect, Media & Entertainment, and multi-cloud use-cases
Cloud-native architecture, offered with the same feature set across both cloud service (SaaS) and on-prem appliance (virtual or physical) deployment options.
Real-time state streaming for network telemetry and analytics - a modern approach to replace legacy polling per device
State repository, analytics engines and telemetry views to provide an unprecedented level of granularity in real-time monitoring and historic network state for forensic troubleshooting
Cognitive analytics, leveraging the rich NetDL data source as the basis for training AI/ML models to generate better recommendations and insights for operators
Turn-key automation with CloudVision Studios for initial and ongoing provisioning, ZTP as-a-Service, configuration management and network-wide change control–including automated upgrades, network rollback, and network snapshots
Compliance dashboard for security audit, patch and lifecycle management
Support for the Unified edge, with wired and wireless views and dashboards, including IoTvision™
NetDevOps workflows, providing extensibility for CloudVision to integrate into a broader continuous integration (CI) pipeline
Cloud Tracer™ for visibility into the availability of network connectivity and services across private, public, and hybrid cloud environments
Macro-Segmentation Services to provide automated and seamless service insertion with integrations by partner security platforms
IP Broadcast operations, including specific dashboards and Media Control Services (MCS) integration with technology partners
Centralized API gateway for both northbound and southbound integrations, leveraging OpenConfig, gRPC, and REST APIs
Ecosystem Integration
Arista's customers are trying to orchestrate workflows across their physical and virtual infrastructure. Arista CloudVision is the platform for deeper integration with a broad array of Arista's ecosystem partner solutions, including Ansible, Forescout, Palo Alto Networks, ServiceNow, VMWare NSX™ and many others.